From Sigulda, LAT
(Nov. 27, 2020) – Martins Dukurs once again won gold on his home track in Sigulda, Latvia, but this time he destroyed his own track record in the process.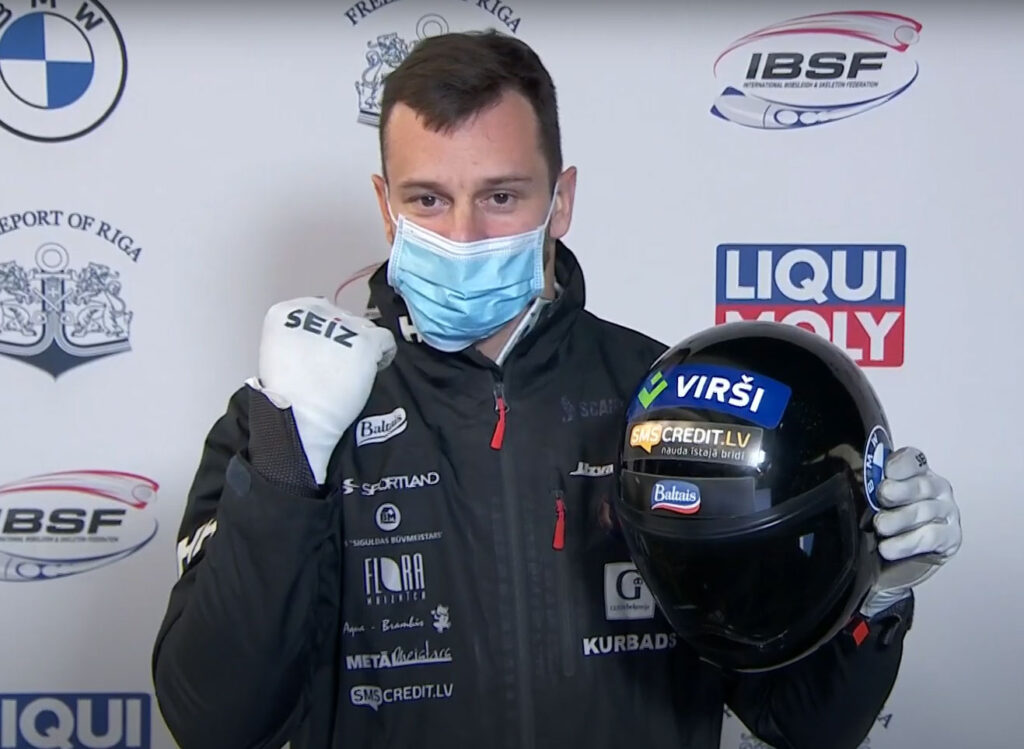 Prior to the second World Cup race of the 2020/2021 season, only the younger Dukurs had gone faster than 50 seconds on the track in Sigulda. After the first heat today the record had fallen three different times.
Germany's Christopher Grotheer was the first slider down and he broke the old track record of 49.94 set by Dukurs with a 49.79. That record lasted for four sleds until Tomass Dukurs broke it with a 49.55. Ten minutes later Martins Dukurs took his record back with a 49.46, good enough for the lead in the first heat.
On the second run it was more of the same. five of the top six sliders all were either as quick or quicker than the old track record on their second run. Dukurs was once again the fastest, lowering the track record to a 49.45 on his way to his 56th career gold medal.
Tomass Dukurs finished second for the second time in three races in Sigulda with matching 49.55 downtimes, both faster than everyone but brother Martins.
Great Britain's Marcus Wyatt finished third, giving him his first ever career World Cup medal. His second run was the third fastest of the race and enough to move him up from a tie for sixth. Wyatt's previous best was a fourth place effort in Igls, where the tour heads to next for two weeks.
Russia's Nikita Tregubov finished fourth, just ahead of Germans Alexander Gassner and Felix Keisinger.
Great Britain had another solid day in Latvia. On top of Wyatt's bronze medal, Craig Thompson moved up from a tie for eighth to a tie for seventh with World Champion Christopher Grotheer. Matt Weston rounded out the British effort by moving up from 16th to 12th in the second run.
Thanks to COVID-related travel restrictions, the United States, Canada, Korea, and China all are sitting out the first half of the season, all rejoining in Winterberg.
Results:
| | | | | | | | | |
| --- | --- | --- | --- | --- | --- | --- | --- | --- |
| Pos | Name | Nation | Bib | Start 1 | Start 2 | Run 1 | Run 2 | Total |
| 1 | Martins Dukurs | LAT | 10 | 4.54 | 4.53 | 49.46 | 49.45 | 1:38.91 |
| 2 | Tomass Dukurs | LAT | 5 | 4.66 | 4.65 | 49.55 | 49.55 | 1:39.10 |
| 3 | Marcus Wyatt | GBR | 11 | 4.53 | 4.51 | 50.03 | 49.82 | 1:39.85 |
| 4 | Nikita Tregubov | RUS | 4 | 4.65 | 4.64 | 49.98 | 49.94 | 1:39.92 |
| 5 | Alexander Gassner | GER | 12 | 4.66 | 4.65 | 50.03 | 49.95 | 1:39.98 |
| 6 | Felix Keisinger | GER | 8 | 4.51 | 4.50 | 50.22 | 49.83 | 1:40.05 |
| 7 | Craig Thompson | GBR | 6 | 4.54 | 4.51 | 50.22 | 49.87 | 1:40.09 |
| 7 | Christopher Grotheer | GER | 1 | 4.62 | 4.62 | 49.79 | 50.30 | 1:40.09 |
| 9 | Vladyslav Heraskevych | UKR | 3 | 4.72 | 4.75 | 50.40 | 50.39 | 1:40.79 |
| 10 | Alexander Tretiakov | RUS | 9 | 4.56 | 4.55 | 49.80 | 51.10 | 1:40.90 |
| 11 | Florian Auer | AUT | 15 | 4.75 | 4.75 | 50.56 | 50.43 | 1:40.99 |
| 12 | Matt Weston | GBR | 7 | 4.59 | 4.60 | 51.04 | 50.03 | 1:41.07 |
| 13 | Mattia Gaspari | ITA | 13 | 4.71 | 4.72 | 50.60 | 50.49 | 1:41.09 |
| 14 | Alexander Schlintner | AUT | 19 | 4.73 | 4.69 | 50.66 | 50.52 | 1:41.18 |
| 15 | Daniil Romanov | RUS | 14 | 4.58 | 5.56 | 50.95 | 50.40 | 1:41.35 |
| 16 | Ronald Auderset | SUI | 2 | 4.68 | 4.70 | 50.70 | 50.66 | 1:41.36 |
| 17 | Mihai Pacioianu | ROU | 18 | 4.69 | 4.70 | 51.32 | 50.83 | 1:42.15 |
| 18 | Samuel Keiser | SUI | 17 | 4.89 | 4.94 | 52.55 | 51.29 | 1:43.84 |
| DNS | Amedeo Bagnis | ITA | 16 | | | DNS | | DNS |