From Sigulda, LAT
(Nov. 28, 2020) – Though the field was small in Sigulda, the racing was as tight as ever in the women's bobsled World Cup, and one week after crashing out of the season opener in Sigulda, Germany's Laura Nolte came back to win as part of a German sweep of the podium.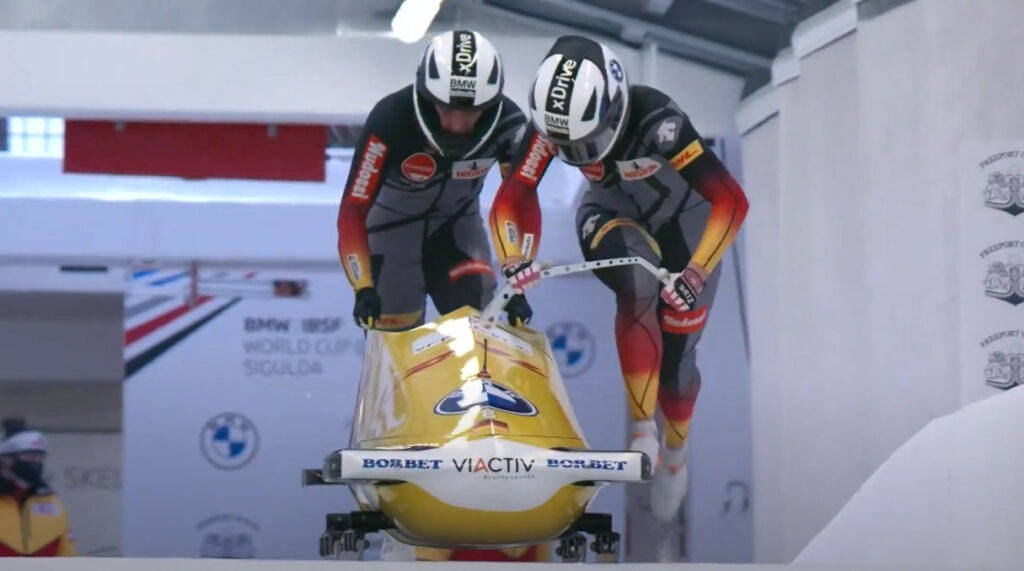 Nolte was the quickest in both heats on her way to a .24 win over both Olympic gold medalist Mariama Jamanka and Kim Kalicki, who tied for silver. All three women were within .2 of each other after one heat.
The gold medal for Nolte is her second of her career, with her previous gold coming in La Plagne during the 2019/2020 season.
For silver, Kalicki moved up from fourth to the silver medal position, while Jamanka held her spot, coming back to Kalicki for the tie for second.
One week after winning the silver medal in the season opener, Austria's Kati Beierl fell from second to fourth in her second run. Beierl had two quick runs, but just couldn't match the speed of the Germans.
Melanie Hasler finished fifth, just ahead of Romania's Andreea Grecu in sixth.
Martina Fontanive crashed in her second run and lost Nadja in the process, giving her a DSQ.
The field was down to seven sleds from nine the week before. France's Margot Boch sat out with a knee injury, while Poland's Sylwia Smolarek took the week off to prepare for the European Cup opener. The Russian bobsled teams were in Sigulda but due to a failed COVID test in their camp, they all had to sit out, as did Great Britain's Mica McNeill for the same reason.
Also sitting out this week again were teams from the United States, Canada, Korea, and China, all of whom are expected to be on tour following the holiday break.
Results:
| | | | | | | | | |
| --- | --- | --- | --- | --- | --- | --- | --- | --- |
| Pos | Names | Nation | Bib | Start 1 | Start 2 | Run 1 | Run 2 | Total |
| 1 | Nolte / Fiebig | GER | 7 | 5.26 | 5.24 | 51.02 | 51.35 | 1:42.37 |
| 2 | Kalicki / Strack | GER | 4 | 5.32 | 5.36 | 51.13 | 51.48 | 1:42.61 |
| 2 | Jamanka / Mark | GER | 3 | 5.37 | 5.38 | 51.04 | 51.57 | 1:42.61 |
| 4 | Beierl / Onasanya | AUT | 2 | 5.35 | 5.37 | 51.12 | 51.72 | 1:42.84 |
| 5 | Hasler / Naef | SUI | 5 | 5.45 | 5.50 | 51.50 | 51.81 | 1:43.31 |
| 6 | Grecu / Vlad | ROU | 1 | 5.41 | 5.45 | 51.50 | 51.98 | 1:43.48 |
| 5 | Fontanive / Pasternack | SUI | 6 | 5.32 | 5.30 | 51.22 | DSQ | DSQ |