From Igls, AUT
(Nov. 28, 2020) – It had been a while since Felix Loch had found the top of the FIL World Cup podium in men's luge, but he returned to form in the season opener in Igls.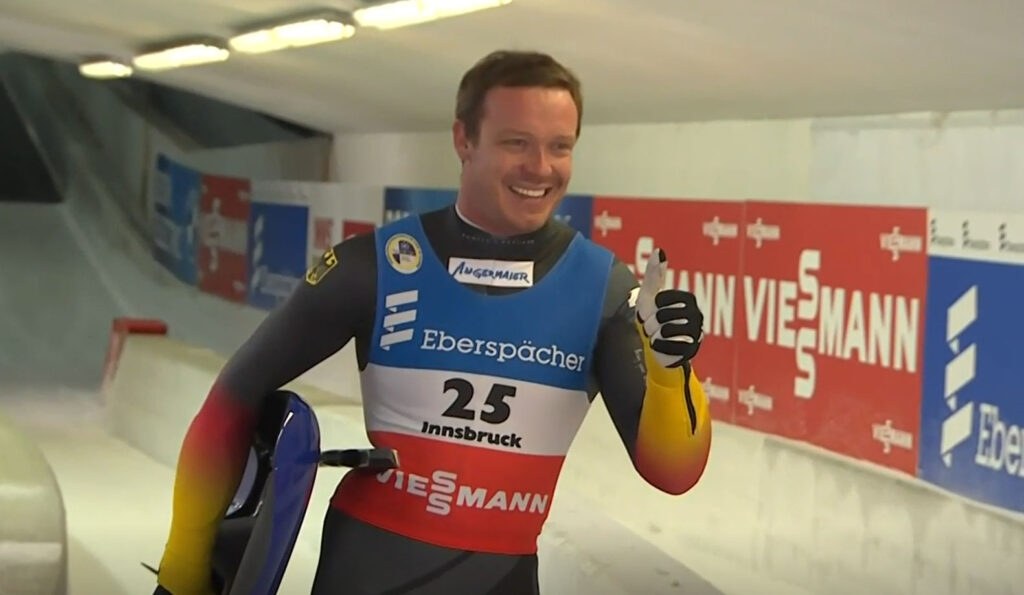 The two-time Olympic gold medalist in men's singles was the quickest in both heats on his way to a .126 second victory over teammate Johannes Ludwig. Loch was the only slider to break into the 49.8s in either heat with a 49.885 in his second run.
The gold medal for Loch was the first in a non-team event since Altenberg in the 2018/2019 season.
Behind Loch the race was much more eventful, with sliders moving up and down the order. Ludwig moved up from fifth in the first heat to take silver, while Dominik Fischnaller held onto third from the first run for a bronze medal.
Austria finished in the next three positions, with Olympic gold medalist David Gleirscher falling form second after the first heat to fourth. Jonas Müler had the second quickest downtime of the race to jump up from 11th to fifth, while Nico Gleirscher fell from fourth to sixth in the second run.
The Russians struggled in their first event of the season, with neither Semen Pavlichenko or Roman Repilov playing a factor. Pavlichenko finished ninth, while Repilov finished one spot behind him in tenth.
Great Britain's Rupert Staudinger finished 26th in the second World Cup race of his career.
Due to COVID-related things, neither the United States nor Canada are competing in the FIL World Cup until after the holiday break.
Results:
| | | | | | | | | |
| --- | --- | --- | --- | --- | --- | --- | --- | --- |
| Pos | Name | Nation | Bib | Start 1 | Start 2 | Run 1 | Run 2 | Total |
| 1 | Felix Loch | GER | 25 | 5.376 | 5.374 | 50.056 | 49.885 | 1:39.941 |
| 2 | Johannes Ludwig | GER | 28 | 5.347 | 5.342 | 50.115 | 49.952 | 1:40.067 |
| 3 | Dominik Fischnaller | ITA | 32 | 5.378 | 5.417 | 50.071 | 50.050 | 1:40.121 |
| 4 | David Gleirscher | AUT | 20 | 5.385 | 5.379 | 50.062 | 50.088 | 1:40.150 |
| 5 | Jonas Müller | AUT | 30 | 5.386 | 5.394 | 50.269 | 49.906 | 1:50.175 |
| 6 | Nico Gleirscher | AUT | 18 | 5.387 | 5.391 | 50.093 | 50.143 | 1:40.236 |
| 7 | Kevin Fischnaller | ITA | 23 | 5.430 | 5.417 | 50.160 | 50.087 | 1:40.247 |
| 8 | Kristers Aparjods | LAT | 27 | 5.420 | 5.393 | 50.213 | 50.100 | 1:40.313 |
| 9 | Semen Pavlichenko | RUS | 29 | 5.385 | 5.365 | 50.217 | 50.127 | 1:40.344 |
| 10 | Roman Repilov | RUS | 22 | 5.374 | 5.368 | 50.224 | 50.163 | 1:40.387 |
| 11 | Arturs Darznieks | LAT | 16 | 5.415 | 5.421 | 50.301 | 50.325 | 1:40.626 |
| 12 | Wolfang Kindl | AUT | 17 | 5.424 | 4.450 | 50.261 | 50.420 | 1:40.681 |
| 13 | Reinhard Egger | AUT | 24 | 5.457 | 5.448 | 50.482 | 50.220 | 1:40.702 |
| 14 | Aleksandr Gorbatcevich | RUS | 19 | 5.408 | 5.417 | 50.367 | 50.344 | 1:40.711 |
| 15 | Max Langenhan | GER | 31 | 5.438 | 5.425 | 50.429 | 50.287 | 1:40.716 |
| 16 | Sebastian Bley | GER | 26 | 5.420 | 5.455 | 50.418 | 50.493 | 1:40.911 |
| 16 | Riks Rozitis | LAT | 13 | 5.462 | 5.453 | 50.462 | 50.449 | 1:40.911 |
| 18 | Moritz Bollmann | GER | 8 | 5.399 | 5.374 | 50.578 | 50.349 | 1:40.917 |
| 19 | Svante Kohala | SWE | 10 | 5.465 | 5.480 | 50.669 | 50.616 | 1:41.285 |
| 20 | Stepan Fedorov | RUS | 15 | 5.412 | 5.434 | 50.609 | 50.877 | 1:41.486 |
| 21 | Anton Dukach | UKR | 2 | 5.443 | 5.431 | 50.795 | 50.767 | 1:41.562 |
| 22 | Leon Felderer | ITA | 11 | 5.421 | 5.447 | 51.016 | 50.662 | 1:41.678 |
| 23 | Lukas Gufler | ITA | 14 | 5.457 | 5.471 | 50.462 | 51.295 | 1:41.757 |
| 24 | Marian Skupek | SVK | 5 | 5.490 | 5.508 | 51.035 | 50.906 | 1:41.941 |
| 25 | Jakub Simonak | SVK | 6 | 5.423 | 5.415 | 51.137 | 50.850 | 1:41.987 |
| 26 | Rupert Staudinger | GBR | 3 | 5.496 | 5.507 | 51.198 | 51.144 | 1:42.342 |
| 27 | Alex Gufler | ITA | 4 | 5.531 | 5.506 | 51.178 | 51.225 | 1:42.403 |
| 28 | Jozef Ninis | SVK | 21 | 5.493 | 5.499 | 51.984 | 50.636 | 1:42.620 |
| 29 | Theodor Turea | ROU | 1 | 5.432 | 5.415 | 51.639 | 51.438 | 1:43.077 |
| 30 | Andriy Mandziy | UKR | 9 | 5.497 | 5.612 | 50.832 | 52.427 | 1:43.259 |
| 31 | Valentin Cretu | ROU | 7 | 5.478 | 5.452 | 54.602 | 50.479 | 1:45.081 |
| 32 | Mateusz Sochowicz | POL | 12 | 5.427 | 5.432 | 50.810 | 55.324 | 1:46.134 |