From Igls, AUT
(Dec. 11, 2020) – It had been since the 2008/2009 World Cup season that Martins Dukurs didn't win a race in Igls. In fact, coming into the race Dukurs had only one heat where he hadn't been the fastest slider, being beat in the second heat of the 2018/2019 season race by Sungbin Yun.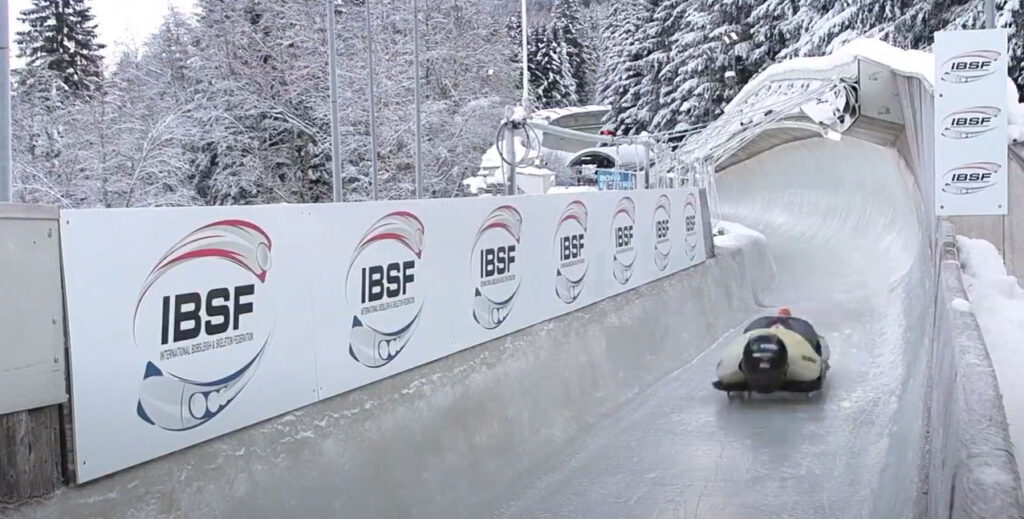 On Friday morning his streak of 10 World Cup gold medals (plus one World Championship gold) continued, though just barely.
Dukurs came into the second heat of the men's skeleton event tied with Great Britain's Matt Weston, with both sliders ahead of Russians Nikita Tregubov in third and Alexander Tretiakov and Daniil Romanov, who were tied for fourth. On the second run Tretiakov threw down what would be the best heat of the race to move up into the medals with just Weston and Dukurs to go. Weston went first, and while he was unable to match the time of Tretiakov he was able to put himself well within the top five.
The final run of the day went to Dukurs, and while he mustered a third-quickest run of the heat, it was enough to match the combined downtime of Tretiakov to tie for gold.
Tretiakov's gold was his first in Igls since the 2006/2007 season, where he won his first career gold. Dukurs' gold was his 11th World Cup gold in Igls and 57th of his career.
Great Britain's Matt Weston finished a career-best fourth on the strength of two great runs. Alexander Gassner was the top-finishing German in fifth place, just .04 ahead of teammate Christopher Grotheer in sixth.
Austrian Samuel Maier finished with his first career top ten in seventh.
It was a good morning of racing for the British men. Ben Fulker made his first career World Cup start and finished 12th, just behind Germany's Felix Keisinger. Jerry Rice made his first start of any tour this season and finished 16th.
Nathan Crumpton, sliding for American Samoa, was injured on his first run and did not take a second time.
Due to various COVID-19 restrictions, the United States, Canada, Korea, and China are all sitting out the first portion of the 2020/2021 season and will rejoin the tour after the new year.
Results:
| | | | | | | | | |
| --- | --- | --- | --- | --- | --- | --- | --- | --- |
| Pos | Name | Nation | Bib | Start 1 | Start 2 | Run 1 | Run 2 | Total |
| 1 | Alexander Tretiakov | RUS | 9 | 4.93 | 4.86 | 53.04 | 52.48 | 1:45.52 |
| 1 | Martins Dukurs | LAT | 7 | 4.90 | 4.85 | 52.90 | 52.62 | 1:45.52 |
| 3 | Nikita Tregubov | RUS | 5 | 4.94 | 4.90 | 52.97 | 52.57 | 1:45.54 |
| 4 | Matt Weston | GBR | 12 | 4.88 | 4.88 | 52.90 | 52.77 | 1:45.67 |
| 5 | Alexander Gassner | GER | 11 | 5.03 | 4.97 | 53.12 | 52.71 | 1:45.83 |
| 6 | Christopher Grotheer | GER | 6 | 5.01 | 4.93 | 53.17 | 52.70 | 1:45.87 |
| 7 | Samuel Maier | AUT | 17 | 5.09 | 5.07 | 53.14 | 52.78 | 1:45.92 |
| 8 | Daniil Romanov | RUS | 2 | 4.83 | 4.81 | 53.04 | 52.94 | 1:45.98 |
| 9 | Florian Auer | AUT | 14 | 5.11 | 5.06 | 53.30 | 52.80 | 1:46.10 |
| 10 | Tomass Dukurs | LAT | 13 | 5.06 | 5.04 | 53.26 | 52.93 | 1:46.19 |
| 11 | Felix Keisinger | GER | 10 | 4.86 | 4.85 | 53.40 | 52.99 | 1:46.39 |
| 12 | Ben Fulker | GBR | 20 | 5.02 | 5.02 | 53.32 | 53.22 | 1:46.54 |
| 13 | Ronald Auderset | SUI | 1 | 4.98 | 4.98 | 53.55 | 53.34 | 1:46.89 |
| 14 | Vladyslav Heraskevych | UKR | 8 | 5.11 | 5.04 | 53.83 | 53.15 | 1:46.98 |
| 15 | Mattia Gaspari | ITA | 4 | 5.07 | 5.02 | 53.90 | 53.18 | 1:47.08 |
| 16 | Jerry Rice | GBR | 18 | 5.01 | 4.98 | 53.79 | 53.35 | 1:47.14 |
| 17 | Manuel Schwärzer | ITA | 16 | 5.08 | 5.03 | 54.11 | 53.44 | 1:47.55 |
| 18 | Mihail Enache | ROU | 15 | 5.02 | 5.07 | 54.10 | 53.71 | 1:47.81 |
| 19 | Samuel Keiser | SUI | 3 | 5.24 | 5.24 | 54.26 | 53.92 | 1:48.18 |
| DNS | Nathan Crumpton | ASA | 19 | 5.08 | | 53.78 | DNS | DNS |