From Igls, AUT
(Dec. 11, 2020) – It took three races, but the IBSF World Cup has had its first "relatively crazy" race of the season.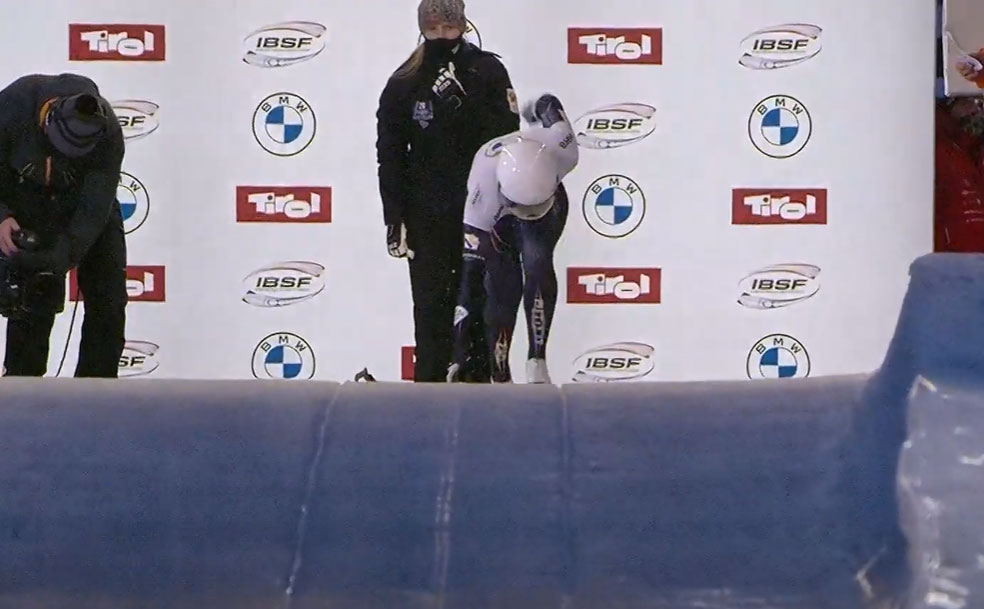 Heavy snow earlier in the week led to a winter wonderland around the track in Igls. Unfortunately, wind brought a good deal of that snow onto the track which led to a very inconsistent track. That, coupled with a broom being left in the track that was struck by Katie Tannenbaum led to the first heat being thrown out entirely. This led to Friday's one-heat race.
In that one heat Elena Nikitina put down a nearly flawless run on her way to her tenth IBSF World Cup gold medal. She was beat at the top by only Valentina Margaglio and had nobody that could keep pace with her at the bottom.
Nikitina was second in the heat that was canceled.
Kimberley Bos continued a streak of great races with a second place finish. Her 54.02 was the only time within .3 of Nikitina and good enough for her second silver medal and third straight medal to start the season.
Janine Flock, who had the fast time in the canceled first heat, finished tied for third with Tina Hermann. Both sliders had matching 54.19 downtimes. For Flock, it was her third medal in as many races. For Hermann it was he second straight bronze medal.
Valentina Margaglio finished a career-best fifth, just ahead of Jacqueline Lölling in sixth.
After three races on the IBSF World Cup tour, Flock holds a 30 point advantage over Bos, while Nikitina, Hermann, and Lölling round out the top five. Anna Fernstädt sits sixth.
Canada's Elisabeth Maier made her return to action after sitting out last season on maternity leave and showed absolutely no rust at all. She put down the seventh best time of the race, but was less than .2 out of the medals.
The United States, Korea, China, and most of the Canadian team are all sitting out the first portion of the season due to various COVID-19 restrictions, and will be on tour after the holiday break.
Results:
| | | | | | |
| --- | --- | --- | --- | --- | --- |
| Pos | Name | Nation | Bib | Start | Finish |
| 1 | Elena Nikitina | RUS | 6 | 5.25 | 53.74 |
| 2 | Kimberley Bos | NED | 12 | 5.39 | 54.02 |
| 3 | Tina Hermann | GER | 5 | 5.50 | 54.19 |
| 3 | Janine Flock | AUT | 8 | 5.49 | 54.19 |
| 5 | Valentina Margaglio | ITA | 4 | 5.24 | 54.23 |
| 6 | Jacqueline Lölling | GER | 11 | 5.56 | 54.37 |
| 7 | Elisabeth Maier | CAN | 20 | 5.48 | 54.52 |
| 8 | Anna Fernstädt | CZE | 10 | 5.71 | 54.58 |
| 8 | Hannah Neise | GER | 14 | 5.64 | 54.58 |
| 10 | Yulia Kanakina | RUS | 7 | 5.30 | 54.73 |
| 11 | Endija Terauda | LAT | 13 | 5.62 | 54.74 |
| 12 | Madelaine Smith | GBR | 19 | 5.61 | 54.78 |
| 13 | Alena Frolova | RUS | 1 | 5.40 | 54.91 |
| 14 | Alessia Crippa | ITA | 2 | 5.47 | 54.92 |
| 15 | Brogan Crowley | GBR | 17 | 5.47 | 54.99 |
| 16 | Amelia Coltman | GBR | 16 | 5.63 | 55.03 |
| 17 | Kim Meylemans | BEL | 9 | 5.48 | 55.08 |
| 18 | Nicole Silveira | BRA | 3 | 5.51 | 55.19 |
| 19 | Agathe Bessard | FRA | 15 | 6.80 | 55.31 |
| 20 | Katie Tannenbaum | ISV | 18 | 5.76 | 56.24 |