From Igls, AUT
(Dec. 12, 2020) – Breeana Walker continued her domination of the monobob discipline, winning gold in her first Monobob World Series race of the sseason.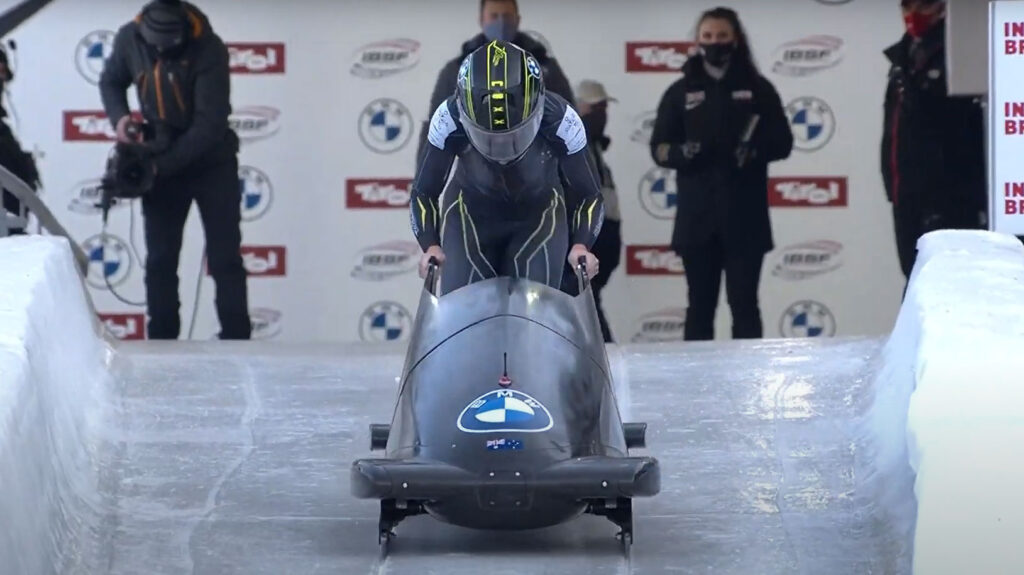 Walker's two runs were the two fastest of the race on her way to a .44 victory over Germany's Laura Nolte. Walker also had the two fastest pushes of the race.
The gold for Walker is her sixth in eight IBSF monobob races, with the previous races all being held as a "Women's Monobob Event".
Nolte finished second in her first ever official monobob race, while Kati Beierl continued a great start to the IBSF season with her second Monobob World Series bronze to go with a silver and a fourth place finish in two-woman bobsled.
Melanie Hasler finished fourth, just ahead of Mica McNeill, who finished fifth in her third monobob race. In her previous two attempts she won two bronze medals.
Romania's Andreea Grecu finished sixth for her second top six in two Women's Monobob World Series races.
The United States, Canada, China, and Korea are all sitting out the first portion of the season due in part to COVID-19 travel restrictions and will return to World Cup action after the holiday break.
Results:
| | | | | | | | | |
| --- | --- | --- | --- | --- | --- | --- | --- | --- |
| Pos | Name | Nation | Bib | Start 1 | Start 2 | Run 1 | Run 2 | Total |
| 1 | Breeana Walker | AUS | 6 | 5.86 | 5.87 | 55.60 | 55.48 | 1:51.08 |
| 2 | Laura Nolte | GER | 7 | 5.91 | 5.89 | 55.80 | 55.72 | 1:51.52 |
| 3 | Katrin Beierl | AUT | 3 | 6.03 | 6.00 | 55.83 | 55.81 | 1:51.64 |
| 4 | Melanie Hasler | SUI | 1 | 5.99 | 5.96 | 55.98 | 55.94 | 1:51.92 |
| 5 | Mica McNeill | GBR | 8 | 6.05 | 6.05 | 56.08 | 56.05 | 1:52.13 |
| 6 | Andreea Grecu | ROU | 2 | 5.90 | 5.90 | 56.15 | 56.06 | 1:52.21 |
| 7 | Kim Kalicki | GER | 10 | 5.96 | 5.96 | 56.17 | 56.12 | 1:52.29 |
| 8 | Mariama Jamanka | GER | 5 | 5.97 | 5.98 | 56.12 | 56.44 | 1:52.56 |
| 9 | Margot Boch | FRA | 9 | 6.13 | 6.12 | 56.58 | 56.27 | 1:52.85 |
| DNS | Martina Fontanive | SUI | 4 | | | DNS | | DNS |