From Igls, AUT
(Dec. 12, 2020) – Johannes Lochner became the first pilot not named "Friedrich" to win a gold medal in the 2020/2021 IBSF World Cup season, cruising to victory in Igls.
Lochner set the fast time in both heats on his way to a .3 second victory over Friedrich for his first gold medal of the season. In the four races of Sigulda, he finished with two silver medals and one bronze.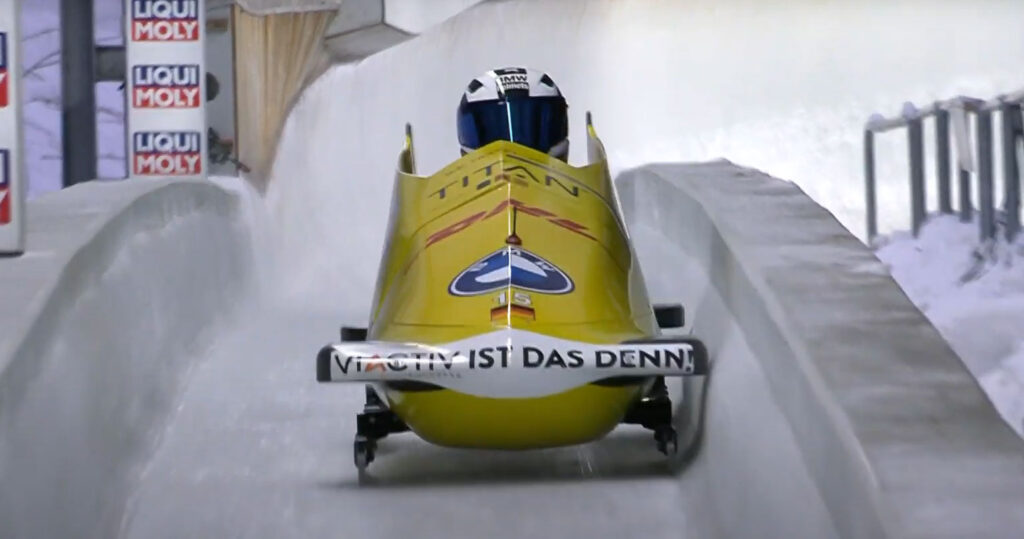 The win was Lochner's fifth in two-man bobsled, and his 11th medal in his last 13 races.
Friedrich moved up from third to second in the second heat for his first silver medal of the season and his 25th straight finish of first or second place in two-man action. His streak of top two finishes dates back to November 24, 2017 in Whistler.
Oskars Kibermanis finished third for his second medal of the young season. He came into the second heat just .01 ahead of Friedrich, but couldn't find the pace to keep the German champion behind him.
There was a tie for fourth between Czechia's Dominik Dvorak and Switzerland's Michael Vogt. The fourth place finish tied a career best for the Czech slider, while the Swiss pilot finished in the top five for the fourth time in five races.
Christoph Hafer finished sixth in the third German sled.
Great Britain made their first two-man bobsled start of the World Cup season after Brad Hall was out with an injury and Lamin Deen started on the European Cup season. Hall finished just out of the top six in seventh position, while Lamin Deen finished 19th in his fifth World Cup race since the beginning of 2019.
Both Mihai Tentea and Rudy Rinaldi were nursing injuries coming into the race in Igls, and both pilots chose to sit in their sleds at the start. Tentea edged out Rinaldi for 20th between the two injured pilots.
The United States, Canada, Korea, and China all are sitting out the first portion of the season until after the Christmas break due in part to COVID-19 travel restrictions.
Results:
| | | | | | | | | |
| --- | --- | --- | --- | --- | --- | --- | --- | --- |
| Pos | Names | Nation | Bib | Start 1 | Start 2 | Run 1 | Run 2 | Total |
| 1 | Lochner / Franke | GER | 9 | 5.04 | 5.03 | 51.48 | 51.45 | 1:42.93 |
| 2 | Friedrich / Margis | GER | 7 | 5.05 | 5.01 | 51.65 | 51.58 | 1:43.23 |
| 3 | Kibermanis / Miknis | LAT | 10 | 5.03 | 5.04 | 51.64 | 51.76 | 1:43.40 |
| 4 | Dvorak / Nosek | CZE | 13 | 5.15 | 5.10 | 51.85 | 51.98 | 1:43.83 |
| 4 | Vogt / Michel | SUI | 4 | 5.12 | 5.13 | 51.81 | 52.02 | 1:43.83 |
| 6 | Hafer / Rasp | GER | 5 | 5.21 | 5.21 | 51.91 | 52.03 | 1:43.94 |
| 7 | Hall / Gleeson | GBR | 19 | 5.09 | 5.09 | 51.95 | 52.00 | 1:43.95 |
| 8 | Gaitiukevich / Malykh | RUS | 16 | 5.13 | 5.10 | 51.96 | 52.03 | 1:43.99 |
| 9 | Berzins / Springis | LAT | 8 | 5.11 | 5.10 | 52.05 | 52.12 | 1:44.17 |
| 10 | Melbardis / Dambis | LAT | 2 | 5.21 | 5.20 | 52.07 | 52.18 | 1:44.25 |
| 11 | Friedli / Schläpfer | SUI | 3 | 5.19 | 5.19 | 52.07 | 52.22 | 1:44.29 |
| 12 | Maier / Sammer | AUT | 15 | 5.17 | 5.19 | 52.13 | 52.17 | 1:44.30 |
| 13 | Heinrich / Lefebvre | FRA | 6 | 5.22 | 5.21 | 52.19 | 52.12 | 1:44.31 |
| 14 | Stulnev / Koshelev | RUS | 20 | 5.17 | 5.17 | 52.16 | 52.16 | 1:44.32 |
| 15 | de Bruin / Franjic | NED | 14 | 5.19 | 5.20 | 52.19 | 52.26 | 1:44.45 |
| 16 | Variola / Bilotti | ITA | 1 | 5.17 | 5.15 | 52.30 | 52.30 | 1:44.60 |
| 17 | Baumgartner / Fantazzini | ITA | 11 | 5.25 | 5.24 | 52.39 | 52.34 | 1:44.73 |
| 18 | Treichl / Mitterer | AUT | 17 | 5.22 | 5.21 | 52.51 | 52.25 | 1:44.76 |
| 19 | Deen / Dasaolu | GBR | 21 | 5.24 | 5.29 | 52.43 | 52.50 | 1:44.93 |
| 20 | Tentea / Daroczi | ROU | 12 | 5.73 | 5.75 | 53.21 | 53.18 | 1:46.39 |
| 21 | Rinaldi / Riou | MON | 18 | 5.91 | | 53.75 | | |