From Oberhof, GER
(Dec. 12, 2020) – Felix Loch edged teammate Johannes Ludwig to win his fourth straight race to start the 2020/2021 FIL World Cup season.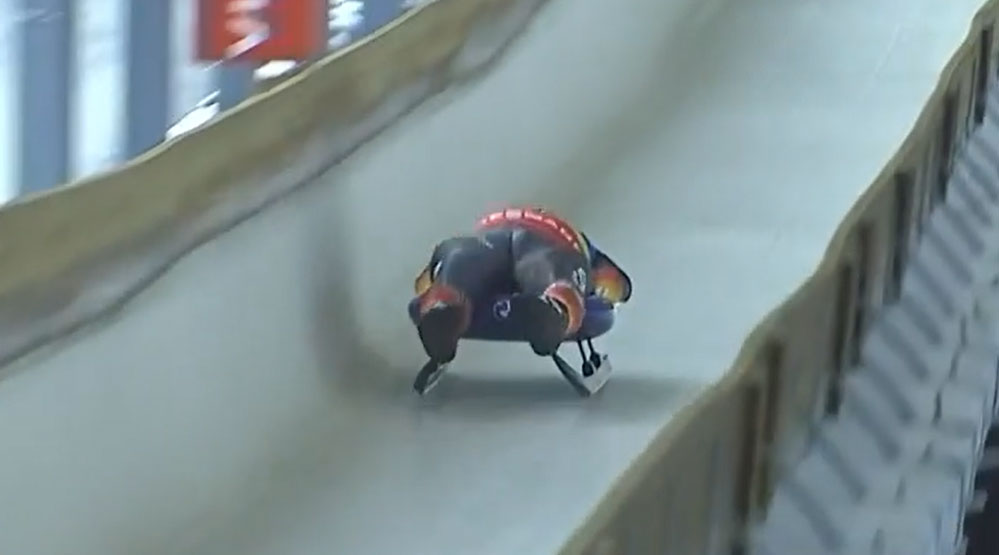 Loch sat second after one heat, just .039 behind Ludwig. On that second run it was again close. Loch put down a 43.290 to set a track record, and while Ludwig's 43.425 was quick, it wasn't quick enough to bump his teammate out of the leader's box.
Loch's win put him almost 150 points ahead of Ludwig after four races overall. Ludwig's silver was his second of the year.
Jonas Müller finished well behind the two Germans in third, up from fifth in the first heat. He has two bronze medals to start the season and sits fifth overall.
Semen Pavlichenko and Roman Repilov both finished in the top five, in fourth and fifth respectively, but never really contended for gold. Dominick Fischnaller finished sixth.
Fischnaller is third overall after four races.
The United States, Canada, and China all are sitting out of the first portion of the season, but expect to join the tour following the holiday break.
Results:
| | | | | | | | | |
| --- | --- | --- | --- | --- | --- | --- | --- | --- |
| Pos | Name | Nation | Bib | Start 1 | Start 2 | Run 1 | Run 2 | Total |
| 1 | Felix Loch | GER | 28 | 7.191 | 7.181 | 43.455 | 43.290 | 1:26.745 |
| 2 | Johannes Ludwig | GER | 29 | 7.170 | 7.154 | 43.416 | 43.425 | 1:26.841 |
| 3 | Jonas Müller | AUT | 27 | 7.179 | 7.180 | 43.525 | 43.465 | 1:26.990 |
| 4 | Semen Pavlichenko | RUS | 31 | 7.188 | 7.198 | 43.523 | 43.533 | 1:27.056 |
| 5 | Roman Repilov | RUS | 26 | 7.181 | 7.142 | 43.506 | 43.554 | 1:27.060 |
| 6 | Dominik Fischnaller | ITA | 32 | 7.208 | 7.195 | 43.599 | 43.511 | 1:27.110 |
| 7 | Nico Gleirscher | AUT | 0 | 7.229 | 7.208 | 43.611 | 43.599 | 1:27.210 |
| 8 | David Gleirscher | AUT | 23 | 7.218 | 7.210 | 43.596 | 43.623 | 1:27.219 |
| 9 | Max Langenhan | GER | 30 | 7.224 | 7.219 | 43.661 | 43.663 | 1:27.324 |
| 10 | Wolfgang Kindl | AUT | 22 | 7.229 | 7.216 | 43.714 | 43.652 | 1:27.366 |
| 11 | Kevin Fischnaller | ITA | 25 | 7.231 | 7.209 | 43.784 | 43.606 | 1:27.390 |
| 12 | Moritz Bollmann | GER | 24 | 7.153 | 7.167 | 43.741 | 43.683 | 1:27.424 |
| 13 | Arturs Darznieks | LAT | 18 | 7.240 | 7.240 | 43.724 | 43.726 | 1:27.450 |
| 14 | Gints Berzins | LAT | 17 | 7.278 | 7.237 | 43.762 | 43.756 | 1:27.518 |
| 15 | Riks Rozitis | LAT | 16 | 7.264 | 7.235 | 43.856 | 43.701 | 1:27.557 |
| 16 | Sebastian Bley | GER | 19 | 7.242 | 7.245 | 43.922 | 43.720 | 1:27.642 |
| 17 | Reinhard Egger | AUT | 21 | 7.262 | 7.297 | 43.973 | 43.774 | 1:27.747 |
| 18 | Mateusz Sochowicz | POL | 14 | 7.256 | 7.241 | 43.995 | 43.892 | 1:27.887 |
| 19 | Leon Felderer | ITA | 12 | 7.306 | 7.289 | 44.054 | 43.959 | 1:28.013 |
| 20 | Lukas Gufler | ITA | 13 | 7.345 | 7.290 | 44.199 | 43.994 | 1:28.193 |
| 21 | Andriy Mandziy | UKR | 10 | 7.364 | 7.308 | 44.163 | 44.142 | 1:28.305 |
| 22 | Jozef Ninis | SVK | 9 | 7.347 | 7.322 | 44.322 | 43.993 | 1:28.315 |
| 23 | Aleksandr Gorbatcevich | RUS | 15 | 7.225 | 7.193 | 44.595 | 43.792 | 1:28.387 |
| 24 | Stepan Fedorov | RUS | 11 | 7.224 | 7.228 | 44.011 | 44.403 | 1:28.414 |
| 25 | Svante Kohala | SWE | 8 | 7.349 | 7.293 | 44.356 | 44.108 | 1:28.464 |
| 26 | Anton Dukach | UKR | 6 | 7.274 | 7.226 | 44.118 | 44.437 | 1:28.555 |
| 27 | Jakub Simonak | SVK | 7 | 7.275 | 7.256 | 44.766 | 44.101 | 1:28.867 |
| 28 | Michael Lejsek | CZE | 4 | 7.409 | 7.360 | 44.599 | 44.569 | 1:29.168 |
| 29 | Pavel Angelov | BUL | 1 | 7.485 | 7.457 | 44.728 | 44.630 | 1:29.358 |
| 30 | Marian Skupek | SVK | 5 | 7.395 | 7.414 | 45.116 | 44.513 | 1:29.629 |
| 31 | Jozef Husla | SVK | 3 | 7.383 | 7.335 | 44.793 | 45.063 | 1:29.856 |
| 32 | Namkyu Lim | KOR | 2 | 7.383 | 7.388 | 45.173 | 44.845 | 1:30.018 |