From Igls, AUT
(Dec. 13, 2020) – Laura Nolte could not be touched in the third race of the IBSF World Cup for women's bobsled, setting the fast time in both heats on her way to victory in Igls.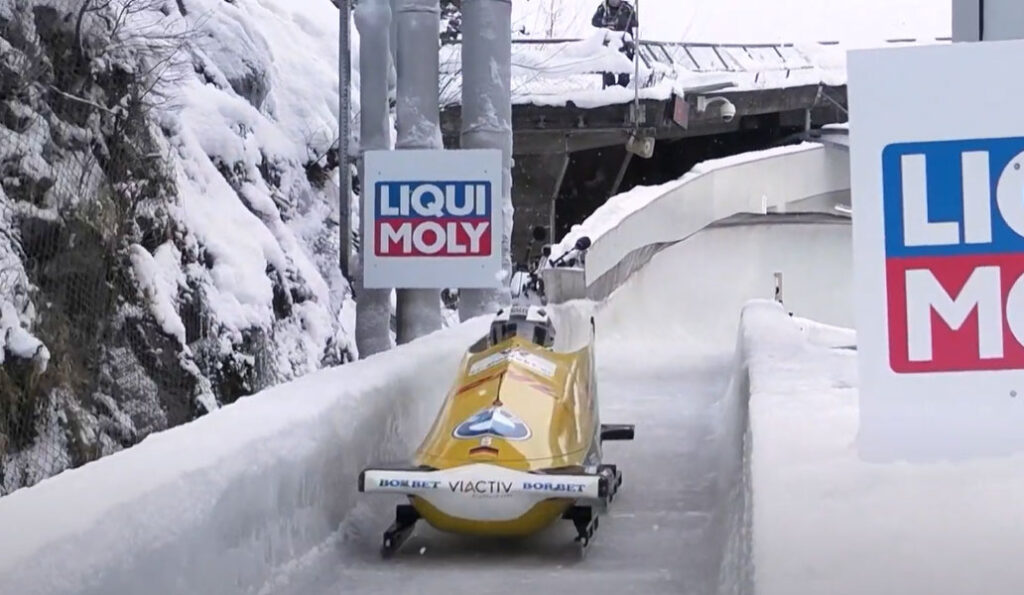 Nolte and brakewoman Deborah Levi had the fast push in both heats on top of the fast downtime in both runs for a .3 second victory over teammate Kim Kalicki. Mariama Jamanka finished third, .45 back, to finish out the German sweep of the podium.
The gold for Nolte was the third of her relatively short World Cup career.
For Kalicki, the silver medal was her third in five World Cup races. She has never finished off of the podium in any of those events.
Great Britain's Mica McNeill tied a career-best with a fourth place finish in her first start of the World Cup sesaon. Austria's Kati Beierl finished fifth for her third straight top five finish, while Margot Boch returned to action with a sixth place run.
Due to various COVID-19 restrictions, the United States, Canada, Korea, and China all are sitting out the first portion of the IBSF World Cup season and will join the tour after the holiday break.
Results:
| | | | | | | | | |
| --- | --- | --- | --- | --- | --- | --- | --- | --- |
| Pos | Names | Nation | Bib | Start 1 | Start 2 | Run 1 | Run 2 | Total |
| 1 | Nolte / Levi | GER | 7 | 5.46 | 5.44 | 53.65 | 53.35 | 1:47.00 |
| 2 | Kalicki / Strack | GER | 9 | 5.54 | 5.49 | 53.83 | 53.47 | 1:47.30 |
| 3 | Jamanka / Fiebig | GER | 3 | 5.54 | 5.52 | 53.90 | 53.55 | 1:47.45 |
| 4 | McNeill / Douglas | GBR | 12 | 5.65 | 5.67 | 54.20 | 53.93 | 1:48.13 |
| 5 | Beierl / Onasanya | AUT | 5 | 5.61 | 5.58 | 54.20 | 53.97 | 1:48.17 |
| 6 | Boch / Senechal | FRA | 2 | 5.76 | 5.70 | 54.67 | 54.13 | 1:48.80 |
| 7 | Hasler / Naef | SUI | 4 | 5.74 | 5.72 | 54.77 | 54.06 | 1:48.83 |
| 8 | Walker / Blizzard | AUS | 10 | 5.76 | 5.75 | 54.33 | 54.53 | 1:48.86 |
| 9 | Grecu / Wick | ROU | 1 | 5.73 | 5.67 | 54.74 | 54.17 | 1:48.91 |
| 10 | Andreutti / Schenk | ITA | 11 | 5.83 | 5.86 | 54.91 | 54.69 | 1:49.60 |
| 11 | Fontanive / Pasternack | SUI | 8 | 6.10 | 6.06 | 55.41 | 54.89 | 1:50.30 |
| 12 | Smolarek / Slupecka | POL | 6 | 6.15 | 6.10 | 55.94 | 55.55 | 1:51.49 |