From Oberhof, GER
(Dec. 13, 2020) – Prior to the 2020/2021 season, Dajana Eitberger had said that it may take a bit of time for her to return to form after taking a season off for maternity leave after the birth of her son Levi.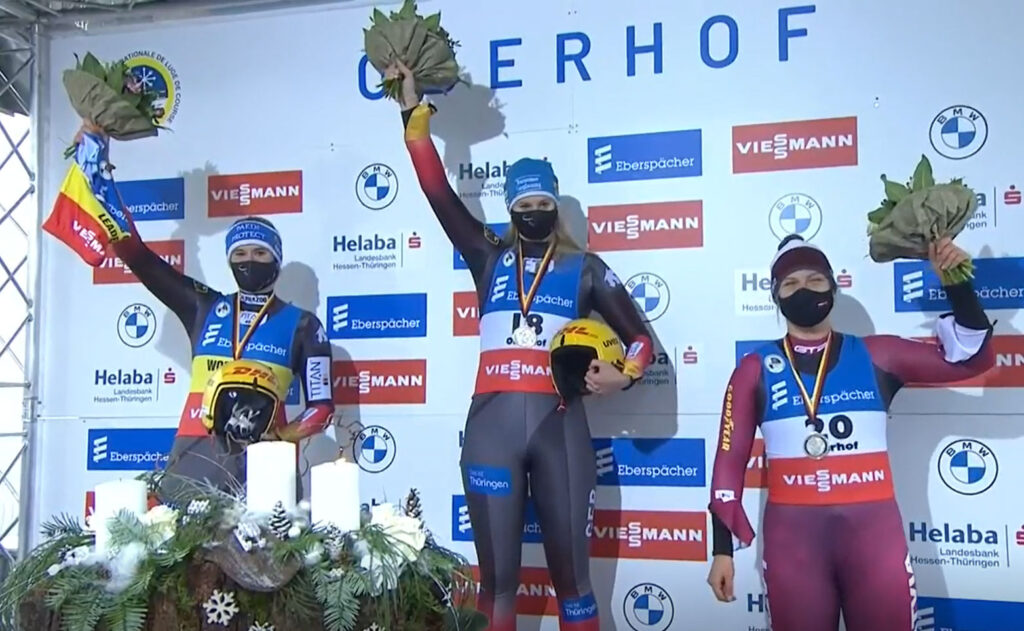 That bit of time was exactly four races. The 2018 Olympic silver medalist put together two quick and clean runs in Oberhof to win gold after coming into the second heat in second place, just behind Latvia's Kendija Aparjode.
The gold medal for Eitberger is the seventh of her career.
Natalie Geisenberger, who also is back from a year of maternity leave, was the only slider within a tenth of a second of Eitberger to finish second. The silver medal for Geisenberger is the fourth of the season, and enough to keep her atop of the World Cup standings.
While Aparjode couldn't hold onto the lead in the second heat, she did hang on for a bronze medal, the second singles medal of her career and first in a two-heat race. Her previous singles medal came in the Sprint World Cup race in Sigulda during the 2017/2018 season.
Madeleine Egle set a start record and track record on her second run, and that was enough to move up from fifth to fourth for her fourth straight top six finish.
Russia's Tatyana Ivanova and Latvia's Eliza Tiruma rounded out the top six.
Due to various COVID-19 restrictions, the United States, Canada, and China, all are sitting out the first portion of the season and should rejoin the tour after the holiday break.
Results:
| | | | | | | | | |
| --- | --- | --- | --- | --- | --- | --- | --- | --- |
| Pos | Name | Nation | Bib | Start 1 | Start 2 | Run 1 | Run 2 | Total |
| 1 | Dajana Eitberger | GER | 18 | 6.850 | 6.897 | 41.672 | 41.666 | 1:23.338 |
| 2 | Natalie Geisenberger | GER | 25 | 6.845 | 6.875 | 41.767 | 41.643 | 1:23.410 |
| 3 | Kendija Aparjode | LAT | 20 | 6.853 | 6.895 | 41.667 | 41.840 | 1:23.507 |
| 4 | Madeleine Egle | AUT | 23 | 6.836 | 6.812 | 41.912 | 41.602 | 1:23.514 |
| 5 | Tatyana Ivanova | RUS | 28 | 6.863 | 6.843 | 41.937 | 41.740 | 1:23.677 |
| 6 | Eliza Tiruma | LAT | 21 | 6.913 | 6.892 | 42.000 | 41.788 | 1:23.788 |
| 7 | Viktoriia Demchenko | RUS | 22 | 6.926 | 5.898 | 41.974 | 41.831 | 1:23.805 |
| 7 | Lisa Schulte | AUT | 19 | 6.886 | 6.901 | 41.997 | 41.808 | 1:23.805 |
| 9 | Cheynne Rosenthal | GER | 17 | 6.889 | 6.890 | 41.821 | 41.993 | 1:23.814 |
| 10 | Julia Taubitz | GER | 24 | 6.890 | 6.903 | 41.995 | 41.910 | 1:23.905 |
| 11 | Andrea Vötter | ITA | 26 | 6.814 | 6.821 | 42.071 | 41.839 | 1:23.910 |
| 12 | Hannah Prock | AUT | 16 | 6.939 | 6.951 | 41.981 | 41.942 | 1:23.923 |
| 13 | Ulla Zirne | LAT | 15 | 6.977 | 6.990 | 42.152 | 41.891 | 1:24.043 |
| 14 | Natalie Maag | SUI | 14 | 6.960 | 6.947 | 42.073 | 42.034 | 1:24.107 |
| 15 | Verena Hofer | ITA | 13 | 6.944 | 6.936 | 42.159 | 41.962 | 1:24.121 |
| 16 | Ekaterina Baturina | RUS | 12 | 6.922 | 6.917 | 42.151 | 42.995 | 1:24.146 |
| 17 | Ekaterina Katnikova | RUS | 27 | 6.941 | 6.916 | 42.107 | 42.192 | 1:24.299 |
| 18 | Sigita Berzina | LAT | 11 | 6.896 | 6.860 | 42.327 | 42.107 | 1:24.434 |
| 19 | Aileen Frisch | KOR | 8 | 6.929 | 6.931 | 42.304 | 42.156 | 1:24.443 |
| 20 | Klaudia Domaradzka | POL | 3 | 6.944 | 6.891 | 42.304 | 42.156 | 1:24.460 |
| 21 | Katarina Simonakova | SVK | 7 | 6.967 | 6.976 | 42.307 | 42.171 | 1:24.478 |
| 22 | Olena Stetskiv | UKR | 2 | 6.945 | 6.980 | 42.338 | 42.305 | 1:24.643 |
| 23 | Marion Oberhofer | ITA | 6 | 6.984 | 6.979 | 42.523 | 42.171 | 1:24.694 |
| 24 | Olena Smaha | UKR | 9 | 7.023 | 7.002 | 42.463 | 42.303 | 1:24.766 |
| 25 | Veronica Ravenna | ARG | 5 | 7.097 | 7.052 | 42.554 | 42.244 | 1:24.798 |
| 26 | Tove Kohala | SWE | 4 | 7.018 | 7.000 | 42.632 | 42.469 | 1:25.101 |
| 27 | Nina Zöggeler | ITA | 10 | 6.935 | 6.941 | 42.165 | 43.057 | 1:25.222 |
| 28 | Hyesun Jung | KOR | 1 | 7.025 | 7.039 | 43.945 | 43.419 | 1:27.364 |