From Oberhof, GER
(Dec. 13, 2020) – Germany won gold in all three races in Oberhof leading into the Team Relay event, so it was no surprise when they took the gold medal in the relay.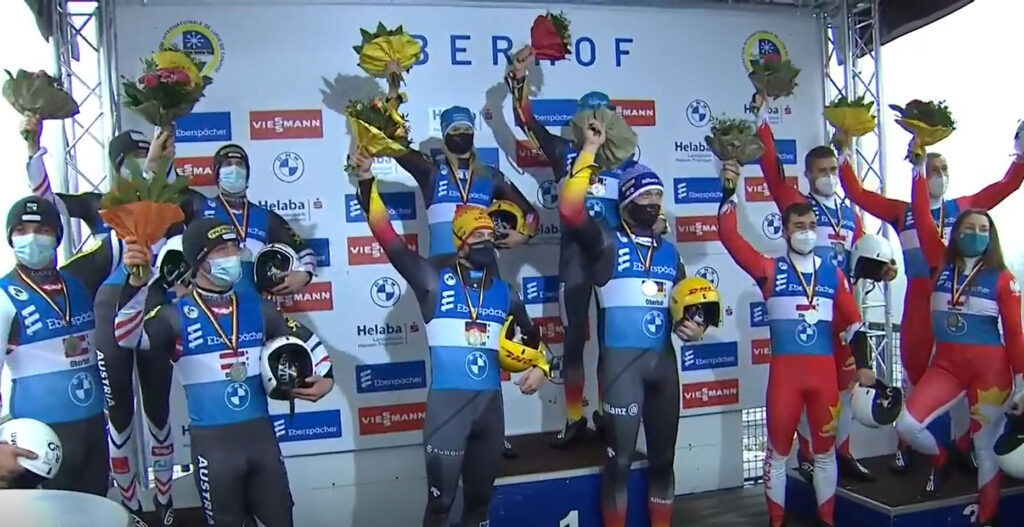 But Austria made it close.
Dajana Eitberger and Felix Loch both came down just behind their Austrian counterparts Madeleine Egle and Jonas Müller, and it was only .042 separating the two teams with just the doubles team of Toni Eggert & Sascha Benecken to come. The German doubles team just barely out-slid Thomas Steu & Lorenz Koller to give Germany the victory by just .036 over Austria.
The gold medal was the 41st for Germany in 61 races.
Poland was the first team to complete all three runs of the relay. Their time held all the way until Austria came down as the third to last team to go, bumping the Polish to second with Russia and Germany to go. Russia had trouble when Semen Pavlichenko hit the wall early in his run, and it was enough to drop the Russians behind Poland to give Poland their first ever World Cup Team Relay medal with a bronze.
Italy finished fourth, just .008 behind Poland. Latvia and Russia rounded out the top six.
Results:
| | | | | | | |
| --- | --- | --- | --- | --- | --- | --- |
| Pos | Names | Nation | Bib | Women | Men | Total |
| 1 | Eitberger / Loch / Eggert & Benecken | GER | 10 | 46.604 | 1:34.869 | 2:23.648 |
| 2 | Egle / Müller / Steu & Koller | AUT | 8 | 46.546 | 1:34.827 | 2:23.684 |
| 3 | Domaradzka / Sochowicz / Chmielewski & Kowalewski | POL | 2 | 47.024 | 1:35.626 | 2:24.766 |
| 4 | Vötter / D. Fischnaller / Rieder & Kainzwaldner | ITA | 4 | 47.049 | 1:35.257 | 2:24.774 |
| 5 | Aparojde / Rozitis / Sics & Sics | LAT | 7 | 46.473 | 1:35.711 | 2:24.946 |
| 6 | Ivanova / Pavlichenko / Denisv & Antonov | RUS | 9 | 46.674 | 1:35.777 | 2:25.195 |
| 7 | Simonakova / Ninis / Vavercak & Zmij | SLO | 6 | 47.435 | 1:36.416 | 2:25.934 |
| 8 | Frisch / Lim / Park & Cho | KOR | 3 | 47.062 | 1:36.797 | 2:26.489 |
| 9 | Stetskiv / Mandziy / Stakhiv & Lysetskyi | UKR | 5 | 47.749 | 1:36.846 | 2:27.093 |
| DNF | Cezikova / Lejsek / Vejdelek & Pekny | CZE | 1 | 48.241 | DNF | |