From Igls, AUT
(Dec. 13, 2020) – The losing streak for Francesco Friedrich lasted exactly one race. One day after being edged out of gold by teammate Johannes Lochner the six-time two-man bobsled World Champion set the fastest time in both heats on his way to a .19 second victory over Lochner.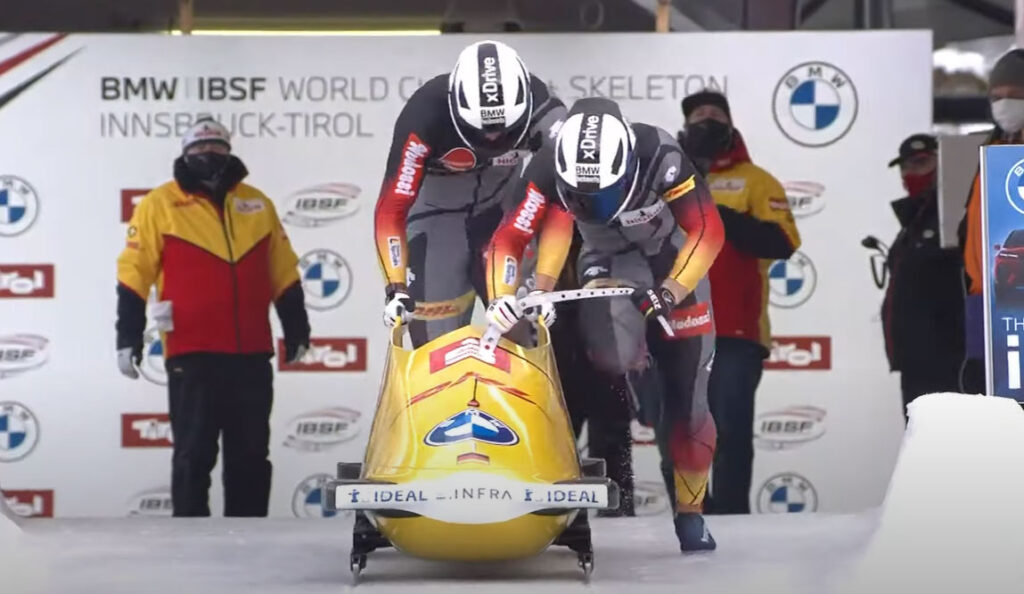 On top of the two fastest runs of the race, Friedrich and brakeman Thorsten Margis had the two fastest starts of the race as well. The gold for Friedrich was his fourth in five races and 31st of his two-man bobsled career.
For Lochner, the silver medal was his third of the season and his fifth top five in five races.
Oskars Kibermanis finished third, well behind Friedrich and Lochner, but also far ahead of anybody out of the medals. The bronze medal was his second in as many days and third medal of the season. It was also enough to put him into third place in the IBSF World Cup two-man bobsled standings behind Friedrich and Lochner.
Russia's Rostislav Gaitiukevich finished an impressive fourth to tie his career best finish in World Cup action. He finished just ahead of Czechia's Dominik Dvorak, whose fifth place finish was his second straight top five, a best for him.
Great Britain's Brad Hall used a tidy second run to move up into sixth from seventh in the first run in his second race returning from a preseason injury. His second trip down the track in Igls was the fourth fastest of the race behind only the three medalists.
The United States, Canada, Korea, and China are all sitting out the beginning of the season due to COVID-19 travel restrictions.
Results:
| | | | | | | | | |
| --- | --- | --- | --- | --- | --- | --- | --- | --- |
| Pos | Names | Nation | Bib | Start 1 | Start 2 | Run 1 | Run 2 | Total |
| 1 | Friedrich / Margis | GER | 10 | 5.04 | 5.03 | 51.60 | 51.69 | 1:43.29 |
| 2 | Lochner / Rasp | GER | 7 | 5.07 | 5.07 | 51.65 | 51.80 | 1:43.45 |
| 3 | Kibermanis / Miknis | LAT | 6 | 5.06 | 5.05 | 51.75 | 51.89 | 1:43.64 |
| 4 | Gaitiukevich / Malykh | RUS | 17 | 5.12 | 5.11 | 52.02 | 52.05 | 1:44.07 |
| 5 | Dvorak / Nosek | CZE | 9 | 5.18 | 5.12 | 52.06 | 52.06 | 1:44.12 |
| 6 | Hall / Cackett | GBR | 16 | 5.16 | 5.14 | 52.16 | 51.97 | 1:44.13 |
| 7 | Hafer / Hammers | GER | 12 | 5.22 | 5.20 | 52.13 | 52.14 | 1:44.27 |
| 8 | Berzins / Nemme | LAT | 5 | 5.11 | 5.11 | 52.20 | 52.15 | 1:44.35 |
| 9 | Friedli / Jones | SUI | 8 | 5.15 | 5.16 | 52.22 | 52.17 | 1:44.39 |
| 10 | Melbaris / Bebriss | LAT | 15 | 5.19 | 5.23 | 52.28 | 52.19 | 1:44.47 |
| 10 | Heinrich / Borges Mendonaca | FRA | 4 | 5.21 | 5.19 | 52.20 | 52.27 | 1:44.47 |
| 12 | Maier / Moldovan | AUT | 18 | 5.24 | 5.25 | 52.23 | 52.30 | 1:44.53 |
| 13 | de Bruin / Franjic | NED | 3 | 5.21 | 5.22 | 52.25 | 52.29 | 1:44.54 |
| 14 | Baumgartner / Fantazzini | ITA | 11 | 5.24 | 5.24 | 52.41 | 52.35 | 1:44.76 |
| 15 | Vogt / Gyger | SUI | 13 | 5.26 | 5.27 | 52.48 | 52.33 | 1:44.81 |
| 16 | Treichl / Glaboniat | AUT | 1 | 5.30 | 5.27 | 52.36 | 52.48 | 1:44.84 |
| 17 | Variola / Bilotti | ITA | 2 | 5.17 | 5.18 | 52.47 | 52.39 | 1:44.86 |
| 18 | Stulnev / Koshelev | RUS | 19 | 5.20 | 5.25 | 52.48 | 52.49 | 1:44.97 |
| 19 | Deen / Dasaolu | GBR | 20 | 5.23 | 5.36 | 52.56 | 52.60 | 1:45.16 |
| 20 | Tentea / Dobre | ROU | 14 | 5.70 | 5.86 | 53.79 | 53.66 | 1:47.45 |
| 21 | Rinaldi / Demarthon | MON | 21 | 5.90 | | 53.84 | | |