From Winterleiten, AUT
(Dec. 17, 2020) – For the third straight season Italy's Evelin Lanthaler won the season opener, this time in Winterleiten. Like Scheikl in the men's race, Lanthaler was the quickest at every split in both races on her way to a .87 second victory over teammate Greta Pinggera.
The win for Lanthaler was her 15th World Cup win in her last 16 races. She hasn't finished off the podium since the season opener of the 2014/2015 season in Kühtai.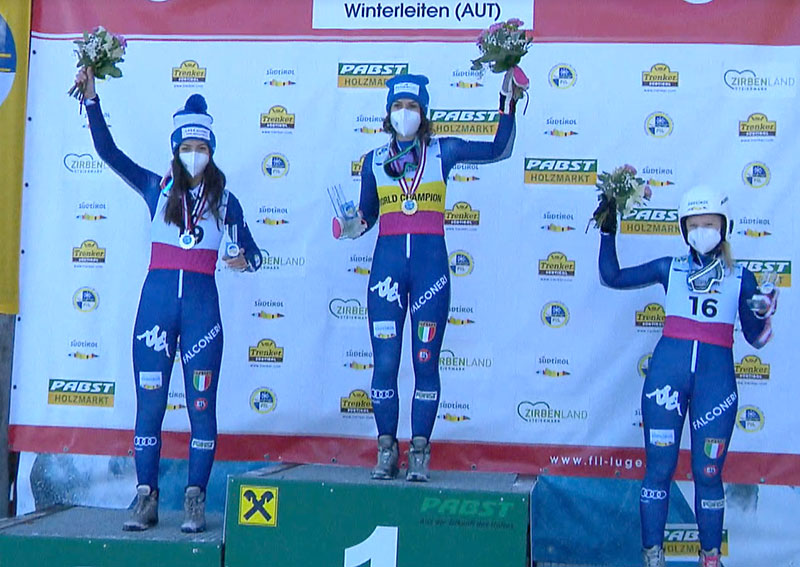 For Pinggera, her silver medal took some work. The 2017 World Champion came into the second heat in fourth place, but put down what would be the second fastest run of the race with  teammate Daniela Mittermair and Austria's Tina Unterberger still to come. Neither woman could match Pinggera's pace at the bottom, with Mittermair finishing in third with a bronze medal, and Unterberger falling to fifth.
Mittermair's bronze medal was her first. Prior to the season opener in Winterleiten her career best was a fourth place finish in Umhausen during the 2016/2017 season.
Austria's Michelle Diepold finished fourth, just .03 ahead of Unterberger, while Germany's Sara Bachmann finished sixth.
Results:
| | | | | | | | | |
| --- | --- | --- | --- | --- | --- | --- | --- | --- |
| Pos | Name | Nation | Bib | Start 1 | Start 2 | Run 1 | Run 2 | Total |
| 1 | Evelin Lanthaler | ITA | 20 | 8.82 | 8.88 | 62.71 | 61.77 | 2:04.48 |
| 2 | Greta Pinggera | ITA | 19 | 8.96 | 9.07 | 63.18 | 62.17 | 2:05.35 |
| 3 | Daniela Mittermair | ITA | 16 | 8.87 | 8.89 | 62.97 | 63.18 | 2:06.15 |
| 4 | Michelle Diepold | AUT | 17 | 9.12 | 9.09 | 63.21 | 63.31 | 2:06.52 |
| 5 | Tina Unterberger | AUT | 18 | 8.98 | 9.05 | 63.01 | 63.54 | 2:06.55 |
| 6 | Sara Bachmann | GER | 15 | 9.17 | 9.15 | 63.43 | 63.72 | 2:07.15 |
| 7 | Lisa Walch | GER | 13 | 9.24 | 9.30 | 63.68 | 63.89 | 2:07.57 |
| 8 | Sarah Schiller | GER | 7 | 9.35 | 9.31 | 64.20 | 64.09 | 2:08.29 |
| 9 | Nadine Staffler | ITA | 8 | 9.22 | 9.27 | 64.20 | 64.22 | 2:08.42 |
| 10 | Michaela Niemetz | GER | 14 | 9.28 | 9.34 | 65.44 | 65.18 | 2:10.62 |
| 11 | Riccarda Ruetz | AUT | 9 | 9.19 | 9.26 | 65.65 | 65.01 | 2:10.66 |
| 12 | Julia Plowy | POL | 11 | 9.25 | 9.26 | 66.01 | 65.75 | 2:11.76 |
| 13 | Klaudia Promny | POL | 1 | 9.30 | 9.52 | 67.10 | 67.33 | 2:14.43 |
| 14 | Viktoriia Antoniuk | UKR | 10 | 9.79 | 10.12 | 70.09 | 70.41 | 2:20.50 |
| 15 | Nika Nemec | SLO | 3 | 9.70 | 9.77 | 72.05 | 71.53 | 2:23.58 |
| 16 | Patricija Urbanic | CRO | 12 | 9.96 | 9.75 | 72.18 | 71.59 | 2:23.77 |
| 17 | Nusa Subic | SLO | 5 | 10.09 | 10.06 | 74.23 | 72.16 | 2:26.39 |
| 18 | Paulina Lipinska | POL | 4 | 10.23 | 10.16 | 73.71 | 74.08 | 2:27.79 |
| 19 | Nina Stanic | SRB | 6 | 10.05 | 10.12 | 74.43 | 75.81 | 2:30.24 |
| 20 | Jana Milenovic | SRB | 2 | 10.92 | 10.53 | 82.52 | 77.77 | 2:40.29 |