From Winterleiten, AUT
(Dec. 17, 2020) – Roughly an hour after finishing third and fifth respectively in the men's singles luge race in Winterleiten, the duo of Patrick Pigneter & Florian Clara slid to a decisive victory in the doubles race.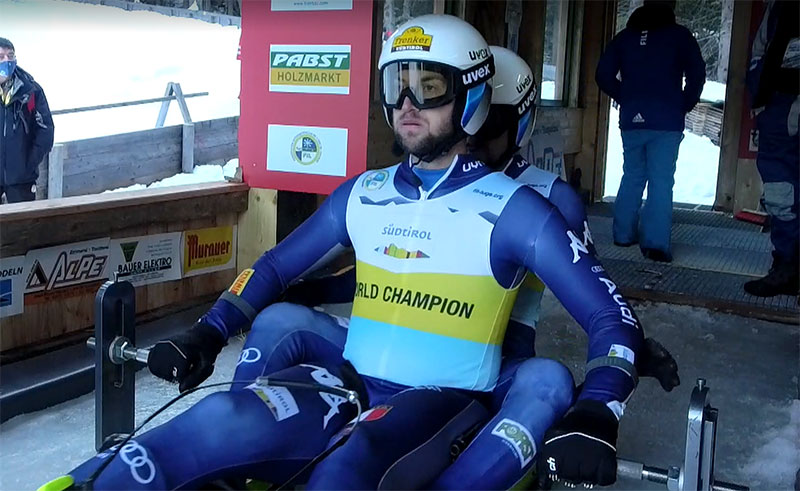 The Italian team was the last team down in both heats. In the first run, the team was .36 faster than teammates Patrick & Matthias Lambacher. On the second run it was more of the same, with the Lambachers besting everyone else, only to be thwarted by Pigneter & Clara. At the end of the race it was a .82 second advantage for Pigneter & Clara over their Italian teammates.
Despite losing to Pigneter & Clara, Patrick & Matthis Lambacher easily out-slid the rest of the field. The Lambachers were 1.52 seconds clear of anyone else on their way to a silver medal.
Christoph Regensburger & Dominik Holzkecht finished third, edging out Fabian & Simon Achenrainer for bronze. The Achenrainers finished fourth, wel ahead of Myroslav & Ivan Lenko in fifth. Bine & Blaz Mekina rounded out the top six.
Results:
| | | | | | | | | |
| --- | --- | --- | --- | --- | --- | --- | --- | --- |
| Pos | Names | Nation | Bib | Start 1 | Start 2 | Run 1 | Run 2 | Total |
| 1 | Pigneter / Clara | ITA | 8 | 8.80 | 8.82 | 65.34 | 65.07 | 2:10.41 |
| 2 | Lambacher / Lambacher | ITA | 7 | 8.77 | 8.77 | 65.70 | 65.53 | 2:11.23 |
| 3 | Regensburger / Holzkecht | AUT | 1 | 8.85 | 8.81 | 66.49 | 66.26 | 2:12.75 |
| 4 | Achenrainer / Achenrainer | AUT | 5 | 9.01 | 8.93 | 66.85 | 66.04 | 2:12.89 |
| 5 | Lenko / Lenko | UKR | 4 | 9.36 | 9.25 | 69.59 | 68.75 | 2:18.24 |
| 6 | Mekina / Mekina | SLO | 3 | 9.64 | 9.56 | 70.23 | 70.02 | 2:20.25 |
| 7 | Majdak / Jadwiszczok | POL | 2 | 9.80 | 9.63 | 74.29 | 71.44 | 2:25.73 |
| 8 | Hasek / Rydl | CZE | 6 | 9.58 | 9.80 | 73.98 | 72.53 | 2:26.51 |