From Winterleiten, AUT
(Dec. 19, 2020) – Michael Scheikl went two-for-two in Winterleiten, cruising to a dominating victory on his home track.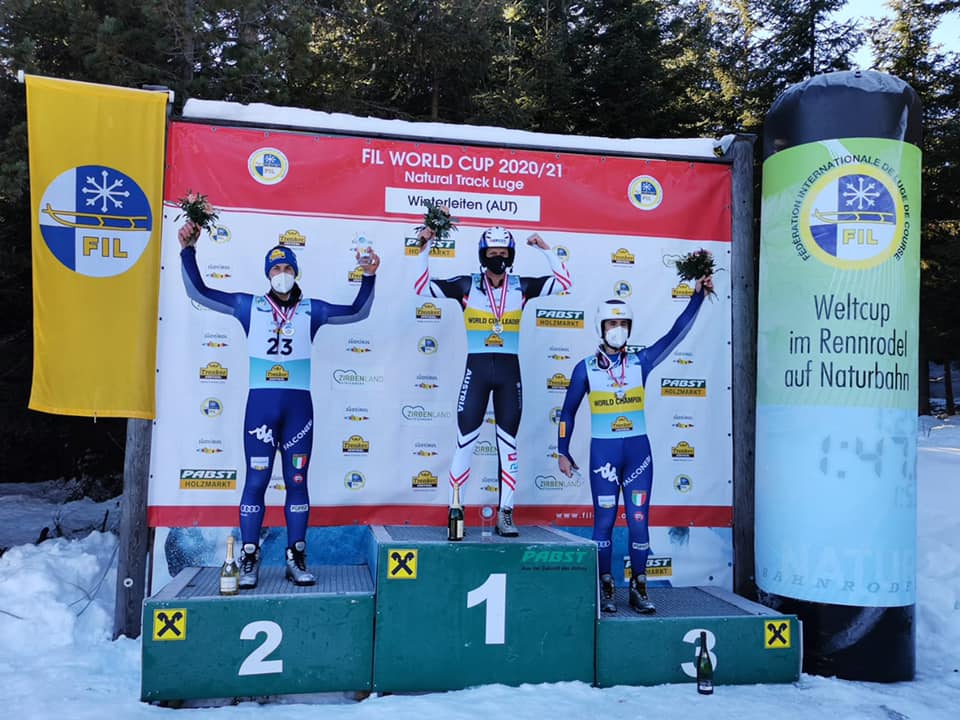 Scheikl Came into the second heat with a .36 advantage over Italy's Patrick Pigneter. On the second run Pigneter could only muster the fourth quickest time of the heat, leaving the door wide open for the World Cup leader. Scheikl took full advantage , setting the fastest time of the second heat by nearly a half of as second to win by 1.31 seconds over Pigneter.
The win was the second straight for Scheikl. At no point in either race did anyone beat Scheikl at any timing line in those two races.
Pigneter's silver was his second medal in as many singles races, this time just barely edging out teammate Alex Gruber in third.
Christian Schopf, Stefan Federer, and Florian Clara rounded out the top six.
Germany's Oliver Schiller was the top non-Austrian or Italian in eighth.
Thomas Kammerlander, the 2019/2020 World Cup champion was out for the second race in a row due to a positive COVID test. He'll be back in action when the tour returns to action in the new year.
Results:
| | | | | | | | | |
| --- | --- | --- | --- | --- | --- | --- | --- | --- |
| Pos | Name | Nation | Bib | Start 1 | Start 2 | Run 1 | Run 2 | Total |
| 1 | Michael Scheikl | AUT | 24 | 8.33 | 8.35 | 60.52 | 60.91 | 2:01.43 |
| 2 | Patrick Pigneter | ITA | 23 | 8.52 | 8.60 | 60.88 | 61.86 | 2:02.74 |
| 3 | Alex Gruber | ITA | 22 | 8.51 | 8.58 | 61.43 | 61.36 | 2:02.79 |
| 4 | Christian Schopf | AUT | 21 | 8.43 | 8.45 | 61.45 | 61.81 | 2:03.26 |
| 5 | Stefan Federer | ITA | 19 | 8.43 | 8.55 | 61.68 | 62.23 | 2:03.91 |
| 6 | Florian Clara | ITA | 20 | 8.63 | 8.58 | 62.01 | 62.04 | 2:04.05 |
| 7 | Fabian Achenrainer | AUT | 17 | 8.63 | 8.69 | 62.55 | 62.28 | 2:04.83 |
| 8 | Oliver Schiller | GER | 18 | 8.87 | 8.96 | 63.11 | 62.88 | 2:05.99 |
| 9 | Maximilian Pichler | AUT | 3 | 8.79 | 8.81 | 64.03 | 64.21 | 2:08.24 |
| 10 | Jerome Almer | SUI | 10 | 9.01 | 8.96 | 64.46 | 63.98 | 2:08.44 |
| 11 | Myroslav Lenko | UKR | 12 | 8.67 | 8.68 | 64.78 | 64.80 | 2:09.58 |
| 12 | Blaz Mekina | SLO | 6 | 8.91 | 9.13 | 64.43 | 65.32 | 2:09.75 |
| 13 | Tomas Hasek | CZE | 11 | 9.25 | 9.35 | 65.62 | 64.88 | 2:10.50 |
| 14 | Bine Mekina | SLO | 8 | 8.82 | 8.88 | 65.56 | 65.01 | 2:10.57 |
| 15 | Ivan Lenko | UKR | 14 | 9.10 | 9.11 | 65.08 | 65.60 | 2:10.68 |
| 16 | Matevz Vertelj | SLO | 7 | 9.13 | 9.09 | 66.07 | 65.47 | 2:11.54 |
| 17 | Szymon Majdak | POL | 13 | 9.14 | 9.27 | 66.23 | 66.71 | 2:12.94 |
| 18 | David Rydl | CZE | 15 | 9.34 | 9.39 | 67.88 | 66.62 | 2:14.50 |
| 19 | Sylwester Jadwiszczok | POL | 4 | 9.18 | 9.08 | 70.44 | 69.47 | 2:19.91 |
| 19 | Kacper Adamski | POL | 2 | 9.56 | 9.56 | 74.28 | 72.58 | 2:26.86 |