From Winterberg, GER
(Dec. 19, 2020) – World Cup champion Julia Taubitz came from behind to win gold ahead of teammate Natalie Geisenberger in Winterberg.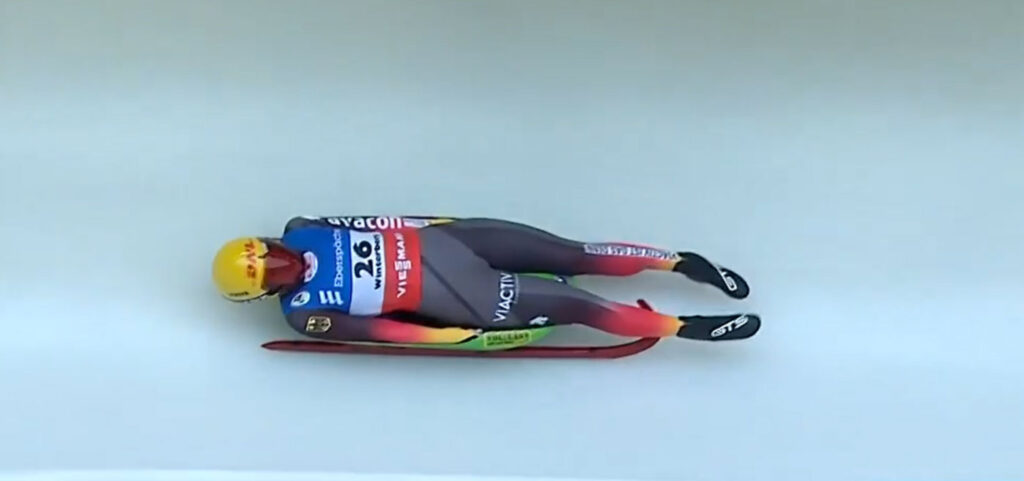 Taubitz came into the second heat less than a tenth behind Geisenberger, but put down the fastest run of any of the contenders to keep the pressure on the two-time Olympic gold medalist in women's luge. Geisenberger's answer was only the fifth fastest run of the heat and while it was enough to keep her in the medals, Geisenberger had to settle for silver.
The gold for Taubitz was her third of the season, while the silver for Geisenberger was her fifth straight silver medal to start the season.
Latvia's Eliza Tiruma jumped up from sixth in the first heat to win her first singles medal of the season with a bronze medal, edging out Austria's Madelaine Egle for the honor. Egle's fourth place finish is her fifth straight top six finish to start the season.
Ekaterina Katnikova was the top-scoring Russian in sixth.
Dajana Eitberger made a mistake at the top of her first run, finishing the first heat in 26th place. Her second run was the fastest of the race and enough to propel her up the time sheet to 13th place.
The women have one more race to finish out the calendar year with their Sprint World Cup race. When the 2021 portion of the season kicks off in Königssee, the United States, Canada, and China should all be on tour.
Results:
| | | | | | | | | |
| --- | --- | --- | --- | --- | --- | --- | --- | --- |
| Pos | Name | Nation | Bib | Start 1 | Start 2 | Run 1 | Run 2 | Total |
| 1 | Julia Taubitz | GER | 26 | 5.042 | 5.077 | 56.245 | 56.217 | 1:52.562 |
| 2 | Natalie Geisenberger | GER | 23 | 5.007 | 5.035 | 56.170 | 56.398 | 1:52.568 |
| 3 | Eliza Tiruma | LAT | 21 | 5.078 | 5.077 | 56.428 | 56.300 | 1:52.728 |
| 4 | Madeleine Egle | AUT | 24 | 5.030 | 5.026 | 56.548 | 56.273 | 1:52.821 |
| 5 | Andrea Vötter | ITA | 18 | 4.947 | 4.990 | 56.330 | 56.534 | 1:52.864 |
| 6 | Ekaterina Katnikova | RUS | 27 | 5.075 | 5.102 | 56.636 | 56.530 | 1:53.166 |
| 7 | Tatyana Ivanova | RUS | 28 | 5.023 | 5.032 | 56.771 | 56.447 | 1:53.218 |
| 8 | Natalie Maag | SUI | 14 | 5.070 | 5.117 | 56.626 | 56.600 | 1:53.228 |
| 9 | Anna Berreiter | GER | 15 | 5.001 | 5.057 | 56.419 | 56.832 | 1:53.251 |
| 10 | Hannah Prock | AUT | 17 | 5.123 | 5.149 | 56.738 | 56.524 | 1:43.262 |
| 11 | Lisa Schulte | AUT | 22 | 5.059 | 5.074 | 56.893 | 56.537 | 1:43.430 |
| 12 | Kendija Aparjode | LAT | 20 | 5.065 | 5.107 | 56.398 | 57.153 | 1:53.551 |
| 13 | Dajana Eitberger | GER | 13 | 5.045 | 5.099 | 57.441 | 56.201 | 1:53.642 |
| 14 | Raluca Stramaturaru | ROU | 6 | 5.117 | 5.125 | 57.027 | 56.917 | 1:53.944 |
| 15 | Ekaterina Baturina | RUS | 5 | 5.071 | 5.166 | 56.789 | 57.189 | 1:53.978 |
| 16 | Sigita Berzina | LAT | 11 | 5.028 | 5.033 | 57.013 | 56.984 | 1:53.997 |
| 17 | Verena Hofer | ITA | 16 | 5.153 | 5.107 | 57.328 | 56.680 | 1:54.008 |
| 18 | Veronica Ravenna | ARG | 9 | 5.235 | 5.201 | 57.099 | 56.924 | 1:54.023 |
| 19 | Aileen Frisch | KOR | 8 | 5.117 | 5.092 | 57.094 | 56.960 | 1:54.054 |
| 20 | Olena Stetskiv | UKR | 4 | 5.142 | 5.105 | 57.150 | 56.986 | 1:54.136 |
| 21 | Marion Oberhofer | ITA | 12 | 5.129 | 5.142 | 57.003 | 57.155 | 1:54.158 |
| 22 | Nina Zöggeler | ITA | 10 | 5.114 | 5.117 | 57.119 | 57.103 | 1:54.222 |
| 23 | Klaudia Domaradzka | POL | 7 | 5.064 | 5.084 | 57.088 | 57.320 | 1:54.408 |
| 24 | Viktoriia Demchenko | RUS | 19 | 5.105 | 5.091 | 57.739 | 56.752 | 1:54.491 |
| 25 | Katarina Simonakova | SVK | 2 | 5.125 | 5.176 | 57.328 | 57.339 | 1:54.667 |
| 26 | Mihaela-Carmen Manolescu | ROU | 1 | 5.151 | 5.162 | 57.377 | 57.299 | 1:54.676 |
| 27 | Olena Smaha | UKR | 13 | 5.149 | 5.147 | 57.202 | 57.534 | 1:54.736 |
| 28 | Natalia Jamroz | POL | 3 | 5.176 | 5.214 | 57.751 | 57.789 | 1:55.540 |