From Winterleiten, AUT
(Dec. 19, 2020) – The FIL Natural Track World Cup closed out the calendar year with the team competition, in which Evelin Lanthaler and Patrick Pigneter cruised to victory over the competition.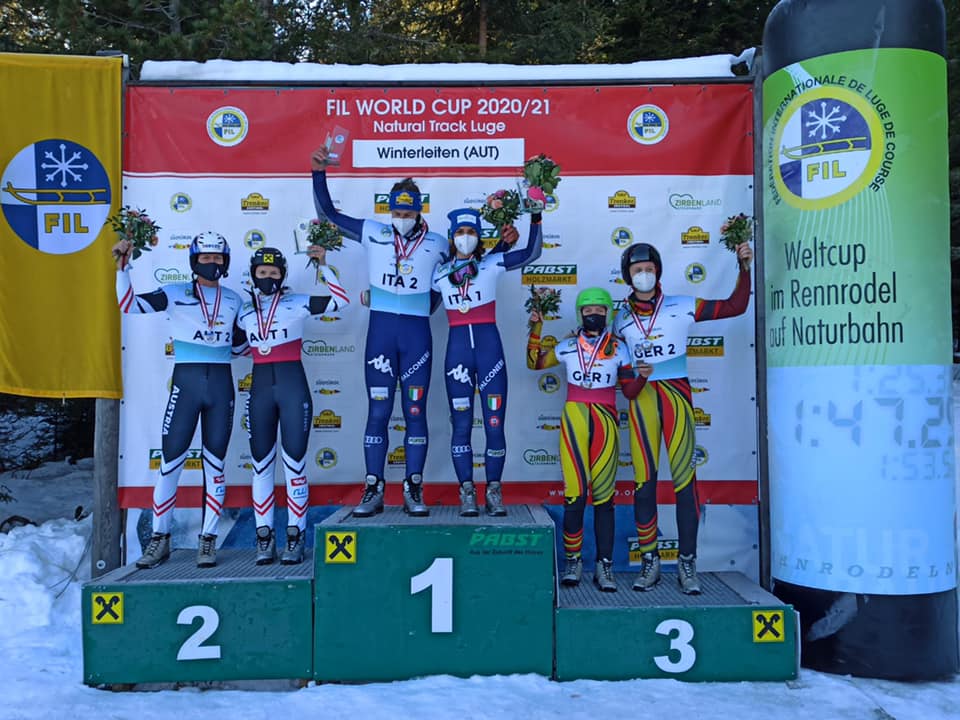 Lanthaler, the defending World Champion, was three seconds faster than Austrian rival Michelle Diepold on her run, and while Patrick Pigneter was slower than Michael Scheikl he had plenty enough banked by Lanthaler to help give Italy their win in the first team race of the season.
The Austrians finished over a second ahead of Sarah and Oliver Schiller of Germany, who finished third.
Poland, Ukraine, and Slovenia rounded out the top six.
Results:
| | | | | | | |
| --- | --- | --- | --- | --- | --- | --- |
| Pos | Names | Nation | Bib | Run 1 | Run 2 | Total |
| 1 | Evelin Lanthaler / Patrick Pigneter | ITA | 6 | 63.40 | 62.95 | 2:06.35 |
| 2 | Michelle Diepold / Michael Scheikl | AUT | 5 | 66.90 | 62.20 | 2:09.10 |
| 3 | Sarah Schiller / Oliver Schiller | GER | 4 | 65.21 | 64.99 | 2:10.20 |
| 4 | Julia Plowy / Szymon Majdak | POL | 3 | 68.17 | 67.79 | 2:15.96 |
| 5 | Viktoriia Antoniuk / Myroslav Lenko | UKR | 2 | 72.02 | 65.33 | 2:17.35 |
| 6 | Nika Nemec / Blaz Mekina | SLO | 1 | 72.31 | 66.58 | 2:18.89 |