From Königssee, GER
(Jan. 2, 2021) – Felix Loch stayed nearly perfect on the season, cruising to victory on home ice in Bavaria.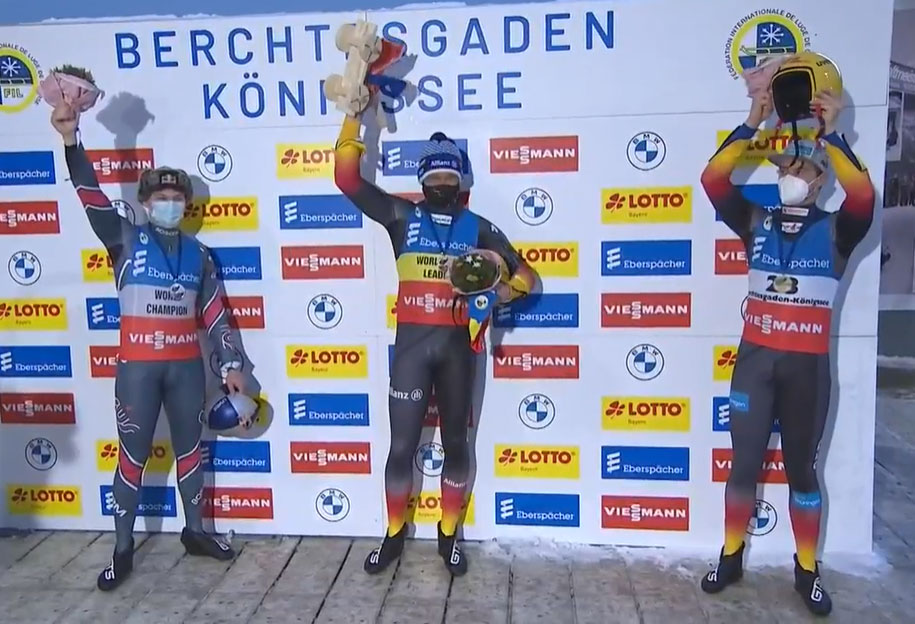 Loch set the two fastest times of the race on his way to a .285 second victory over Russia's Roman Repilov. The German's win was his sixth in seven races including Sprint World Cup races and fifth in five races only counting the "classic" World Cup events.
His win was also the 45th of his career.
Repilov's silver medal was his first of the season. Prior to the race in Königssee, he'd only finished a best of fifth on the 2020/2021 season.
Behind the gold and silver medalists there was a logjam for bronze that was eventually won by Johannes Ludwig. Ludwig's combined 1:38.919 was less than .15 ahead of teammate Max Langenhan in seventh.
Nico Gleirscher moved up from seventh in the first heat to finish just out of the medals in fourth. Semen Pavlichenko finished fifth despite hitting the wall in the Bendaway straight on both of his runs, while Jonas Müller finished sixth.
Chris Mazdzer led the way for the North Americans in their return to international competition after COVID-related travel restrictions. The Olympic silver medalist finished 15th, dropping from 12th in his first run. Teammate Jonny Gustafson finished a few spots back in 20th, just ahead of Canadian Reid Watts in 24th.
Great Britain's Rupert Staudinger finished 30th after qualifying for his fourth World Cup race in four attempts.
Results:
| | | | | | | | | |
| --- | --- | --- | --- | --- | --- | --- | --- | --- |
| Pos | Name | Nation | Bib | Start 1 | Start 2 | Run 1 | Run 2 | Total |
| 1 | Felix Loch | GER | 31 | 3.286 | 3.287 | 49.061 | 49.157 | 1:38.218 |
| 2 | Roman Repilov | RUS | 23 | 3.296 | 3.275 | 49.200 | 49.303 | 1:38.503 |
| 3 | Johannes Ludwig | GER | 28 | 3.253 | 3.258 | 49.376 | 49.543 | 1:38.919 |
| 4 | Nico Gleirscher | AUT | 30 | 3.307 | 3.299 | 49.507 | 49.447 | 1:38.954 |
| 5 | Semen Pavlichenko | RUS | 29 | 3.267 | 3.274 | 49.492 | 49.500 | 1:38.992 |
| 6 | Jonas Müller | AUT | 27 | 3.285 | 3.293 | 49.452 | 49.548 | 1:39.000 |
| 7 | Max Langenhan | GER | 32 | 3.315 | 3.311 | 49.542 | 49.508 | 1:39.050 |
| 8 | Wofgang Kindl | AUT | 21 | 3.338 | 3.339 | 49.446 | 49.617 | 1:39.063 |
| 9 | Kevin Fischnaller | ITA | 24 | 3.337 | 3.341 | 49.652 | 49.703 | 1:39.355 |
| 10 | Chris Eißler | GER | 17 | 3.286 | 3.286 | 49.698 | 49.675 | 1:39.373 |
| 11 | Pavel Repilov | RUS | 16 | 3.334 | 3.331 | 49.755 | 49.634 | 1:39.389 |
| 12 | Dominik Fischnaller | ITA | 26 | 3.319 | 3.299 | 49.965 | 49.456 | 1:39.421 |
| 13 | Moritz Bollmann | GER | 18 | 3.291 | 3.296 | 49.775 | 49.676 | 1:39.451 |
| 14 | Reinhard Egger | AUT | 25 | 3.375 | 3.367 | 49.727 | 49.731 | 1:39.458 |
| 15 | Chris Mazdzer | USA | 11 | 3.343 | 3.332 | 49.720 | 49.739 | 1:39.459 |
| 16 | Arturs Darznieks | LAT | 7 | 3.323 | 3.334 | 49.804 | 49.674 | 1:39.478 |
| 17 | Jozef Ninis | SVK | 13 | 3.399 | 3.419 | 49.846 | 49.666 | 1:39.512 |
| 18 | Lukas Gufler | ITA | 14 | 3.366 | 3.363 | 49.783 | 49.754 | 1:39.537 |
| 19 | Aleksandr Gorbatcevich | RUS | 20 | 3.319 | 3.306 | 49.517 | 50.092 | 1:39.609 |
| 20 | Jonathan Gustafson | USA | 15 | 3.316 | 3.340 | 49.866 | 50.034 | 1:39.900 |
| 21 | Leon Felderer | ITA | 10 | 3.356 | 3.358 | 49.914 | 49.992 | 1:39.906 |
| 22 | Mateusz Sochowicz | POL | 8 | 3.325 | 3.349 | 50.052 | 49.907 | 1:39.959 |
| 23 | Riks Rozitis | LAT | 19 | 3.370 | 3.369 | 50.099 | 49.885 | 1:39.984 |
| 24 | Reid Watts | CAN | 5 | 3.349 | 3.350 | 49.977 | 50.055 | 1:40.032 |
| 25 | Andriy Mandziy | UKR | 6 | 3.338 | 3.343 | 50.043 | 50.098 | 1:40.141 |
| 26 | Anton Dukach | UKR | 12 | 3.325 | 3.333 | 50.173 | 50.179 | 1:40.352 |
| 27 | Svante Kohala | SWE | 9 | 3.398 | 3.409 | 49.998 | 50.384 | 1:40.382 |
| 28 | Valentin Cretu | ROU | 4 | 3.360 | 3.359 | 50.114 | 50.279 | 1:40.393 |
| 29 | Alex Gufler | ITA | 3 | 3.380 | 3.382 | 50.575 | 50.551 | 1:41.126 |
| 30 | Rupert Staudinger | GBR | 2 | 3.394 | 3.389 | 50.763 | 50.764 | 1:41.527 |
| 31 | Michael Lejsek | CZE | 1 | 3.439 | 3.435 | 51.022 | 51.213 | 1:42.235 |
| DNF | David Gleirscher | AUT | 22 | 3.302 | | DNF | DNF | |