From Königssee, GER
(Jan. 3, 2020) – Julia Taubitz won her fifth race of the FIL World Cup season, cruising to victory in Königssee.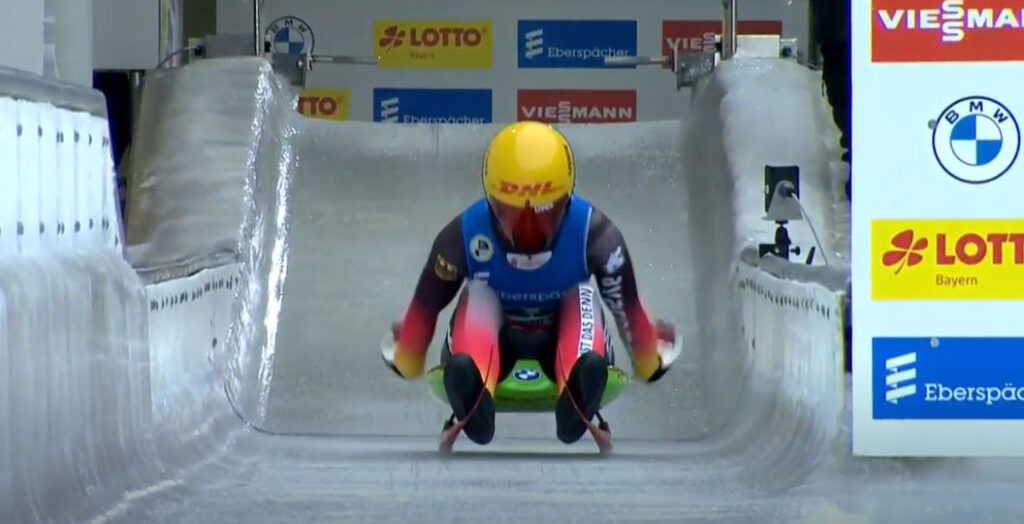 Taubitz had the fastest two runs of the race to win by .31 over teammate Natalie Geisenberger. While both women looked to have nearly identical slides in the second heat, Taubitz's pace couldn't be matched by anyone else in the field.
The win for Taubitz was the 12th of her World Cup career.
For Geisenberger, the silver medal was the seventh straight to start the season. The two-time Olympic gold medalist in women's singles competition has 49 World Cup victories.
For the bulk of the World Cup season Austria's Madeleine Egle has hovered around the podium, finishing fourth three times coming into Königssee. Egle was finally able to take the next step in her career by finishing on the podium for her first time ever in singles competition, breaking up a German sweep with a bronze medal.
Germany's Anna Berreiter, who won the previous season's race in Königssee, finished just off of the podium in fourth place in her second race weekend of the season. Olympic siver medalist and Oberhof gold medalist Dajana Eitberger finished fifth, with Viktoriia Demchenko rounding out the top six.
Germany currently holds the top three spots in the FIL World Cup, both in the "classic" and "overall" standings. Geisenberger leads, just ahead of Taubitz and Eitbeger. In the overall standings, Geisenberger's advantage is just four points.
The United States made its return to World Cup action this weekend, and the women's team qualified all four women into the race. Emily Sweeney led the way with a tenth place finish (up from 12th), three spots ahead of teammate Ashley Farquharson in 13th. Summer Britcher and Brittney Arndt both had trouble on their second runs, and finished 15th and 16th respectively.
Canada's Carolyn Maxwell just missed the cut in Nation's Cup qualifying and did not start in the World Cup race.
Results
| | | | | | | | | |
| --- | --- | --- | --- | --- | --- | --- | --- | --- |
| Pos | Name | Nation | Bib | Start 1 | Start 2 | Run 1 | Run 2 | Total |
| 1 | Julia Taubitz | GER | 25 | 3.053 | 3.051 | 50.730 | 50.672 | 1:41.402 |
| 2 | Natalie Geisenberger | GER | 23 | 3.067 | 3.057 | 50.839 | 50.873 | 1:41.712 |
| 3 | Madeleine Egle | AUT | 27 | 3.101 | 3.024 | 50.850 | 50.920 | 1:41.770 |
| 4 | Anna Berreiter | GER | 16 | 3.049 | 3.046 | 51.022 | 51.058 | 1:42.080 |
| 5 | Dajana Eitberger | GER | 28 | 3.068 | 3.097 | 51.158 | 51.079 | 1:42.237 |
| 6 | Viktoriia Demchenko | RUS | 15 | 3.112 | 3.141 | 51.063 | 51.284 | 1:42.347 |
| 7 | Tatyana Ivanova | RUS | 24 | 3.066 | 3.087 | 51.234 | 51.212 | 1:42.446 |
| 8 | Andrea Vötter | ITA | 21 | 3.006 | 3.012 | 51.194 | 51.294 | 1:42.488 |
| 9 | Kendija Aparjode | LAT | 20 | 3.082 | 3.088 | 51.269 | 51.386 | 1:42.655 |
| 10 | Emily Sweeney | USA | 10 | 3.116 | 3.102 | 51.391 | 51.267 | 1:42.658 |
| 11 | Eliza Tiruma | LAT | 26 | 3.091 | 3.107 | 51.331 | 51.358 | 1:42.689 |
| 12 | Ekaterina Katnikova | RUS | 22 | 3.130 | 3.134 | 51.466 | 51.303 | 1:42.769 |
| 13 | Ashley Farquharson | USA | 12 | 3.137 | 3.148 | 51.485 | 51.403 | 1:42.888 |
| 14 | Lisa Schulte | AUT | 18 | 3.151 | 3.115 | 51.500 | 51.428 | 1:42.928 |
| 15 | Summer Britcher | USA | 14 | 3.108 | 3.047 | 51.355 | 51.695 | 1:43.050 |
| 16 | Brittney Arndt | USA | 8 | 3.197 | 3.197 | 51.462 | 51.612 | 1:43.074 |
| 17 | Hannah Prock | AUT | 17 | 3.184 | 3.171 | 51.695 | 51.503 | 1:43.198 |
| 18 | Marion Oberhofer | ITA | 9 | 3.116 | 3.115 | 51.533 | 51.700 | 1:43.233 |
| 19 | Aileen Frisch | KOR | 11 | 3.109 | 3.111 | 51.707 | 51.654 | 1:43.361 |
| 20 | Ekaterina Baturina | RUS | 13 | 3.113 | 3.086 | 51.782 | 51.615 | 1:43.397 |
| 21 | Verena Hofer | ITA | 7 | 3.143 | 3.133 | 51.691 | 51.824 | 1:43.515 |
| 22 | Natalie Maag | SUI | 19 | 3.103 | 3.108 | 51.915 | 51.649 | 1:43.564 |
| 23 | Selina Egle | AUT | 6 | 3.232 | 3.241 | 51.896 | 51.761 | 1:43.657 |
| 24 | Nina Zöggeler | ITA | 5 | 3.161 | 3.156 | 51.855 | 51.830 | 1:43.685 |
| 25 | Olena Stetskiv | UKR | 4 | 3.119 | 3.140 | 51.861 | 51.940 | 1:43.810 |
| 26 | Katarina Simonakova | SVK | 2 | 3.153 | 3.187 | 52.109 | 52.064 | 1:44.173 |
| 27 | Klaudia Domaradzka | POL | 1 | 3.112 | 3.123 | 52.218 | 52.251 | 1:44.469 |
| 28 | Olena Smaha | UKR | 3 | 3.199 | 3.282 | 52.173 | 52.884 | 1:45.057 |