From Königssee, GER
(Jan. 3, 2021) – Germany won all three gold medals leading into the Team Relay competition to finish out the race weekend, so it would be fair to say they were a favorite coming into the World Cup Team Relay race to finish out the weekend.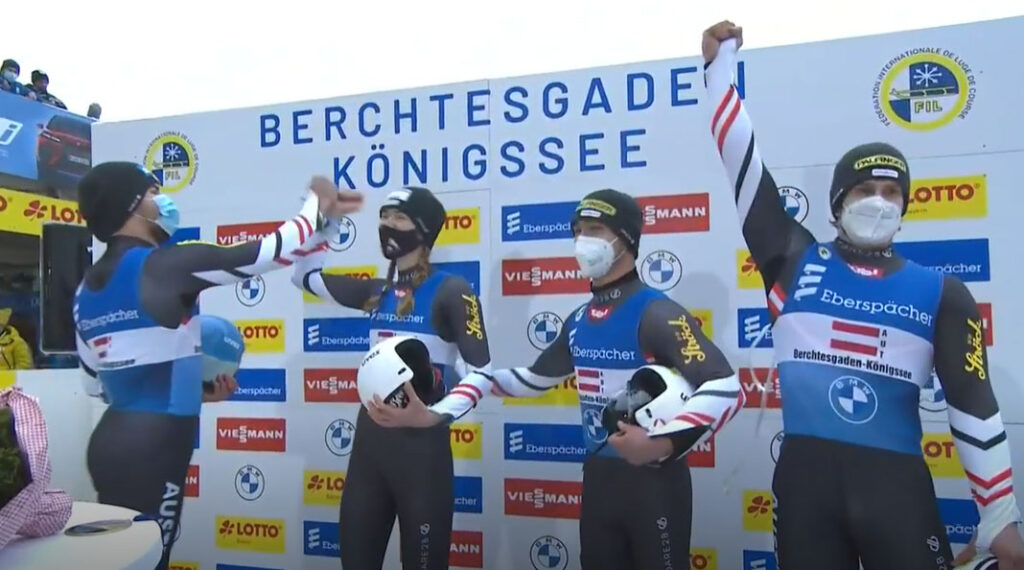 But as they say, that's why we run the races.
The morning's bronze medalist Madeleine Egle put down the fastest run of all of the women in the relay behind Germany's Julia Taubitz, but it was a blistering run by Nico Gleirscher kept Austria ahead of Germany as Felix Loch couldn't find speed to match the Austrian. Toni Eggert & Sascha Benecken did what they could to bring Germany back, but Thomas Steu & Lorenz Koller's run was good enough to fend off the Germans for Austria to take their second ever Team Relay gold.
For Gleirscher, not only did he have the fastest run of any men's singles competitor, but he also won his first ever gold medal of any kind in World Cup action.
Germany's silver medal was enough to keep them ahead of Austria in the World Cup standings, with Russia finishing third in the race to stay in third overall in the points.
Latvia finished fourth, ahead of Italy in fifth.
Since they were making their first start of the season, the United States went off first in the relay competition and led all the way until Italy came down as the eighth team to start. Team USA finished the race in sixth, two spots ahead of Canada in eighth.
Results:
| | | | | | | |
| --- | --- | --- | --- | --- | --- | --- |
| Pos | Names | Nation | Bib | Women | Men | Total |
| 1 | M. Egle / N. Gleirscher / Steu & Koller | AUT | 11 | 53.089 | 1:47.596 | 2:42.729 |
| 2 | Taubitz / Loch / Eggert & Benecken | GER | 12 | 52.988 | 1:47.795 | 2:42.922 |
| 3 | Demchenko / R. Repilov / Kashkin & Korshunov | RUS | 10 | 53.371 | 1:47.972 | 2:43.533 |
| 4 | Aparjode / Darznieks / Sics & Sics | LAT | 9 | 53.518 | 1:48.491 | 2:43.739 |
| 5 | Vötter / D. Fischnaller / Rieder & Rastner | ITA | 8 | 53.554 | 1:48.317 | 2:43.745 |
| 6 | Britcher / Gustafson / Mazdzer & Terdiman | USA | 1 | 53.674 | 1:49.045 | 2:44.920 |
| 7 | Domaradzka / Sochowicz / Chmielewski & Kowaleski | POL | 4 | 54.725 | 1:50.090 | 2:45.710 |
| 8 | Maxwell / Watts / Walker & Snith | CAN | 2 | 54.095 | 1:49.313 | 2:45.993 |
| 9 | Frisch / Lim / Park & Cho | KOR | 5 | 53.874 | 1:50.404 | 2:46.613 |
| 10 | Stetskiv / Mandziy / Stakhiv & Lysetskyi | UKR | 6 | 54.028 | 1:49.611 | 2:46.868 |
| 11 | Curmei / Cretu / Turea & Motzcz | ROU | 3 | 56.096 | 1:51.682 | 2:49.336 |
| 12 | Simonakova / Ninis / Vavercak & Zmij | SVK | 7 | 54.560 | 1:49.633 | DNF |