From Winterberg, GER
(Jan. 9, 2021) – Francesco Friedrich won again, this time in Winterberg, and he's to the point that his only real competition for gold week in and week out has been history.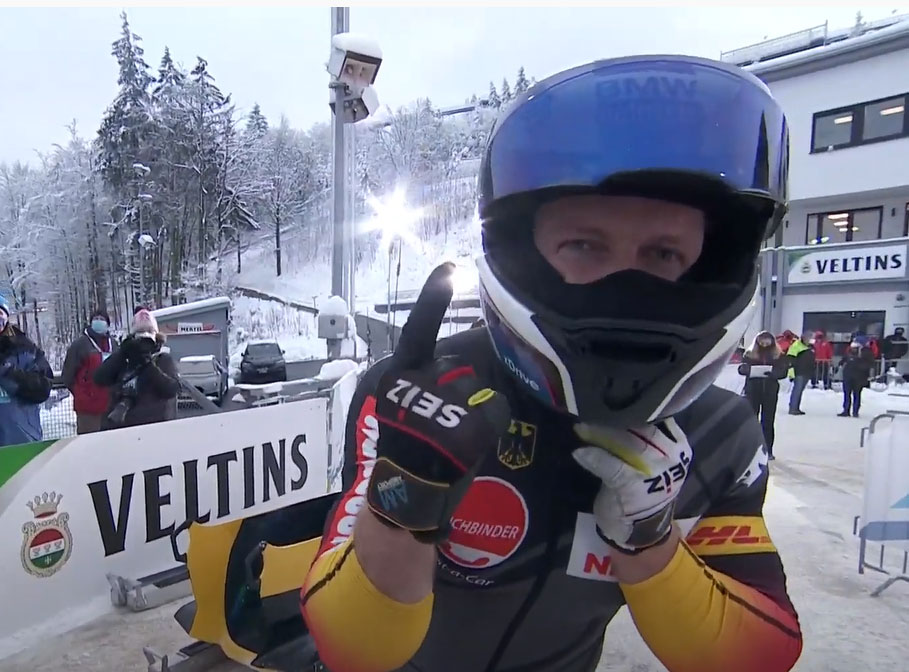 Friedrich once again decimated the field in what was otherwise a relatively close race, winning by .67 over teammate Johannes Lochner to win his 34th IBSF World Cup two-man bobsled medal, and his 45th combined World Cup bobsled medal. The 45 gold medals ties Andre Lange for the most all time in men's bobsled by a pilot, and is just one behind Sandra Kiriasas for the most World Cup gold medals by any bobsled pilot. Kevin Kuske also has 46 gold medals as a brakeman.
With Thorsten Margis on his brakes, Friedrich missed breaking his own start record and track record by .01 each. Both were set on December 5, 2015. The gold was his eighth gold medal in nine races this season.
Behind Friedrich, Johannes Lochner continued a solid streak of nine straight top fives to start the season with his fourth silver medal on the year. He beat out Benjamin Maier for the position by .18.
For Maier, the bronze medal was his first in two-man bobsled since the 2018/2019 season race in Sigulda.
Michael Vogt put down a strong second run to catapult up the order from seventh in his first heat to finish fourth.
Canada's Justin Kripps, making his first start on the World Cup season, finished only .01 behind Vogt in fifth. He and Cam Stones tied for the fourth quickest start of the competition.
Russia's Rostislav Gaitiukevich finished sixth, .03 behind Kripps.
The race also doubled as the European Championships. In those standings, the top four remained the same, with Gaitiukevich moving up to fifth and Great Britain's Brad Hall to sixth with a seventh place finish overall in the race.
The United States made their return to World Cup action in Europe, with Codie Bascue making a his first World Cup start since Lake Placid in the 2019/2020 season. Bascue moved up from 15th in the first heat to finish 14th. Bascue's brakeman Carlo Valdes made his first start on the brakes since the 2018 Olympic Games.. Teammate Geoff Gadbois finished 17th in his first career race in Europe.
Results:
| | | | | | | | | |
| --- | --- | --- | --- | --- | --- | --- | --- | --- |
| Pos | Names | Nation | Bib | Start 1 | Start 2 | Run 1 | Run 2 | Total |
| 1 | Friedrch / Margis | GER | 7 | 5.10 | 5.06 | 55.05 | 55.03 | 1:50.08 |
| 2 | Lochner / Franke | GER | 10 | 5.15 | 5.12 | 55.39 | 55.36 | 1:50.75 |
| 3 | Maier / Sammer | AUT | 1 | 5.17 | 5.11 | 55.42 | 55.51 | 1:50.93 |
| 4 | Vogt / Michel | SUI | 5 | 5.22 | 5.17 | 55.62 | 55.58 | 1:51.20 |
| 5 | Kripps / Stones | CAN | 16 | 5.17 | 5.16 | 55.61 | 55.60 | 1:51.21 |
| 6 | Gaitiukevch / Malykh | RUS | 12 | 5.18 | 5.12 | 55.65 | 55.59 | 1:51.24 |
| 7 | Hall / Gleeson | GBR | 2 | 5.16 | 5.14 | 55.55 | 55.77 | 1:51.32 |
| 8 | Hafer / Korona | GER | 4 | 5.28 | 5.31 | 55.61 | 55.85 | 1:51.46 |
| 9 | Tentea / Daroczi | ROU | 8 | 5.30 | 5.25 | 55.90 | 55.77 | 1:51.67 |
| 10 | Friedli / Schläpfer | SUI | 6 | 5.21 | 5.22 | 55.97 | 55.72 | 1:51.69 |
| 11 | Dvorak / Nosek | CZE | 13 | 5.24 | 5.22 | 55.82 | 55.94 | 1:51.76 |
| 12 | Heinrich / Lefebvre | FRA | 9 | 5.30 | 5.27 | 55.96 | 55.82 | 1:51.78 |
| 13 | de Bruin / Franjic | NED | 14 | 5.24 | 5.23 | 55.95 | 55.91 | 1:51.86 |
| 14 | Bascue / Valdes | USA | 17 | 5.24 | 5.29 | 56.02 | 56.88 | 1:51.90 |
| 15 | Stulnev / Koshelev | RUS | 3 | 5.30 | 5.28 | 55.92 | 56.00 | 1:51.92 |
| 16 | Baumgartner / Fantazzini | ITA | 11 | 5.29 | 5.28 | 56.05 | 55.93 | 1:51.98 |
| 17 | Gadbois / Horn | USA | 15 | 5.31 | 5.30 | 56.15 | 56.20 | 1:52.35 |
| 18 | Silic / Nikpalj | CRO | 18 | 5.39 | 5.43 | 56.74 | 56.94 | 1:53.68 |