From Sigulda, LAT
(Jan. 9, 2021) – Brothers Andris & Juris Sics took gold on home ice on Saturday, edging out World Cup leaders Tobias Wendl & Tobias Arlt in the process.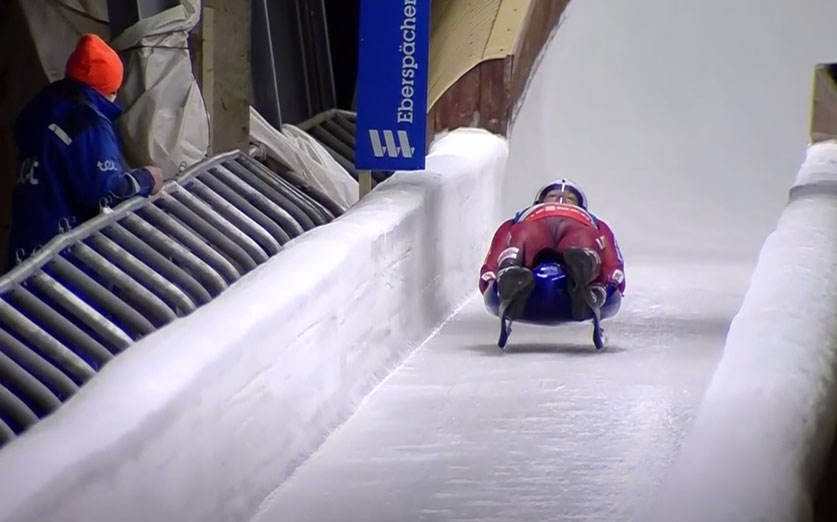 The Latvian duo set the fast time in the first heat to open up a .035 second advantage over the Germans. On the second run Wendl & Arlt set the quickest time of the heat, but the pressure didn't affect either Sics brother, as they held on for a .029 second victory over the Germans.
The gold was the first on the season for Sics & Sics, while the silver was the second straight for Wendl & Arlt.
World Cup rookies Martins Bots & Roberts Plume finished with their first ever bronze medal, finishing well ahead of Russia's Vsevolod Kashkin & Konstantin Korshunov for the spot.
The Russians finished fourth, just .02 ahead of World Cup leaders Thomas Steu & Lorenz Koller, while Oskars Gudramovics & Peteris Kalnins helped put all three Latvians in the top six with a sixth place effort.
The World Cup points picture took a bit of a swing after disaster struck for Germany. Toni Eggert & Sascha Benecken's World Cup title hopes took a blow on Saturday as the duo crashed in their first run, as they finished the heat 11 seconds off the lead. They did manage to pick up one position on their second effort with a fourth-quickest run, but they'll now need some help if they want to unseat Steu & Koller for the World Cup title.
After the race in Sigulda, Steu & Koller now hold a commanding lead over Eggert & Benecken, while Wendl & Arlt sit third.
Americans Chris Mazdzer & Jayson Terdiman finished tenth on the day as the lone North American sled.
Results:
| | | | | | | | | |
| --- | --- | --- | --- | --- | --- | --- | --- | --- |
| Pos | Names | Nation | Bib | Start 1 | Start 2 | Run 1 | Run 2 | Total |
| 1 | Sics / Sics | LAT | 19 | 1.584 | 1.589 | 41.779 | 41.831 | 1:23.610 |
| 2 | Wendl / Arlt | GER | 23 | 1.518 | 1.520 | 41.814 | 41.825 | 1:23.639 |
| 3 | Bots / Plume | LAT | 12 | 1.544 | 1.518 | 41.863 | 41.847 | 1:23.710 |
| 4 | Kashkin / Korshunov | RUS | 10 | 1.567 | 1.622 | 41.914 | 42.012 | 1:23.926 |
| 5 | Steu / Koller | AUT | 20 | 1.542 | 1.535 | 41.961 | 41.985 | 1:23.946 |
| 6 | Gudramovics / Kalnins | LAT | 15 | 1.552 | 1.569 | 41.993 | 41.967 | 1:23.960 |
| 7 | Rieder / Rastner | ITA | 24 | 1.510 | 1.563 | 42.029 | 41.989 | 1:24.018 |
| 8 | Chmielewski / Kowalewski | POL | 16 | 1.552 | 1.560 | 42.113 | 42.223 | 1:24.336 |
| 9 | Müller / Frauscher | AUT | 22 | 1.558 | 1.564 | 42.198 | 42.141 | 1:42.339 |
| 10 | Mazdzer / Terdiman | USA | 9 | 1.593 | 1.584 | 42.197 | 42.154 | 1:42.351 |
| 11 | Rieder / Kainzwaldner | ITA | 13 | 1.528 | 1.532 | 42.223 | 42.183 | 1:42.406 |
| 12 | Geueke / Gamm | GER | 11 | 1.523 | 1.526 | 42.300 | 42.151 | 1:24.451 |
| 13 | Nagler / Malleier | ITA | 14 | 0.439 | 1.525 | 42.305 | 42.224 | 1:24.529 |
| 14 | Yuzhakov / Prokhorov | RUS | 18 | 1.559 | 1.564 | 42.198 | 42.421 | 1:24.619 |
| 15 | Vavercak / Zmij | SVK | 8 | 1.543 | 1.599 | 42.343 | 42.598 | 1:24.941 |
| 16 | Park / Cho | KOR | 7 | 1.663 | 1.670 | 42.529 | 42.453 | 1:24.982 |
| 17 | Denisev / Antonov | RUS | 17 | 1.548 | 1.550 | 42.145 | 42.857 | 1:25.002 |
| 18 | Stakhiv / Lysetskyi | UKR | 5 | 1.629 | 1.635 | 42.716 | 42.777 | 1:25.493 |
| 19 | Vejdelek / Pekny | CZE | 3 | 1.640 | 1.675 | 42.858 | 42.884 | 1:25.742 |
| 20 | Gatt / Schöpf | AUT | 6 | 1.567 | 1.582 | 42.715 | 44.610 | 1:27.325 |
| 21 | Siscanu / Oprea | MDA | 4 | 1.630 | 1.657 | 44.090 | 44.252 | 1:28.342 |
| 22 | Eggert / Benecken | GER | 21 | 1.533 | 1.554 | 53.381 | 41.898 | 1:35.279 |
| 23 | Karas / Karas | POL | 2 | 1.628 | 1.630 | 50.345 | 48.211 | 1:38.556 |
| 24 | Mykyievych / Babura | UKR | 1 | 1.758 | 1.785 | 53.723 | 44.909 | 1:38.632 |