From Sigulda, LAT
(Jan. 9, 2021) – Felix Loch won his eighth gold medal of the 2020/2021 World Cup season, cruising to victory in an otherwise close race in Sigulda.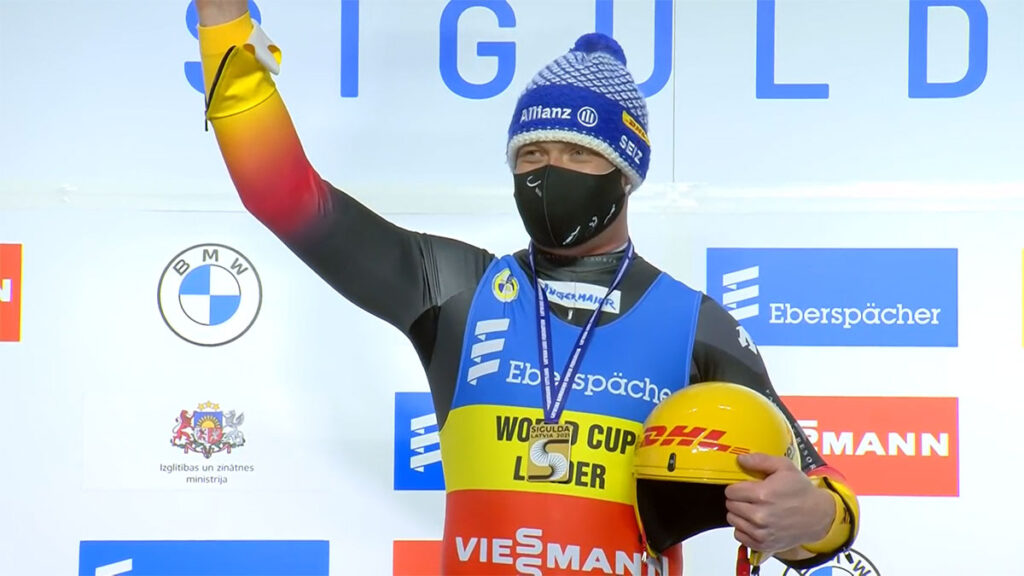 Loch put down the two fastest runs of the race to win by .22 over teammate Johannes Ludwig. On his second run, Loch just missed the track record set by Semen Pavlichenko in 2017 by just .022.
Loch remains undefeated in "classic" World Cup races, with his only loss in the Winterberg sprint race.
Ludwig's silver was his third silver medal of the year. He edged out Italy's Dominik Fischnaller for the spot, while Fischnaller finished just .021 ahead of Latvia's Arturs Darznieks.
For Fischnaller, the bronze medal was his fourth bronze of the season. For Darznieks, fourth place was a career best.
Russia's Semen Pavlchenko managed a fifth place finish despite hitting the wall hard in both heats, finishing just ahead of Aleksandr Gorbatcevich in sixth.
Tucker West led the way for the United States in 12th place, one spot ahead of teammate Chris Mazdzer in 13th. Jonathan Gustafson finished 15th to round out the American effort.
Austria had an abysmal day, with Jonas Müller crashing out on his second run, and both Reinhard Egger and David Gleirscher being disqualified for runners being too hot. Gleirscher also crashed on his run prior to being disqualified.
Results:
| | | | | | | | | |
| --- | --- | --- | --- | --- | --- | --- | --- | --- |
| Pos | Name | Nation | Bib | Start 1 | Start 2 | Run 1 | Run 2 | Total |
| 1 | Felix Loch | GER | 30 | 4.590 | 4.574 | 48.025 | 47.859 | 1:35.884 |
| 2 | Johannes Ludwig | GER | 27 | 4.566 | 4.570 | 48.069 | 48.035 | 1:36.104 |
| 3 | Dominik Fischnaller | ITA | 31 | 4.624 | 4.632 | 48.114 | 48.057 | 1:36.171 |
| 4 | Arturs Darznieks | LAT | 24 | 4.626 | 4.621 | 48.098 | 48.094 | 1:36.192 |
| 5 | Semen Pavlichenko | RUS | 29 | 4.589 | 4.579 | 48.208 | 48.047 | 1:36.255 |
| 6 | Aleksandr Gorbatcevich | RUS | 25 | 4.644 | 4.629 | 48.214 | 48.078 | 1:36.292 |
| 7 | Roman Repilov | RUS | 26 | 4.595 | 4.603 | 48.135 | 48.168 | 1:36.303 |
| 8 | Nico Glerischer | AUT | 28 | 4.622 | 4.609 | 48.376 | 48.067 | 1:36.443 |
| 9 | Wolfgang Kindl | AUT | 22 | 4.655 | 4.648 | 48.141 | 48.357 | 1:36.498 |
| 10 | Max Langenhan | GER | 20 | 4.597 | 4.624 | 48.305 | 48.272 | 1:36.577 |
| 11 | Riks Rozitis | LAT | 18 | 4.678 | 4.693 | 48.327 | 48.291 | 1:36.618 |
| 12 | Tucker West | USA | 8 | 4.614 | 4.604 | 48.320 | 48.368 | 1:36.688 |
| 13 | Chris Mazdzer | USA | 9 | 4.649 | 4.640 | 48.308 | 48.435 | 1:36.743 |
| 14 | Gins Berzins | LAT | 16 | 4.680 | 4.660 | 48.473 | 48.295 | 1:36.768 |
| 15 | Jonathan Gustafson | USA | 11 | 4.631 | 4.614 | 48.371 | 48.428 | 1:36.799 |
| 16 | Kevin Fischnaller | ITA | 19 | 4.663 | 4.616 | 48.485 | 48.340 | 1:36.825 |
| 17 | Andriy Mandziy | UKR | 10 | 4.645 | 4.660 | 48.380 | 48.714 | 1:37.094 |
| 18 | Jozef Ninis | SVK | 15 | 4.694 | 4.710 | 48.548 | 48.627 | 1:37.175 |
| 19 | Moritz Bollmann | GER | 21 | 4.593 | 4.583 | 48.675 | 48.516 | 1:37.191 |
| 20 | Mateusz Sochowicz | POL | 5 | 4.646 | 4.650 | 48.675 | 48.693 | 1:37.314 |
| 21 | Chris Eißler | GER | 14 | 4.579 | 4.613 | 48.676 | 48.678 | 1:37.354 |
| 22 | Valentin Cretu | ROU | 7 | 4.776 | 4.705 | 48.940 | 48.946 | 1:37.886 |
| 23 | Anton Dukach | UKR | 12 | 4.627 | 4.631 | 48.465 | 49.812 | 1:38.277 |
| 24 | Svante Kohala | SWE | 6 | 4.730 | 4.761 | 49.116 | 49.170 | 1:38.286 |
| 25 | Lukas Gufler | ITA | 1 | 4.699 | 4.708 | 49.296 | 49.081 | 1:38.377 |
| 26 | Giorgi Sogoiani | GEO | 4 | 4.693 | 4.706 | 49.447 | 49.609 | 1:39.056 |
| 27 | Marian Skupek | SVK | 2 | 4.777 | 4.754 | 50.050 | 50.867 | 1:40.917 |
| 28 | Theodor Turea | ROU | 3 | 4.646 | 4.642 | 60.325 | 49.619 | 1:49.944 |
| DNF | Pavel Repilov | RUS | 17 | 4.652 | 4.643 | 48.833 | DNF | |
| DNF | Jonas Müller | AUT | 32 | 4.624 | 4.645 | 48.233 | DNF | |
| DSQ | Reinhard Egger | AUT | 13 | | | DSQ | | |
| DSQ | David Gleirscher | AUT | 23 | | | DSQ | | |