From Winterberg, GER
(Jan. 9, 2021) – Laura Nolte won her third gold medal of the IBSF World Cup season, and with it the European Championship in Winterberg.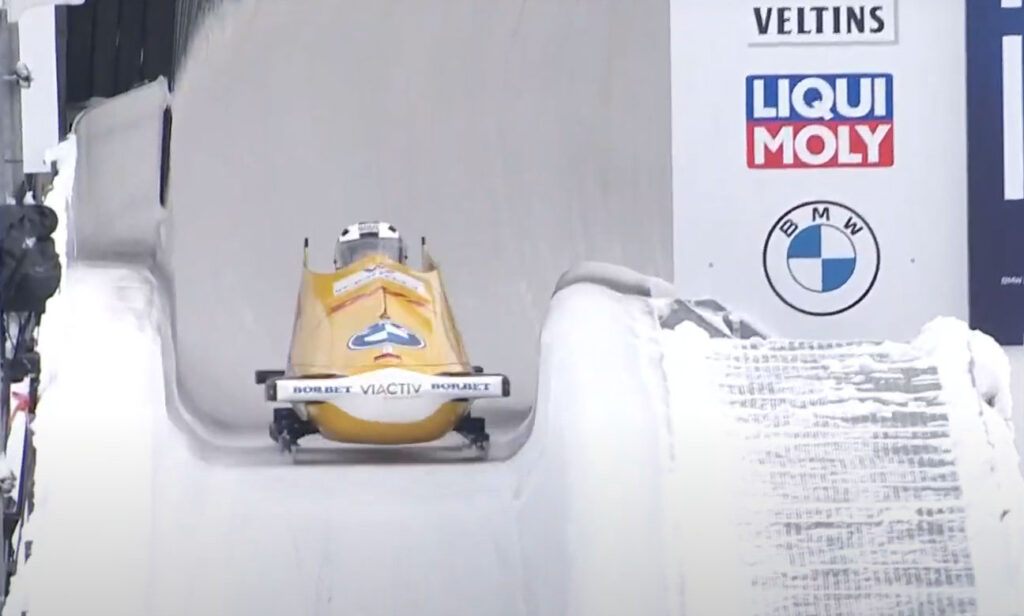 Nolte and brakewoman Deborah Levi were the fastest off the top in both heats. At the bottom nobody could match their speed as they set the two fastest runs of the race on their way to a .42 second victory over teammate Kim Kalicki.
The win was the fourth medal in five races this season, while Kalicki continued a streak of now seven podium finishes to start her World Cup career.
Behind the two German women was a tie on the podium for bronze. Coming into the second heat, Kati Beierl held a .08 second advantage over Olympic gold medalist Mariama Jamanka. On the second run Jamanka was .08 quicker than Beierl, giving both women a bronze medal.
The racing was tight throughout the field. Canada's Christine de Bruin finished fifth, just .04 out of the medals, and just .02 ahead of the United States' Kaillie Humphries in sixth. Both women were making their first starts of the season after taking the first half of the World Cup season off due to COVID-19-related travel concerns.
The United States' Elana Meyers Taylor finished seventh, only .03 behind her teammate in her return to World Cup action after a year off for maternity leave. Teammate Brittany Reinbolt finished 18th in her first World Cup start since Lake Placid in the 2019/2020 season.
The race in Winterberg also doubled as the European Championships. In that race, the podium remained the same, with Andreea Grecu finishing fifth in that race and Margot Boch rounding out the top six there.
In the World Cup standings, Kim Kalicki holds the advantage over Kati Beierl. Laura Nolte is third after crashing out of the first race of the season, while Melanie Hasler and Andreea Grecu round out the top five.
Results:
| | | | | | | | | |
| --- | --- | --- | --- | --- | --- | --- | --- | --- |
| Pos | Names | Nation | Bib | Start 1 | Start 2 | Run 1 | Run 2 | Total |
| 1 | Nolte / Levi | GER | 5 | 5.49 | 5.47 | 56.87 | 56.73 | 1:53.60 |
| 2 | Kalicki / Strack | GER | 7 | 5.61 | 5.61 | 57.01 | 57.01 | 1:54.02 |
| 3 | Jamanka / Fiebig | GER | 11 | 5.59 | 5.59 | 57.17 | 57.22 | 1:54.39 |
| 3 | Beierl / Onasanya | AUT | 4 | 5.64 | 5.61 | 57.09 | 57.30 | 1:54.39 |
| 5 | de Bruin / Villani | CAN | 18 | 5.62 | 5.63 | 57.24 | 57.19 | 1:54.43 |
| 6 | Humphries / Hoffman | USA | 15 | 5.59 | 5.60 | 57.24 | 57.21 | 1:54.45 |
| 7 | Meyers Taylor / Jones | USA | 17 | 5.60 | 5.62 | 57.26 | 57.22 | 1:54.48 |
| 8 | Grecu / Wick | ROU | 12 | 5.68 | 5.66 | 57.43 | 57.15 | 1:54.58 |
| 9 | Walker / Blizzard | AUS | 8 | 5.71 | 5.71 | 57.41 | 57.20 | 1:54.61 |
| 10 | Boch / Clair | FRA | 9 | 5.81 | 5.77 | 57.43 | 57.21 | 1:54.64 |
| 11 | Chernykh / Mamedova | RUS | 2 | 5.73 | 5.71 | 57.35 | 57.36 | 1:54.71 |
| 12 | McNell / Douglas | GBR | 10 | 5.76 | 5.75 | 57.45 | 57.30 | 1:54.75 |
| 13 | Hasler / Strebel | SUI | 6 | 5.70 | 5.69 | 57.51 | 57.32 | 1:54.83 |
| 14 | Fontanive / Pasternack | SUI | 3 | 5.62 | 5.64 | 57.41 | 57.46 | 1:54.87 |
| 15 | Vannieuwenhuyse / Aerts | BEL | 1 | 5.78 | 5.78 | 57.44 | 57.44 | 1:54.88 |
| 16 | Sergeeva / Tarasova | RUS | 13 | 5.67 | 5.67 | 57.55 | 57.41 | 1:54.96 |
| 17 | Makarova / Belomestnykh | RUS | 16 | 5.71 | 5.72 | 57.68 | 57.57 | 1:55.25 |
| 18 | Reinbolt / Gibbs | USA | 14 | 5.71 | 5.72 | 57.75 | 57.52 | 1:55.27 |