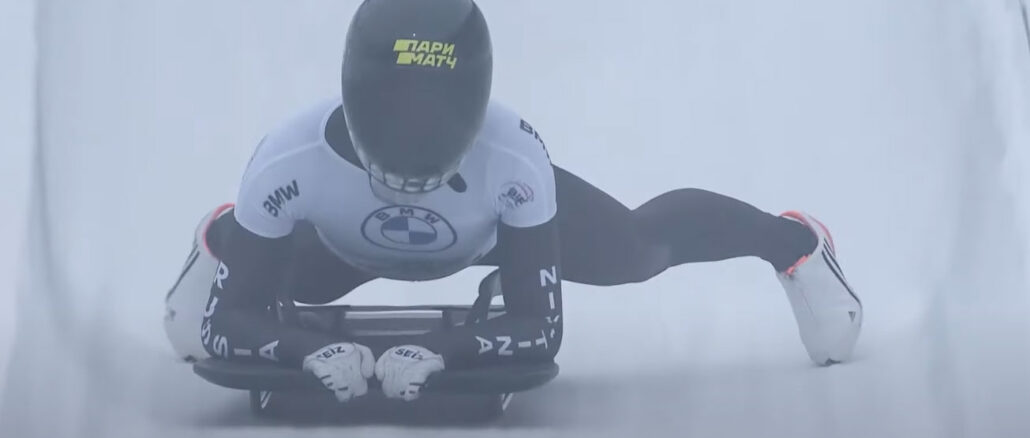 From Winterberg, GER
(Jan. 8, 2021) – Elena Nikitina won the women's skeleton race in Winterberg, and with it the European Championships.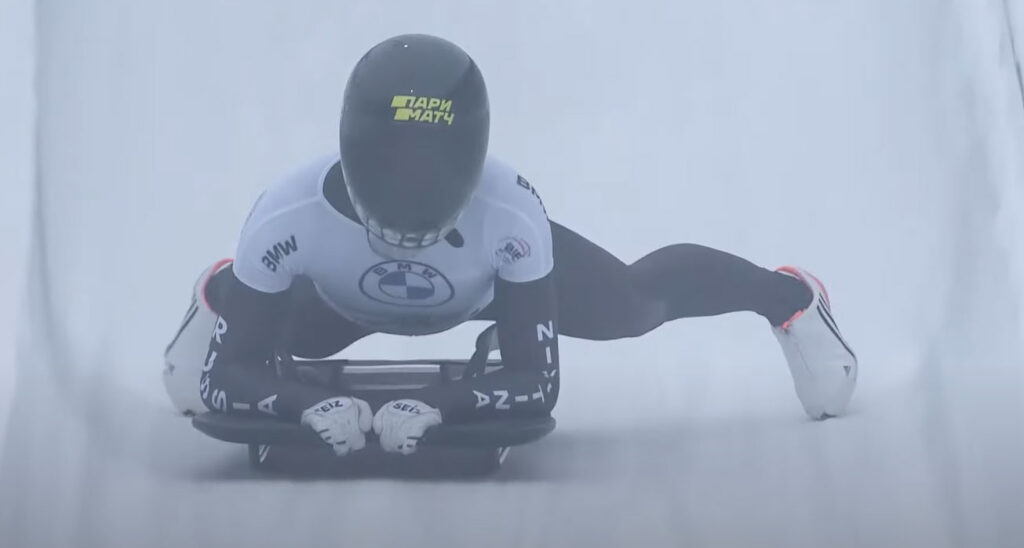 The race was tight going into the second heat, with the top five women all separated by under a tenth of a second, and sixth place less than .2 out. On the second run it remained close, with Janine Flock breaking a tie for third with Jacqueline Lölling by edging the German by just .07 for the spot. Nikitina came down next and beat out Flock by .19 with only Tina Hermann to go.
Hermann's second run was much like her first: She fell behind Nikitina early and after Kreisel the speed came. Hermann looked like she might again pick off Nikitina but ran out of track, finishing .06 behind the Russian.
For Nikitina, the gold was her second of the season. Hermann's silver was her third medal in four races.
Flock's bronze medal matched a season-worst finish for her, leaving her well ahead of anyone else in the World Cup standings.
Lölling finished fourth, relatively well ahead of teammate Hannah Neise in fifth. The fifth for Neise was a career-best finish in five attempts.
Canadian Elisabeth Maier continued a streak of strong runs in her first season back after maternity leave, moving up from seventh to finish sixth.  Kimberley Bos finished seventh.
The race doubled as the European Championships, in which the top five remained the same. Kimberley Bos finished sixth in the European standings.
Janine Flock continues to lead the World Cup standings, ahead of Kimberley Bos and Tina Hermann, with Jacqueline Lölling and Elena Nikitina rounding out the top five.
The United States made their return to international competition after taking the first part of the season. Katie Uhlaender made her first World Cup start since prior to the 2018 Olympic Games and finished 13th. Teammate Kendall Wesenberg had a timing miscue on her second run and had to take at third. On that re-run she moved up from 18th in the first heat to 17th.
Canadian Jaclyn LaBerge made her World Cup debut in Winteberg with a 21st place finish on a track that was slowing down by the time her start came around.
Results:
| | | | | | | | | |
| --- | --- | --- | --- | --- | --- | --- | --- | --- |
| Pos | Name | Nation | Bib | Start 1 | Start 2 | Run 1 | Run 2 | Total |
| 1 | Elena Nikitina | RUS | 4 | 5.26 | 5.24 | 57.60 | 57.50 | 1:55.10 |
| 2 | Tina Hermann | GER | 5 | 5.61 | 5.58 | 57.58 | 57.58 | 1:55.16 |
| 3 | Janine Flock | AUT | 9 | 5.49 | 5.52 | 57.64 | 57.65 | 1:55.29 |
| 4 | Jacqueline Lölling | GER | 8 | 5.58 | 5.60 | 57.64 | 57.72 | 1:55.36 |
| 5 | Hannah Neise | GER | 6 | 5.60 | 5.61 | 57.67 | 57.84 | 1:55.51 |
| 6 | Elisabeth Maier | CAN | 2 | 5.43 | 5.39 | 57.85 | 57.83 | 1:55.68 |
| 7 | Kimberley Bos | NED | 11 | 5.47 | 5.51 | 57.77 | 58.06 | 1:55.83 |
| 8 | Anna Fernstädt | CZE | 7 | 5.71 | 5.70 | 58.06 | 57.89 | 1:55.95 |
| 9 | Kim Meylemans | BEL | 13 | 5.43 | 5.41 | 58.04 | 57.94 | 1:55.98 |
| 10 | Yulia Kanakina | RUS | 14 | 5.32 | 5.29 | 58.08 | 58.07 | 1:56.15 |
| 11 | Valentina Margaglio | ITA | 10 | 5.25 | 5.29 | 58.20 | 57.96 | 1:56.16 |
| 12 | Laura Deas | GBR | 3 | 5.44 | 5.37 | 57.92 | 58.25 | 1:56.17 |
| 13 | Katie Uhlaender | USA | 20 | 5.53 | 5.49 | 58.34 | 58.28 | 1:56.62 |
| 14 | Alena Frolova | RUS | 15 | 5.43 | 5.40 | 58.40 | 58.26 | 1:56.66 |
| 15 | Ashleigh Pittaway | GBR | 17 | 5.52 | 5.50 | 58.40 | 58.27 | 1:56.67 |
| 16 | Alessia Crippa | ITA | 1 | 5.46 | 5.47 | 58.28 | 58.45 | 1:56.73 |
| 17 | Kendall Wesenberg | USA | 21 | 5.77 | 5.80 | 58.63 | 58.53 | 1:57.16 |
| 18 | Madelaine Smith | GBR | 18 | 5.59 | 5.66 | 58.62 | 58.84 | 1:57.46 |
| 19 | Endija Terauda | LAT | 12 | 5.64 | 5.74 | 58.68 | 59.06 | 1:57.74 |
| 20 | Agathe Bessard | FRA | 16 | 5.75 | 5.81 | 59.08 | 59.30 | 1:58.38 |
| 21 | Jaclyn LaBerge | CAN | 19 | 5.84 | | 59.28 | | |