From Oberhof, GER
Jan. 16, 2021 – Thomas Steu & Lorenz Koller came from behind to take their fourth FIL World Cup gold medal of the 2020/2021 season.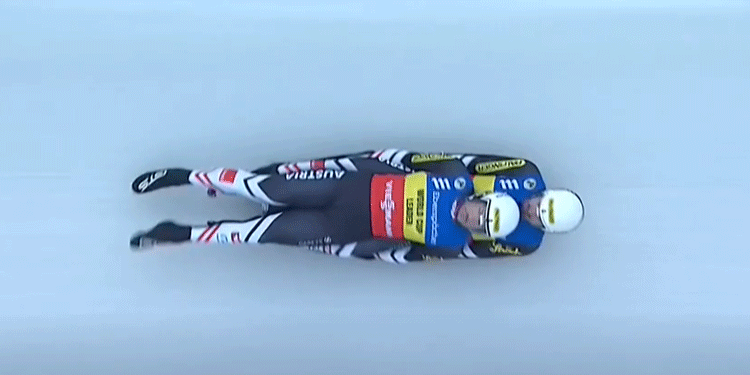 The Austrians came into the second heat in fourth place behind Wendl & Arlt, Sics & Sics, and Eggert & Benecken. Their second run was a track record time of 40.792, and one of the other challengers could get below 40.8. Tobias Wendl & Tobias Arlt made it close, but finished the final run of the dya .009 behind the Austrians.
Wendl & Arlt finished second, just .007 ahead of the Latvian team of Andris & Juris Sics in third.
Toni Eggert & Sascha Benecken finished fourth, a tenth back and well ahead of Italians Ludwig Rider & Patrick Rastner.
Yannick Müller & Armin Frauscher rounded out the top six in sixth.
Canadians Tristan Walker & Justin Snith finished in the top ten for the first time this season with a tenth place effort. Americans Chris Mazdzer & Jayson Terdiman finished 15th.
With three races to go in the FIL World Cup season, Steu & Koller hold a 96 point advantage over Eggert & Benecken. Wendl & Arlt are third, 108 points back.
Results:
| | | | | | | | | |
| --- | --- | --- | --- | --- | --- | --- | --- | --- |
| Pos | Names | Nation | Bib | Start 1 | Start 2 | Run 1 | Run 2 | Total |
| 1 | Steu / Koller | LAT | 20 | 6.652 | 6.629 | 40.890 | 40.792 | 1:21.682 |
| 2 | Wendl / Arlt | GER | 23 | 6.584 | 6.619 | 40.817 | 40.874 | 1:21.691 |
| 3 | Sics / Sics | LAT | 24 | 6.657 | 6.643 | 40.828 | 40.870 | 1:21.698 |
| 4 | Eggert / Benecken | GER | 19 | 6.650 | 6.637 | 40.889 | 40.897 | 1:21.786 |
| 5 | Rieder / Rastner | ITA | 21 | 6.543 | 6.522 | 40.994 | 40.981 | 1:21.975 |
| 6 | Müller / Fraucher | AUT | 18 | 6.695 | 6.682 | 41.104 | 41.000 | 1:22.104 |
| 7 | Geuke / Gamm | GER | 11 | 6.673 | 6.673 | 41.101 | 41.004 | 1:22.105 |
| 8 | Gudramovics / Kalnins | LAT | 22 | 6.712 | 6.698 | 41.048 | 41.075 | 1:22.123 |
| 9 | Nagler / malleier | ITA | 16 | 6.601 | 6.589 | 41.063 | 41.085 | 1:22.148 |
| 10 | Walker/ Snith | CAN | 12 | 6.617 | 6.658 | 41.137 | 41.147 | 1:22.284 |
| 11 | Rieder / Kainzwaldner | ITA | 15 | 6.669 | 6.651 | 41.251 | 41.071 | 1:22.322 |
| 12 | Bots / Plume | LAT | 8 | 6.669 | 6.601 | 41.204 | 41.148 | 1:22.352 |
| 13 | Chmielewski / Kowalewski | POL | 13 | 6.702 | 6.696 | 41.347 | 41.257 | 1:22.604 |
| 14 | Kashkin / Korshunov | RUS | 14 | 6.731 | 6.742 | 41.363 | 41.292 | 1:22.655 |
| 15 | Mazdzer / Terdiman | USA | 9 | 6.739 | 6.752 | 41.306 | 41.365 | 1:22.671 |
| 16 | Vavercak / Zmij | SVK | 10 | 6.661 | 6.682 | 41.550 | 41.467 | 1:23.017 |
| 17 | Denisev / Antonov | RUS | 17 | 6.719 | 6.737 | 41.219 | 41.943 | 1:23.162 |
| 18 | Gitlan / Serban | ROU | 7 | 6.765 | 6.751 | 41.720 | 41.648 | 1:23.368 |
| 19 | Park / Cho | KOR | 6 | 6.827 | 6.842 | 41.851 | 41.666 | 1:23.517 |
| 20 | Stakhiv / Lysetskyi | UKR | 5 | 6.853 | 6.866 | 41.855 | 41.894 | 1:23.749 |
| 21 | Vejdelek / Pekny | CZE | 4 | 6.893 | 6.866 | 42.164 | 41.926 | 1:24.090 |
| 22 | Hoi / Levkovych | UKR | 3 | 6.933 | 6.944 | 41.902 | 42.423 | 1:24.325 |
| 23 | Mykyievych / Babura | UKR | 1 | 7.058 | 7.062 | 52.837 | 47.898 | 1:40.735 |
| 24 | Turea / Motzca | ROU | 2 | 6.807 | 6.799 | 51.020 | 51.345 | 1:42.365 |