From St. Moritz, SUI
Jan. 16, 2021 – Kaillie Humphries cruised to victory in St. Moritz in Women's Monobob World Series action.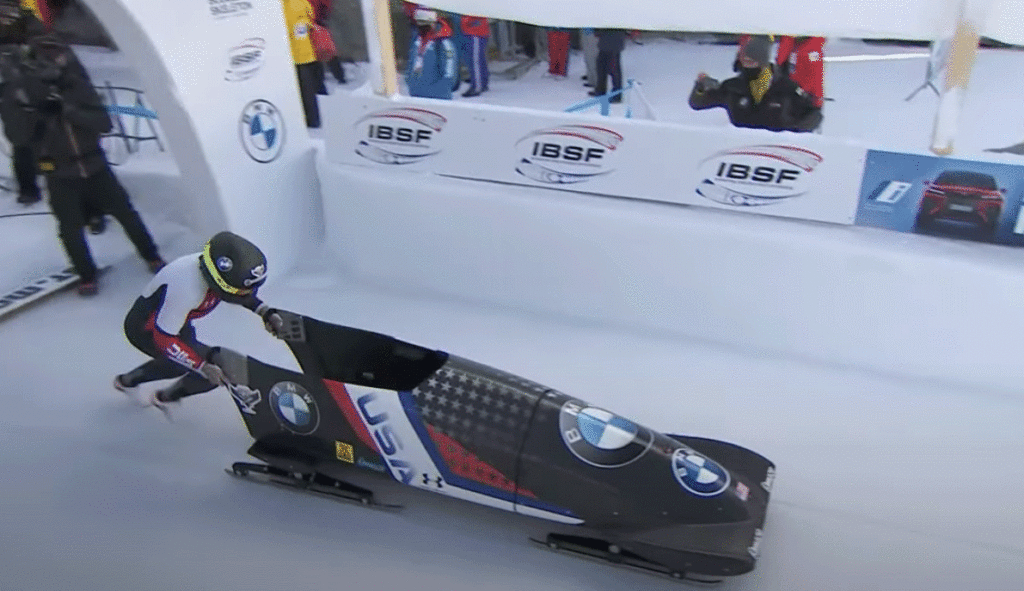 The two-time women's bobsled Olympic gold medalist opened up a .13 second advantage over Germany's Laura Nolte. In the second heat Humphries once again bested Nolte, finishing her second run .2 ahead of the German pilot.
The gold medal for Humphries came in her first race in a monobob.
Nolte finished with her second straight Women's Monobob World Series silver.
Switzerland's Martina Fontanive finished third in the stacked field for what was her second medal in three races.
Germany's Stephanie Schneider set the track record in St. Moritz on her second run to jump up from sixth in the first heat to fourth. The United States' Elana Meyers Taylor finished fifth, just ahead of Melanie Hasler in sixth.
The monobob race was the first for many women on the World Cup tour, including Humphries, Schneider, Meyers Taylor, An Vannieuwenhuyse, and Christine de Bruin.
Results:
| | | | | | | | | |
| --- | --- | --- | --- | --- | --- | --- | --- | --- |
| Pos | Name | Nation | Bib | Start 1 | Start 2 | Run 1 | Run 2 | Total |
| 1 | Kaillie Humphries | USA | 14 | 5.88 | 5.91 | 71.26 | 71.09 | 2:22.35 |
| 2 | Laura Nolte | GER | 9 | 5.87 | 5.89 | 71.39 | 71.16 | 2:22.55 |
| 3 | Martina Fontanive | SUI | 10 | 5.99 | 5.98 | 71.50 | 71.14 | 2:22.64 |
| 4 | Stephanie Schneider | GER | 16 | 5.80 | 5.79 | 71.80 | 70.90 | 2:22.70 |
| 5 | Elana Meyers Taylor | USA | 13 | 5.74 | 5.75 | 71.64 | 71.14 | 2:22.78 |
| 6 | Melanie Hasler | SUI | 5 | 5.95 | 5.91 | 71.98 | 71.30 | 2:23.28 |
| 7 | Breeana Walker | AUS | 6 | 5.95 | 5.89 | 71.79 | 71.59 | 2:23.38 |
| 8 | Margot Boch | FRA | 1 | 6.00 | 5.99 | 71.98 | 71.63 | 2:23.61 |
| 9 | Mica McNeill | GBR | 2 | 6.06 | 6.06 | 72.05 | 71.75 | 2:23.80 |
| 10 | Anastasiia Makarova | RUS | 8 | 6.08 | 6.02 | 72.20 | 72.05 | 2:24.25 |
| 11 | Mariama Jamanka | GER | 11 | 5.99 | 6.00 | 72.77 | 71.69 | 2:24.46 |
| 12 | Andreea Grecu | ROU | 3 | 5.84 | 5.82 | 72.32 | 72.18 | 2:24.50 |
| 13 | Nadezhda Sergeeva | RUS | 7 | 6.00 | 5.94 | 72.69 | 71.82 | 2:24.51 |
| 14 | An Vannieuwenhuyse | BEL | 12 | 6.22 | 6.20 | 72.25 | 72.61 | 2:24.86 |
| 15 | Katrin Beierl | AUT | 4 | 5.95 | 5.93 | 73.36 | 71.60 | 2:24.96 |
| 16 | Christine de Bruin | CAN | 15 | 6.02 | 6.02 | 72.93 | 72.05 | 2:24.98 |