From St. Moritz, SUI
Jan. 16, 2021 – It was really just a matter of time before it happened, but on Saturday in St. Moritz Germany's Francesco Friedrich became the winningest bobsled athlete of all time.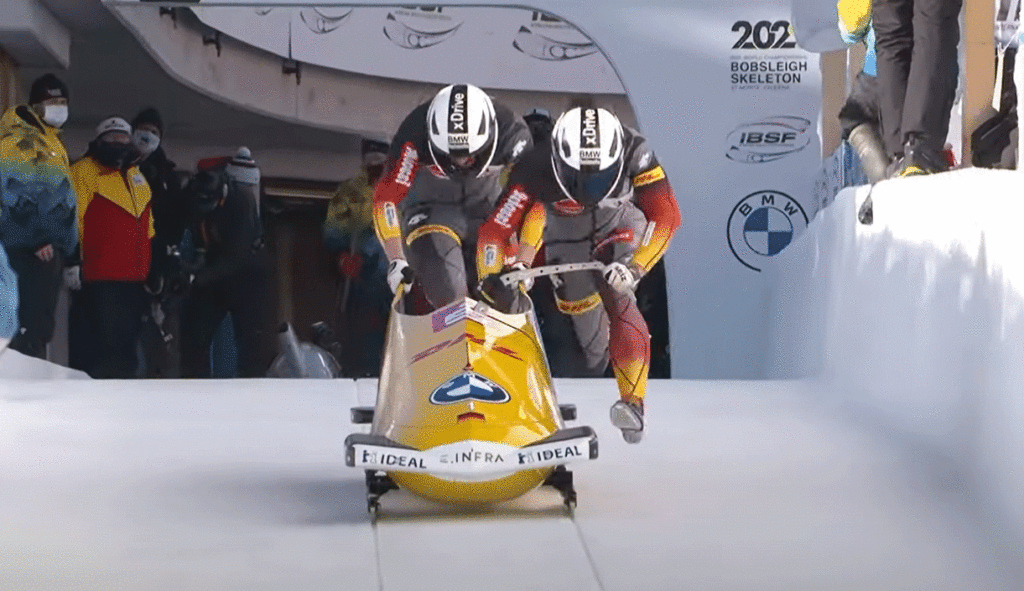 The six-time two-man World Cup champion secured his 47th gold medal in dominating fashion over teammate Johannes Lochner, winning by .45 over his teammate. Friedrich's 47th gold puts him ahead of women's pilot Sandra Kiriasis and brakeman Kevin Kuske, both of whom have 46 gold medals each.
The win for Friedrich was also his ninth in ten events on the 2020/2021 World Cup season. Of his 47 World Cup gold medals, 35 of them are in the two-man discipline.
Lochner settled for sliver, as he was once again the best slider not named "Friedrich" the race. The silver medal for Lochner was his fifth on the season. He also has one gold and three bronze medal on the two-man season.
Olympic gold medalist Justin Kripps won bronze for Canada's first two-man bobsled medal in St. Moritz since Lyndon Rush in the 2009/2010 season. The third place for Kripps was his third straight top five on the Swiss track.
Germany's Hans Peter Hannighofer continued his solid season of sliding with a fourth place finish. Hannighofer came into the race undefeated in IBSF European Cup two-man competition to score his third straight top five in World Cup action.
Michael Vogt put down a big second run, .77 faster than his first and the third fastest of the heat to move up from sixth to fifth, while Latvia's Oskars Melbardis rounded out the top six in sixth place.
The United States made their second start of the IBSF World Cup season in St. Moritz. Codie Bascue tied a career best two-man result in St. Moritz with a 13t place finish. Teammate Geoff Gadbois finished 20th in his first race in St. Moritz at any level.
Leading up to his race in St. Moritz, Christopher Spring hadn't started a World Cup race in Switzerland since the 2017/2018 season. On his return to the natural track he finished just outside of the top ten in 11th.
Great Britain's Brad Hall went into the second heat tied with Christopher Spring. On his second run he held onto the position by   Lamin Deen picked up .23 on his second run to finish 19th.
Results:
| | | | | | | | | |
| --- | --- | --- | --- | --- | --- | --- | --- | --- |
| Pos | Names | Nation | Bib | Start 1 | Start 2 | Run 1 | Run 2 | Total |
| 1 | Friedrich / Schüller | GER | 13 | 5.04 | 5.02 | 66.27 | 65.65 | 2:11.92 |
| 2 | Lochner / Bauer | GER | 10 | 5.13 | 5.11 | 66.46 | 65.91 | 2:12.37 |
| 3 | Kripps / Stones | CAN | 19 | 5.14 | 5.15 | 66.66 | 66.18 | 2:12.84 |
| 4 | Hannighofer / Kornhardt | GER | 18 | 5.16 | 5.14 | 66.72 | 66.17 | 2:12.89 |
| 5 | Vogt / Michel | SUI | 9 | 5.14 | 5.14 | 66.92 | 66.15 | 2:13.07 |
| 6 | Melbardis / Miknis | LAT | 7 | 5.17 | 5.15 | 66.95 | 66.23 | 2:13.18 |
| 7 | Maier / Sammer | AUT | 16 | 5.12 | 5.10 | 66.90 | 66.45 | 2:13.35 |
| 8 | Friedli / Haas | SUI | 11 | 5.14 | 5.14 | 66.99 | 66.52 | 2:13.51 |
| 9 | Gaitiukevich / Mordasov | RUS | 14 | 5.13 | 5.11 | 67.03 | 66.51 | 2:13.54 |
| 10 | Hall / Cackett | GBR | 15 | 5.15 | 5.12 | 67.09 | 66.46 | 2:13.55 |
| 11 | Spring / Evelyn | CAN | 22 | 5.18 | 5.23 | 67.09 | 66.70 | 2:13.79 |
| 12 | Dvorak / Suchy | CZE | 12 | 5.22 | 5.21 | 67.15 | 66.66 | 2:13.81 |
| 13 | Bascue / Valdes | USA | 20 | 5.26 | 5.23 | 67.23 | 66.92 | 2:14.15 |
| 14 | de Bruin / Franjic | NED | 17 | 5.23 | 5.25 | 67.43 | 66.90 | 2:14.33 |
| 15 | Heinrich / Lefebvre | FRA | 5 | 5.31 | 5.26 | 67.46 | 66.90 | 2:14.36 |
| 16 | Berzins / Bebriss | LAT | 8 | 5.21 | 5.23 | 67.75 | 66.86 | 2:14.61 |
| 17 | Treichl / Mitterer | AUT | 3 | 5.26 | 5.25 | 67.60 | 67.04 | 2:14.64 |
| 18 | Tentea / Dobre | ROU | 4 | 5.28 | 5.30 | 67.63 | 67.05 | 2:14.68 |
| 19 | Deen / Dasalou | GBR | 1 | 5.30 | 5.34 | 67.65 | 67.42 | 2:15.07 |
| 20 | Gadbois / Niederhofer | USA | 21 | 5.33 | 5.36 | 67.66 | 67.67 | 2:15.33 |
| 21 | Stulnev / Kondratenko | RUS | 2 | 5.29 | | 67.90 | | |
| 22 | Baumgartner / Ughi | ITA | 6 | 5.34 | | 67.93 | | |