From Oberhof, GER
Jan. 16, 2021 – Felix Loch continued his winning ways on Saturday in Oberhof, cruising to victory by nearly a quarter of a second.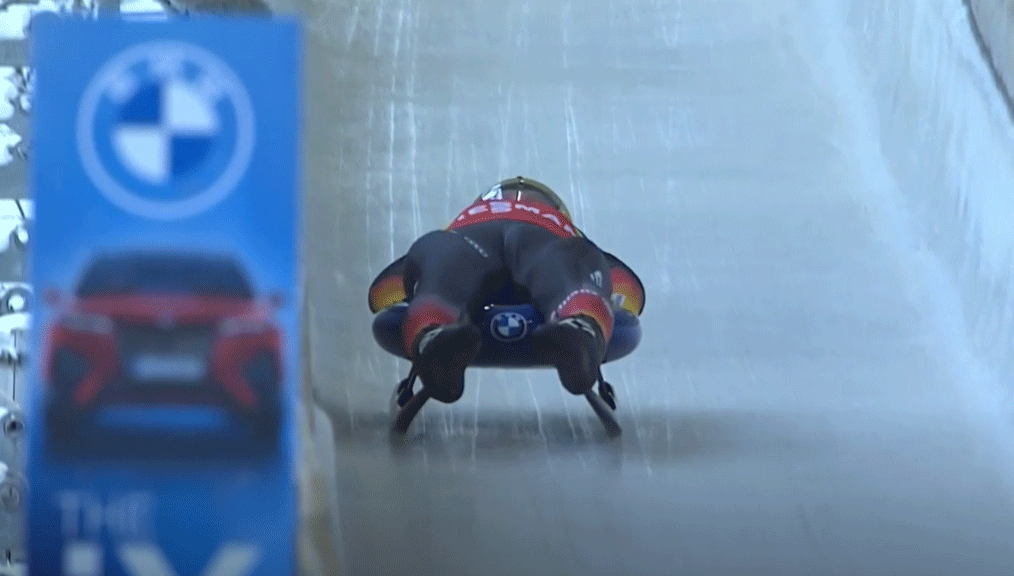 The German set the fastest two times of the race, both well under the old track record, to beat Austria's Jonas Müller by .247. David Gleirscher, the bronze medalist, was nearly a half-second back in third.
The win for Loch is his eighth of the season between the "traditional" World Cup races and the Sprint World Cup competitions. His only loss of the season was a fifth place in the Winterberg Sprint competition which teammate Max Langenhan won.
For Müller. the silver was a season-best, while the bronze for Gleischer was his first medal since the season-opening Sprint World Cup race in Igls.
Germany's Johannes Ludwig and Max Langenhan finished fourth and fifth. Russia's Roman Repilov rounded out the top six.
It was a disappointing race across the board for the North Americans. The United Sttaes' Chris Mazdzer was the only North American to crack the top 20 in 20th. Teammates Jonny Gustafson and Tucker West finished 23rd and 24th respectively, while Canada's Reid Watts finished 21st as his country's lone athlete in the competition.
Results:
| | | | | | | | | |
| --- | --- | --- | --- | --- | --- | --- | --- | --- |
| Pos | Name | Nation | Bib | Start 1 | Start 2 | Run 1 | Run 2 | Total |
| 1 | Felix Loch | GER | 31 | 7.126 | 7.167 | 42.673 | 52.707 | 1:25.380 |
| 2 | Jonas Müller | AUT | 24 | 7.149 | 7.140 | 42.855 | 42.772 | 1:25.627 |
| 3 | David Gleirscher | AUT | 17 | 7.166 | 7.173 | 42.957 | 42.866 | 1:25.823 |
| 4 | Johannes Ludwig | GER | 29 | 7.133 | 7.152 | 42.936 | 42.896 | 1:25.832 |
| 5 | Max Langenhan | GER | 18 | 7.155 | 7.180 | 42.905 | 42.942 | 1:25.847 |
| 6 | Roman Repilov | RUS | 30 | 7.129 | 7.148 | 42.930 | 42.975 | 1:25.905 |
| 7 | Gints Berzins | LAT | 16 | 7.194 | 7.175 | 43.000 | 43.021 | 1:26.021 |
| 8 | Semen Pavlichenko | RUS | 28 | 7.163 | 7.155 | 43.012 | 43.057 | 1:26.069 |
| 9 | Wolfgang Kindl | AUT | 20 | 7.190 | 7.190 | 43.001 | 43.094 | 1:26.095 |
| 10 | Dominik Fischnaller | ITA | 27 | 7.138 | 7.159 | 43.112 | 43.058 | 1:26.170 |
| 11 | Kevin Fischnaller | ITA | 26 | 7.196 | 7.189 | 43.176 | 43.025 | 1:26.201 |
| 12 | Reinhard Egger | AUT | 15 | 7.230 | 7.219 | 43.174 | 43.061 | 1:26.235 |
| 13 | Moritz Bollmann | GER | 21 | 7.151 | 7.193 | 43.163 | 43.077 | 1:26.240 |
| 14 | Sebastian Bley | GER | 10 | 7.206 | 7.024 | 43.216 | 43.034 | 1:26.250 |
| 15 | Arturs Darznieks | LAT | 19 | 7.204 | 7.200 | 43.215 | 43.086 | 1:26.301 |
| 16 | Riks Rozitis | LAT | 25 | 7.228 | 7.238 | 43.148 | 43.185 | 1:26.333 |
| 17 | Aleksandr Gorbatcevich | RUS | 23 | 7.191 | 7.219 | 43.153 | 43.204 | 1:26.357 |
| 18 | Nico Gleirscher | AUT | 32 | 7.194 | 7.256 | 43.176 | 43.181 | 1:26.357 |
| 19 | Pavel Repilov | RUS | 11 | 7.232 | 7.265 | 43.133 | 43.244 | 2:16.377 |
| 20 | Chris Mazdzer | USA | 13 | 7.237 | 7.249 | 43.191 | 43.213 | 1:26.404 |
| 21 | Reid Watts | CAN | 12 | 7.236 | 7.224 | 43.250 | 43.266 | 1:26.516 |
| 22 | Mateusz Sochowicz | POL | 14 | 7.237 | 7.215 | 43.273 | 43.262 | 1:26.535 |
| 23 | Jonathan Gustafson | USA | 5 | 7.176 | 7.176 | 43.321 | 43.333 | 1:26.654 |
| 24 | Tucker West | USA | 9 | 7.213 | 7.224 | 43.297 | 43.424 | 1:26.721 |
| 25 | Lukas Gufler | ITA | 7 | 7.229 | 7.250 | 43.434 | 43.364 | 1:26.798 |
| 26 | Andriy Mandziy | UKR | 8 | 7.255 | 7.246 | 43.326 | 43.489 | 1:26.815 |
| 27 | Jozef Ninis | SVK | 22 | 7.322 | 7.328 | 43.439 | 43.454 | 1:26.893 |
| 28 | Anton Dukach | UKR | 6 | 7.252 | 7.261 | 43.534 | 43.554 | 1:27.088 |
| 29 | Svante Kohala | SWE | 4 | 7.300 | 7.322 | 43.492 | 43.599 | 1:27.091 |
| 30 | Valentin Cretu | ROU | 3 | 7.248 | 7.250 | 43.618 | 43.646 | 1:27.264 |
| 31 | Eduard-Mihai Craciun | ROU | 1 | 7.305 | 7.264 | 43.715 | 43.794 | 1:27.509 |
| 32 | Alex Gufler | ITA | 2 | 7.282 | 7.309 | 43.912 | 43.925 | 1:27.837 |