From Igls, AUT
Jan. 24, 2021 – After a seemingly endless streak of silver medals to start her return to action from a year off for maternity leave, Natalie Geisenberger seems to have found her winning touch. The German took her second straight gold medal after a streak of eight silver medals to start the season.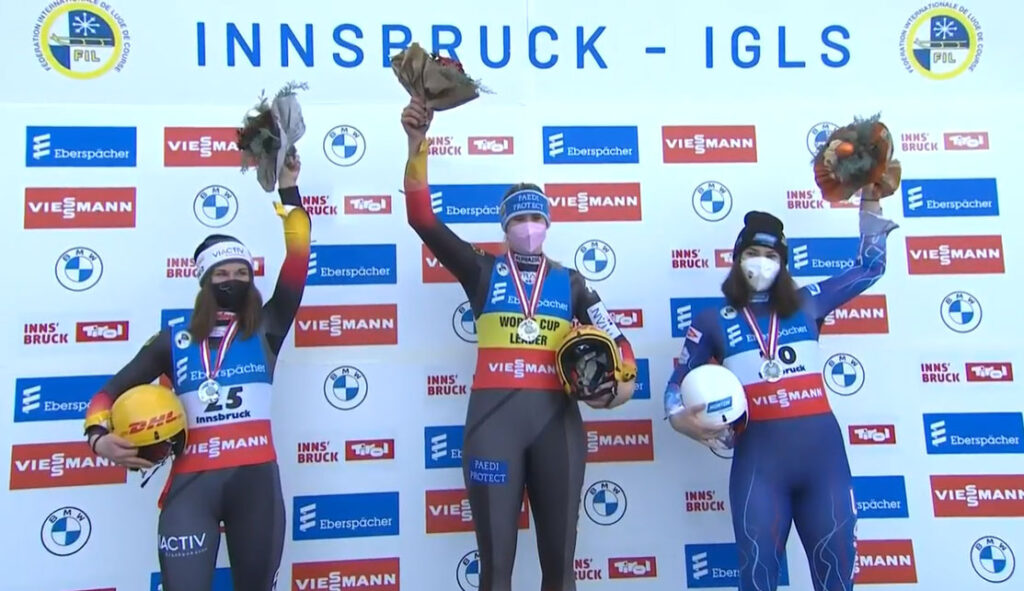 Geisenberger entered the second heat just .052 ahead of teammate Julia Taubitz. Taubitz, the winningest women's slider on tour this season, put down what was the fastest run of the race to that point in her second run to open up a relatively sizeable lead on the field with just Geisenberger to go. Geisenberger answered, however, beating Taubitz by .03 on the heat for a .082 victory.
The win was number 51 for Geisenberger, who extended her World Cup point lead to 89 points over Taubitz with two races to go on the FIL World Cup season.
Finishing third was Summer Britcher, who gave the United States their first luge medal of the season. Britcher was the only non-German slider to crack the 40 second barrier with her second run to solidify her bronze medal.
World Champion Ekaterina Katnikova had her best World Cup finish of the season in fourth, just ahead of Oberhof gold medalist Dajana Eitberger in fifth. Austria's Madeleine Egle finished sixth on her home track.
The United States' women had by far the best race for USA Luge on the season, with all four athletes finishing in the top 15. On top of Britcher's medal run, Ashley Farquharson had her best finish of the season with a eighth place finish. Emily Sweeney threw down the sixth fastest run of the second heat to jump up from 18th to 12th, while Brittney Arndt finished 15th.
Canada's Carolyn Maxwell finished 24th.
Results:
| | | | | | | | | |
| --- | --- | --- | --- | --- | --- | --- | --- | --- |
| Pos | Name | Nation | Bib | Start 1 | Start 2 | Run 1 | Run 2 | Total |
| 1 | Natalie Geisenberger | GER | 26 | 2.129 | 2.126 | 39.903 | 39.825 | 1:19.728 |
| 2 | Julia Taubitz | GER | 25 | 2.129 | 2.123 | 39.955 | 39.855 | 1:19.810 |
| 3 | Summer Britcher | USA | 20 | 2.111 | 2.119 | 40.075 | 39.939 | 1:20.014 |
| 4 | Ekaterina Katnikova | RUS | 22 | 2.135 | 2.132 | 40.104 | 40.008 | 1:20.112 |
| 5 | Dajana Eitberger | GER | 18 | 2.154 | 2.155 | 40.157 | 40.031 | 1:20.188 |
| 6 | Madeleine Egle | AUT | 24 | 2.109 | 2.108 | 40.132 | 40.097 | 1:20.229 |
| 7 | Andrea Vötter | ITA | 19 | 2.119 | 2.121 | 40.169 | 40.090 | 1:20.259 |
| 8 | Ashley Farquharson | USA | 21 | 2.134 | 2.122 | 40.201 | 40.093 | 1:20.294 |
| 9 | Viktoriia Demchenko | RUS | 27 | 2.134 | 2.126 | 40.202 | 40.151 | 1:20.353 |
| 10 | Tatyana Ivanova | RUS | 28 | 2.106 | 2.102 | 40.276 | 40.078 | 1:20.354 |
| 11 | Cheyenne Rosenthal | GER | 15 | 2.134 | 2.131 | 40.257 | 40.120 | 1:20.377 |
| 12 | Emily Sweeney | USA | 5 | 2.122 | 2.139 | 40.310 | 40.068 | 1:20.378 |
| 13 | Eliza Tiruma | LAT | 23 | 2.128 | 2.125 | 40.233 | 40.171 | 1:20.404 |
| 14 | Kendija Aparjode | LAT | 17 | 2.122 | 2.131 | 40.201 | 40.206 | 1:20.407 |
| 15 | Brittney Arndt | USA | 13 | 2.142 | 2.134 | 40.255 | 40.194 | 1:20.449 |
| 16 | Elina Vitola | LAT | 11 | 2.126 | 2.126 | 40.308 | 40.157 | 1:20.465 |
| 17 | Hannah Prock | AUT | 7 | 2.136 | 2.139 | 40.269 | 40.203 | 1:20.472 |
| 18 | Ulla Zirne | LAT | 10 | 2.157 | 2.156 | 40.323 | 40.182 | 1:20.505 |
| 19 | Lisa Schulte | AUT | 16 | 2.139 | 2.136 | 40.301 | 40.307 | 1:20.608 |
| 20 | Natalie Maag | SUI | 9 | 2.138 | 2.139 | 40.392 | 40.315 | 1:20.707 |
| 21 | Verena Hofer | ITA | 14 | 2.142 | 2.145 | 40.552 | 40.248 | 1:20.800 |
| 22 | Ekaterina Baturina | RUS | 4 | 2.133 | 2.142 | 40.424 | 40.409 | 1:20.833 |
| 23 | Marion Oberhofer | ITA | 12 | 2.135 | 2.130 | 40.453 | 40.422 | 1:20.875 |
| 24 | Carolyn Maxwell | CAN | 6 | 2.140 | 2.137 | 40.430 | 40.449 | 1:20.879 |
| 25 | Raluca Stramaturaru | ROU | 2 | 2.151 | 2.136 | 40.532 | 40.388 | 1:20.920 |
| 26 | Nina Zöggeler | ITA | 8 | 2.176 | 2.156 | 40.542 | 40.529 | 1:21.071 |
| 27 | Klaudia Domaradzka | POL | 3 | 2.127 | 2.130 | 40.523 | 40.607 | 1:21.230 |
| 28 | Yulianna Tunytska | UKR | 1 | 2.132 | 2.144 | 40.724 | 40.567 | 1:21.291 |