From Königssee, GER
Jan. 24, 2021 – It was a case of "another race, another gold" for Francesco Friedrich, with the German slider once again setting the fast time in both heats on his way to gold.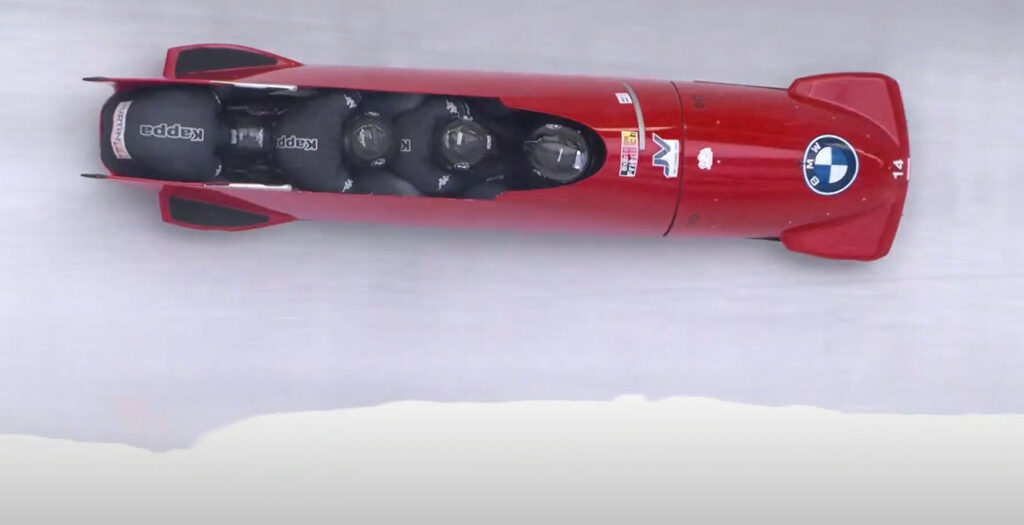 Friedrich had a .29 second advantage over teammate Christoph Hafer going into the second heat. On that second run Hafer struggled and fell out of the medals behind Benjamin Maier and Johannes Lochner. Friedrich put down a run that was quicker than anyone else in the heat and plenty enough for his third straight gold medal in World Cup four-man action.
The win was Friedrich's 14th four-man gold medal and 50th overall.
Austria's Benjamin Maier continued a strong return to form after really two years of fighting injury with a second straight silver medal. Maier came into the second heat in third but out-drove everyone not named Friedrich.
Johannes Lochner rounded out the podium with a bronze medal, edging out Hafer by .03 for the honors.
Justin Kripps had a long skid in his first run that left him tied for fifth with Great Britain's Brad Hall. He cleaned up his second run to retain fifth place for his 15th straight top six finish.
Oskars Melbardis moved up from ninth in the first heat to finish sixth for his second straight top six finish this season.
Great Britain had another quality day in Königssee. Brad Hall led the way in seventh place, missing out of a top six by just .01. Teammate Lamin Deen put down a pair of clean runs to finish 13th. Deen's second run came after the two minute break as snow fell into the track, which may have had something to do with the lack of speed in his sled.
Canada continued its strong start after sitting out the first half of the season. Christopher Spring helped put both Canadian sleds in the top ten with a strong eighth place run. His finish tied a career best in Königssee.
The United States couldn't match their success from Saturday, where Codie Bascue finished with a best ever finish in Bavaria and the USA went one-two in women's monobob. Bascue missed the cut with an uncharacteristically sloppy run and a 22nd place finish. Teammate Geoff Gadbois, making his first four-man start in Königssee, fell from 18th to 20th in the second heat.
Results:
| | | | | | | | | |
| --- | --- | --- | --- | --- | --- | --- | --- | --- |
| Pos | Names | Nation | Bib | Start 1 | Start 2 | Run 1 | Run 2 | Total |
| 1 | Friedrich / Margis / Grothkopp / Schüller | GER | 5 | 4.77 | 4.78 | 48.67 | 48.78 | 1:37.45 |
| 2 | Maier / Moldovan / Sammer / Stepan | AUT | 11 | 4.88 | 4.85 | 48.98 | 48.86 | 1:37.84 |
| 3 | Lochner / Bauer / Weber / Rasp | GER | 12 | 4.86 | 4.86 | 49.00 | 48.97 | 1:37.97 |
| 4 | Hafer / Korona / Hammers / Wobeto | GER | 7 | 4.90 | 4.87 | 48.96 | 49.04 | 1:38.00 |
| 5 | Kripps / Sommer / Stones / Coakwell | CAN | 9 | 4.88 | 4.86 | 49.21 | 49.00 | 1:38.21 |
| 6 | Melbardis / Springis / Miknis / Lindenblats | LAT | 17 | 4.89 | 4.88 | 49.28 | 49.14 | 1:38.42 |
| 7 | Hall / Lawrence / Tasker / Cackett | GBR | 21 | 4.91 | 4.92 | 49.21 | 49.22 | 1:38.43 |
| 8 | Spring / Evelyn / Mlakar / Patrician | CAN | 3 | 4.95 | 4.92 | 49.26 | 49.18 | 1:38.44 |
| 9 | Gaitiukevich / Zaytsev / Malykh / Samitov | RUS | 8 | 4.88 | 4.83 | 49.22 | 49.27 | 1:38.49 |
| 10 | Stulnev / Antukh / Kondratenko / Koshelev | RUS | 13 | 4.93 | 4.93 | 49.37 | 49.19 | 1:38.56 |
| 11 | Won / Kim / Kim / Chae | KOR | 20 | 4.99 | 4.95 | 49.40 | 49.34 | 1:38.74 |
| 12 | Dvorak / Suchy / Sindelar / Nosek | CZE | 6 | 4.93 | 4.95 | 49.42 | 49.43 | 1:38.85 |
| 13 | Deen / Simons / Fearon / Dasaolu | GBR | 1 | 4.92 | 4.92 | 49.37 | 49.51 | 1:38.88 |
| 14 | Baumgartner / Fantazzini / Verginer / Pagnini | ITA | 14 | 5.02 | 5.00 | 49.45 | 49.52 | 1:38.97 |
| 15 | Suk / Lee / Lee / Jung | KOR | 22 | 4.94 | 4.94 | 49.61 | 49.50 | 1:39.11 |
| 16 | de Bruin / Dumas / Veenker / Franjic | NED | 15 | 4.98 | 4.94 | 49.81 | 49.49 | 1:39.30 |
| 17 | Heinrich / Lefebvre / Hauterville / Borges Mendonaca | FRA | 4 | 4.94 | 4.91 | 49.60 | 49.72 | 1:39.32 |
| 18 | Treichl / Glück / Glaboniat / Mitterer | AUT | 2 | 5.01 | 4.98 | 49.59 | 49.76 | 1:39.35 |
| 19 | Friedli / Fässler / Schläpfer / Leimgruber | SUI | 10 | 5.02 | 4.99 | 49.75 | 49.76 | 1:39.51 |
| 20 | Gadbois / Adams / Niederhofer / Horn | USA | 18 | 4.95 | 4.96 | 49.72 | 49.93 | 1:39.65 |
| 21 | Kuonen / Moser / Dörig / Tanner | SUI | 19 | 4.99 | | 49.84 | | |
| 22 | Bascue / McConnel / Valdes / Wilcox | USA | 16 | 4.91 | | 49.92 | | |