From Igls, AUT
Jan. 29, 2021 – Alexander Tretiakov won his third IBSF World Cup gold medal of the season in the finale in Igls, cruising to victory over two podium newcomers.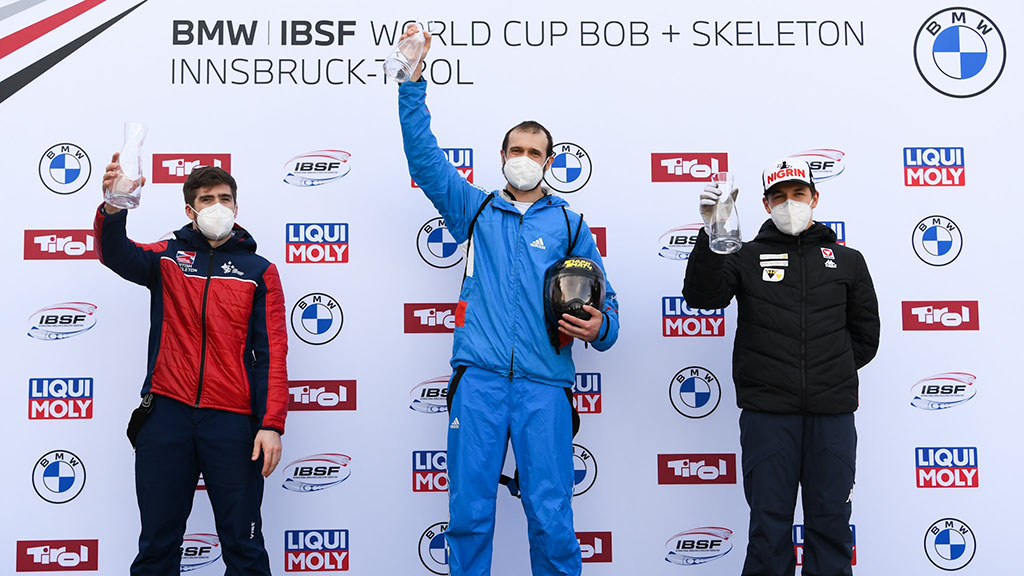 Tretiakov carried a .02 second advantage over Great Britain's Craig Thompson going into the second heat. On a deteriorating track, the second run for Thompson was.2 slower than his first run, but enough to keep him in the lead with only the Russian to go. Tretiakov's second run was also slower, but only by .03, enough to hold on for gold.
The win was Tretiakov's third in four races, and second straight in Igls. The silver for Thompson was his first career World Cup medal; his previous best finish was fifth in Winterberg.
Austria's Samuel Maier has had a bit of a breakout year during the 2020/2021 season, and capped it off with his first career World Cup medal with a bronze. Maier came into the heat in fourth, and held his spot for what would have already been a career-best. The next slider up was Nikita Tregubov, who plummeted to sixth to give Maier a bronze medal.
Sungbin Yun finished fourth, up from sixth in the first heat. Great Britain's Marcus Wyatt finished with another top five, his third in five races.
The United States was once again led by Austin Florian. Florian came into the second heat tied for 13th with Ukraine's Vladyslav Heraskevych. On the second run he was edged out by Germany's Kilian von Schleinitz, but otherwise held on for a 14th place finish, which was a career best in Igls. Teammate Austin McCrary missed out on the second heat in 23rd.
Great Britain's Matt Weston finished 11th, capping a great day for the British team.
A handful of sliders skipped the season finale to slide in Altenberg in preparation for World Championships, including the top five in the overall standings. With that, Martins Dukurs won his tenth overall title, ahead of Alexander Gassner, Tomass Dukurs, and Christopher Grotheer. Alexander Tretiakov slipped into the top five with his finish in the season finale.
Results:
| | | | | | | | | |
| --- | --- | --- | --- | --- | --- | --- | --- | --- |
| Pos | Name | Nation | Bib | Start 1 | Start 2 | Run 1 | Run 2 | Total |
| 1 | Alexander Tretiakov | RUS | 9 | 4.83 | 4.82 | 52.78 | 52.81 | 1:45.59 |
| 2 | Craig Thompson | GBR | 12 | 4.84 | 4.84 | 52.80 | 53.02 | 1:45.82 |
| 3 | Samuel Maier | AUT | 13 | 5.11 | 5.06 | 53.05 | 52.81 | 1:45.86 |
| 4 | Sungbin Yun | KOR | 15 | 4.83 | 4.85 | 53.12 | 52.76 | 1:45.88 |
| 5 | Marcus Wyatt | GBR | 10 | 4.86 | 4.84 | 53.11 | 52.91 | 1:46.02 |
| 6 | Nikita Tregubov | RUS | 11 | 4.89 | 4.90 | 52.98 | 53.07 | 1:46.05 |
| 7 | Seunggi Jung | KOR | 17 | 4.87 | 4.86 | 53.16 | 53.04 | 1:46.20 |
| 8 | Daniil Romanov | RUS | 8 | 4.86 | 4.87 | 53.23 | 53.16 | 1:46.39 |
| 9 | Cedric Renner | GER | 25 | 5.08 | 5.06 | 53.45 | 53.02 | 1:46.47 |
| 10 | Jisoo Kim | KOR | 16 | 4.89 | 4.90 | 53.14 | 53.35 | 1:46.49 |
| 11 | Matt Weston | GBR | 5 | 4.97 | 4.95 | 53.29 | 53.23 | 1:46.52 |
| 12 | Kilian von Schleinitz | GER | 24 | 5.01 | 5.02 | 53.50 | 53.14 | 1:46.64 |
| 13 | Florian Auer | AUT | 6 | 5.08 | 5.10 | 53.34 | 53.32 | 1:46.66 |
| 14 | Austin Florian | USA | 1 | 4.93 | 4.91 | 53.49 | 53.23 | 1:46.72 |
| 15 | Felix Seibel | GER | 26 | 5.07 | 5.03 | 53.67 | 53.13 | 1:46.80 |
| 16 | Mattia Gaspari | ITA | 7 | 5.06 | 5.03 | 53.58 | 53.43 | 1:47.01 |
| 17 | Mihail Enache | ROU | 2 | 4.99 | 5.00 | 53.65 | 53.44 | 1:47.09 |
| 18 | Amedeo Bagnis | ITA | 18 | 5.01 | 5.04 | 53.60 | 53.51 | 1:47.11 |
| 19 | Vladyslav Heraskevych | UKR | 4 | 5.09 | 5.07 | 53.49 | 53.62 | 1:47.11 |
| 20 | Nathan Crumpton | ASA | 20 | 5.08 | 5.09 | 53.79 | 53.63 | 1:47.42 |
| 21 | Jean Jacques Buff | SUI | 21 | 5.30 | | 53.84 | | |
| 22 | Samuel Keiser | SUI | 14 | 5.17 | | 54.13 | | |
| 23 | Austin McCrary | USA | 19 | 5.40 | | 54.19 | | |
| 24 | Ander Mirambell | ESP | 3 | 5.37 | | 54.32 | | |
| 25 | Krists Netlaus | LAT | 23 | 5.16 | | 54.33 | | |
| 26 | Elvis Veinbergs | LAT | 22 | 5.26 | | 54.64 | | |