From Igls, AUT
Jan. 21, 2021 – Elena Nikitina won her third gold medal of the IBSF World Cup season, setting the two fastest times of the race on her way to victory. Behind her, Janine Flock won her second overall title, beating Tina Hermann for the honor.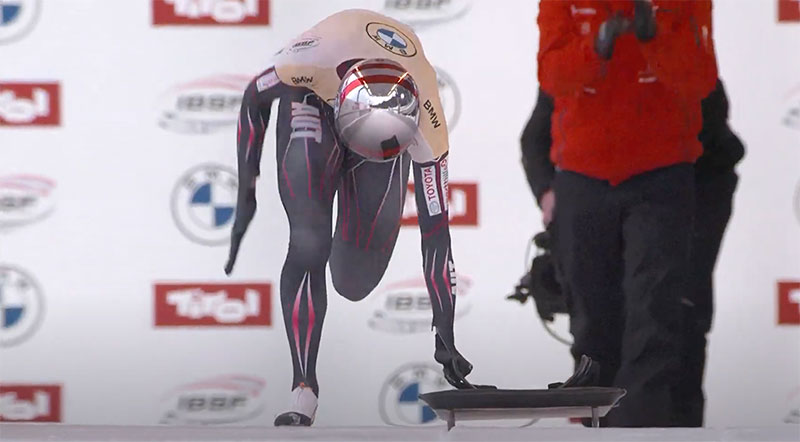 Nikitina had the two quickest starts on top of her two fast downtimes on her way to her fourth win in Austria. Of her ten starts in Igls, she has five medals overall.
Janine Flock went into the second heat of the race tied for second with Kimberley Bos. Bos was plenty quick on her second run, and put down a time good enough for third in the race. Flock came down next, and put down the fastest run of the heat to secure silver. Nikitina tied that time with her run for gold.
Just outside of the medals in the season finale was Italy's Valentina Margaglio. She had the second fastest start in each heat on her way to a career-best fourth place finish. All four of her career top-ten finishes in World Cup action have come in Igls.
Like Margaglio, Brogan Crowley finished with a career-best run in fifth, which capped a great Friday by the British skeleton program. Behind Crowley, the team put all three of their women in the top ten, with Laura Deas finishing eighth, her best finish in the 2021 calendar year. Ashleigh Pittaway finished tenth. Earlier in the day, the British men put two sliders in the top five and all three in the top eleven.
Germany's Tina Hermann came into the race as the only woman with a shot to beat out Janine Flock for the overall title. Hermann, though, needed a victory and some help from Flock on her home ice. Hermann's first run was only the eighth fastest of the race, and while she was able to move up into sixth place in the second run, Flock's silver meant a second place overall finish for Hermann.
Katie Uhlaender led the way for the United States with a 13th place finish in what was her 90th IBSF World Cup start. Teammate Kendall Wesenberg finished two spots back in 15th. World Cup rookie Sara Roderick finished 16th in her first ever race in Igls at any level.
In the overall standings, Flock beat Hermann by 180 points for the title, while Kimberley Bos edged out Germany's Jacqueline Lölling for third overall by just five points. Both Bos and Lölling missed one race on the season.
The Czech Republic's Anna Fernstädt finished 12th in the race and fifth overall.
Results:
| | | | | | | | | |
| --- | --- | --- | --- | --- | --- | --- | --- | --- |
| Pos | Name | Nation | Bib | Start 1 | Start 2 | Run 1 | Run 2 | Total |
| 1 | Elena Nikitina | RUS | 9 | 5.17 | 5.19 | 53.80 | 53.93 | 1:47.73 |
| 2 | Janine Flock | AUT | 8 | 5.49 | 5.45 | 54.19 | 53.93 | 1:48.12 |
| 3 | Kimberley Bos | NED | 13 | 5.42 | 5.43 | 54.19 | 54.18 | 1:48.37 |
| 4 | Valentina Margaglio | ITA | 5 | 5.21 | 5.23 | 54.25 | 54.17 | 1:48.42 |
| 5 | Brogan Crowley | GBR | 1 | 5.29 | 5.28 | 54.34 | 54.27 | 1:48.61 |
| 6 | Tina Hermann | GER | 7 | 5.55 | 5.51 | 54.56 | 54.13 | 1:48.69 |
| 7 | Yulia Kanakina | RUS | 11 | 5.27 | 5.26 | 54.39 | 54.40 | 1:48.79 |
| 8 | Laura Deas | GBR | 10 | 5.33 | 5.30 | 54.44 | 54.38 | 1:48.82 |
| 9 | Sophia Griebel | GER | 2 | 5.50 | 5.43 | 54.62 | 54.50 | 1:49.12 |
| 10 | Ashleigh Pittaway | GBR | 14 | 5.56 | 5.53 | 54.73 | 54.58 | 1:49.31 |
| 11 | Susanne Kreher | GER | 18 | 5.51 | 5.46 | 54.81 | 54.54 | 1:49.35 |
| 12 | Anna Fernstädt | CZE | 12 | 5.70 | 5.69 | 54.67 | 54.69 | 1:49.36 |
| 13 | Katie Uhlaender | USA | 15 | 5.43 | 5.48 | 54.71 | 54.69 | 1:49.40 |
| 14 | Alena Frolova | RUS | 4 | 5.40 | 5.40 | 54.80 | 54.79 | 1:49.59 |
| 15 | Kendall Wesenberg | USA | 3 | 5.64 | 5.60 | 54.79 | 54.83 | 1:49.62 |
| 16 | Sara Roderick | USA | 19 | 5.40 | 5.41 | 54.91 | 54.92 | 1:49.83 |
| 17 | Alessia Crippa | ITA | 6 | 5.40 | 5.38 | 54.99 | 54.95 | 1:49.94 |
| 18 | Darta Zunte | LAT | 16 | 5.50 | 5.51 | 55.42 | 55.37 | 1:50.79 |
| 19 | Jill Gander | SUI | 17 | 5.82 | 5.92 | 55.94 | 56.11 | 1:52.05 |