From Königssee, GER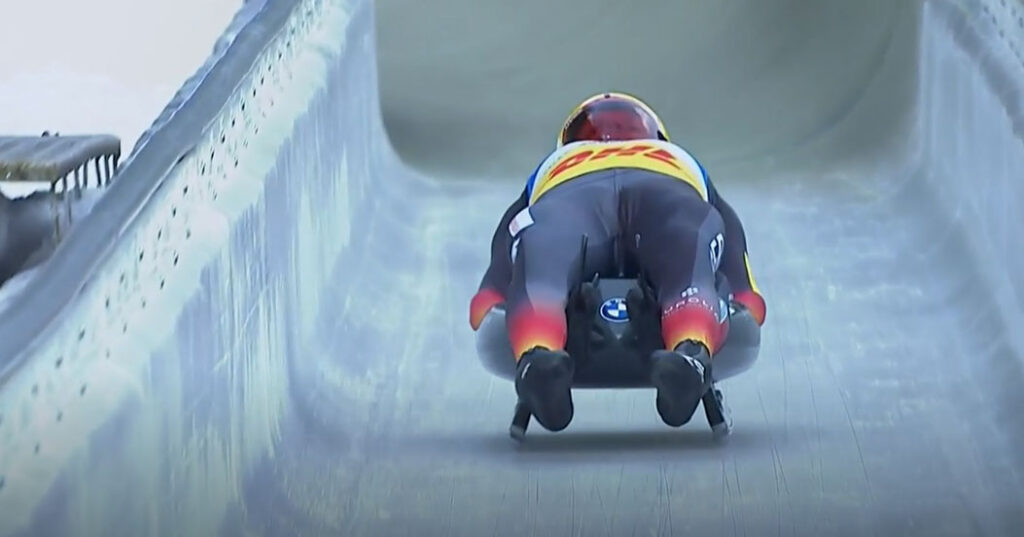 Jan. 30, 2021 – Toni Eggert & Sascha Benecken slid to their fourth FIL World Championships in Königssee, beating out teammates Tobias Wendl & Tobias Arlt for the honor.
Though Eggert & Beneken had what looked to be a little sloppier of a run than Wendl & Arlt, they carried a .002 lead going into the second heat. On that second run, Wendl & Arlt once again went just ahead of Eggert & Benecken and once again put down a clean and quick run. Eggert & Benecken cleaned up their second run, and it was enough to pull away from their German teammates by .155 and take gold.
Wendl & Arlt finished with a silver medal, well ahead of the Latvian duo of Andris & Juris Sics in third. The Latvians crashed at the very end of their first heat, but had enough speed in both runs where it ultimately did not matter. They won silver in the previous day's sprint event.
It was a strong day for the Italian doubles teams, with all three teams finishing in the top seven. Emanuel Rieder & Simon Kainzwaldner finished with a season-best fourth place finish, up from seventh in the first heat and just ahead of teammates Ivan Nagler & Fabian Malleier in fifth. Ludwig Rieder & Patrick Rastner fell from fourth to seventh in their second run.
World Cup champions Thomas Steu & Lorenz Koller finished out of the medals in sixth place. From the fourth starting spot, the Austrians had two clean runs but appeared to have completely missed their sled setup as they were off the pace in both runs.
The United States' Chris Mazdzer & Jayson Terdiman finished 16th after a small mistake in their second run set them back. Canada's Tristan Walker & Justin Snith had what could have been a top ten run going on their second heat but crashed late in their run for a DNF.
Results:
| | | | | | | | | |
| --- | --- | --- | --- | --- | --- | --- | --- | --- |
| Pos | Names | Nation | Bib | Start 1 | Start 2 | Run 1 | Run 2 | Total |
| 1 | Eggert / Benecken | GER | 2 | 2.846 | 2.874 | 49.829 | 50.102 | 1:39.931 |
| 2 | Wendl / Arlt | GER | 1 | 2.831 | 2.859 | 49.831 | 50.255 | 1:40.086 |
| 3 | Sics / Sics | LAT | 3 | 2.912 | 2.892 | 50.168 | 50.423 | 1:40.591 |
| 4 | Rieder / Kainzwaldner | ITA | 11 | 2.890 | 2.885 | 50.275 | 50.497 | 1:40.772 |
| 5 | Nagler / Malleier | ITA | 12 | 2.899 | 2.816 | 50.267 | 50.519 | 1:40.786 |
| 6 | Steu / Koller | AUT | 4 | 2.878 | 2.872 | 50.356 | 50.432 | 1:40.788 |
| 7 | Rieder / Rastner | ITA | 6 | 2.812 | 2.834 | 50.219 | 50.570 | 1:40.789 |
| 8 | Chmielewski / Kowalewski | POL | 9 | 2.877 | 2.893 | 50.291 | 50.575 | 1:40.866 |
| 9 | Gudramovics / Kalnins | LAT | 8 | 2.891 | 2.901 | 50.268 | 50.618 | 1:40.886 |
| 10 | Orlamünder / Gubitz | GER | 14 | 2.939 | 2.967 | 50.465 | 50.657 | 1:41.122 |
| 11 | Müller / Frauscher | AUT | 7 | 2.891 | 2.862 | 50.545 | 50.856 | 1:41.401 |
| 12 | Bots / Plume | LAT | 5 | 2.941 | 2.931 | 50.807 | 50.701 | 1:41.508 |
| 13 | Denisev / Antonov | RLF | 16 | 2.961 | 2.947 | 50.797 | 50.778 | 1:41.575 |
| 14 | Vavercak / Zmij | SVK | 17 | 2.903 | 2.881 | 50.992 | 50.637 | 1:41.629 |
| 15 | Bushnev / Kilseev | RLF | 13 | 2.939 | 2.948 | 50.881 | 50.822 | 1:41.703 |
| 16 | Mazdzer / Terdiman | USA | 15 | 3.002 | 3.016 | 50.779 | 51.037 | 1:41.816 |
| 17 | Park / Cho | KOR | 20 | 3.049 | 3.092 | 51.382 | 51.317 | 1:42.699 |
| 18 | Gatt / Schöpf | AUT | 18 | 2.931 | | 51.454 | | |
| 19 | Stakhiv / Lysetskyi | UKR | 19 | 3.052 | | 51.654 | | |
| 20 | Siscanu / Oprea | MDA | 23 | 3.093 | | 53.453 | | |
| DNF | Gitlan / Serban | ROU | 22 | 3.039 | | DNF | | |
| DNF | Hoi / Levkovych | UKR | 24 | 3.109 | | DNF | | |
| DNF | Turea / Motzca | ROU | 25 | 3.125 | | DNF | | |
| DSQ | Kashkin / Koshunov | RLF | 10 | 2.935 | | DSQ | | |
| DNS | Karas / Karas | POL | 26 | | | DNS | | |
| DNF | Walker / Snith | CAN | 21 | 2.902 | 2.898 | 50.553 | DNF | DNF |