From Igls, AUT
Jan. 30, 2021 – In a sport full of surprises and dramatic finishes, the two-man bobsled season has been completely dominated by Germany's Francesco Friedrich. In the season finale in Igls, Friedrich once again out-slid everyone handily.
There really wasn't much of a race for gold, Friedrich put down the two fastest runs of the race by nearly a quarter of a second to eventually win by .72 seconds over Latvia's Oskars Kibermanis.
The same .72 that separated first and second separated second to 15th place.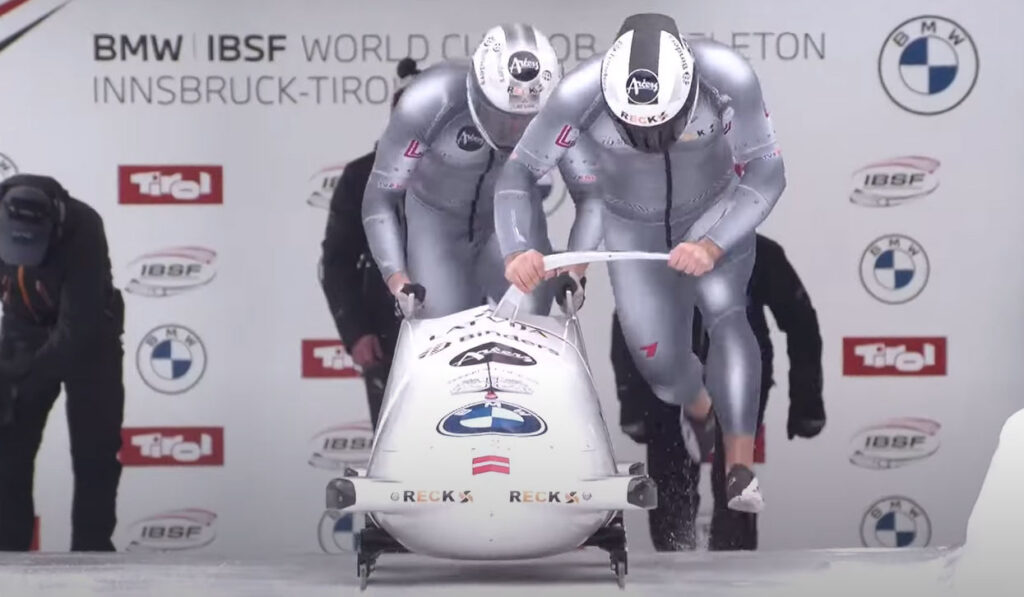 Behind Friedrich, Latvia's Oskars Kibermanis returned to form after a couple of weeks rehabbing a leg injury. Kibermanis and Matiss Miknis out-started everyone but Friedrich and Alex Schüller on their way to a silver medal.
Russia's Rostislav Giatiukevich jumped up from sixth place in his first run to third in his second. His first run saw him hit the wall early, which may have cost him a silver medal.
The Czech Republic's Dominik Dvorak finished fourth, just ahead of Germany's Johannes Lochner, with Hans Peter Hannighofer rounding out the top six.
In the final points, it was no surprise to see Friedrich atop the leaderboard. The German simply needed to start the race to take the overall title. Teammate Johannes Lochner finished the season in second place, with Dominik Dvorak finishing the season in third.
The United States had one sled entered in the two-man competition. In that sled, Codie Bascue finished with his first top ten of the two-man season in tenth, .01 behind Korea's Yunjong Won in ninth.
Canada's Christopher Spring jumped up from 13th in the first heat to finish just out of the top ten in 11th. His teammate, Olympic gold medalist Justin Kripps, sat out the two-man race with leg cramps.
Brad Hall just missed out on another British top six in Igls. He fell from fifth to seventh in the second heat, missing the top six by .09. Teammate Lamin Deen finished 18th in the second British sled.
Results:
| | | | | | | | | |
| --- | --- | --- | --- | --- | --- | --- | --- | --- |
| Pos | Names | Nation | Bib | Start 1 | Start 2 | Run 1 | Run 2 | Total |
| 1 | Friedrich / Schüller | GER | 7 | 5.03 | 5.03 | 51.43 | 51.65 | 1:43.08 |
| 2 | Kibermanis / Miknis | LAT | 5 | 5.09 | 5.06 | 51.87 | 51.93 | 1:43.80 |
| 3 | Gaitiukevich / Mordasov | RUS | 10 | 5.09 | 5.08 | 52.01 | 51.89 | 1:43.90 |
| 4 | Dvorak / Nosek | CZE | 8 | 5.16 | 5.14 | 51.97 | 52.01 | 1:43.98 |
| 5 | Lochner / Hertel | GER | 13 | 5.13 | 5.15 | 51.95 | 52.07 | 1:44.02 |
| 6 | Hannighofer / Kornhardt | GER | 18 | 5.16 | 5.15 | 52.03 | 52.02 | 1:44.05 |
| 7 | Hall / Cackett | GBR | 6 | 5.18 | 5.17 | 52.00 | 52.14 | 1:44.14 |
| 8 | Heinrich / Nemme | FRA | 12 | 5.21 | 5.20 | 52.19 | 52.13 | 1:44.32 |
| 9 | Won / Seo | KOR | 22 | 5.16 | 5.17 | 52.18 | 52.19 | 1:44.37 |
| 10 | Bascue / Horn | USA | 20 | 5.21 | 5.23 | 52.23 | 52.15 | 1:44.38 |
| 11 | Spring / Evelyn | CAN | 21 | 5.18 | 5.19 | 52.26 | 52.20 | 1:44.46 |
| 12 | de Bruin / Franjic | NED | 16 | 5.19 | 5.19 | 52.31 | 52.17 | 1:44.48 |
| 13 | Melbardis / Nemme | LAT | 11 | 5.22 | 5.22 | 52.24 | 52.24 | 1:44.48 |
| 14 | Maier / Sammer | AUT | 14 | 5.13 | 5.15 | 52.22 | 52.28 | 1:44.50 |
| 15 | Treichl / Mitterer | AUT | 3 | 5.22 | 5.21 | 52.27 | 52.29 | 1:44.56 |
| 16 | Variolia / Fantazzini | ITA | 15 | 5.18 | 5.16 | 52.34 | 52.28 | 1:44.62 |
| 17 | Cipulis / Kleinbergs | LAT | 23 | 5.22 | 5.17 | 52.46 | 52.19 | 1:44.65 |
| 18 | Deen / Gilling | GBR | 2 | 5.29 | 5.29 | 52.41 | 52.48 | 1:44.89 |
| 19 | Tentea / Dobre | ROU | 9 | 5.26 | 5.25 | 52.52 | 52.49 | 1:45.01 |
| 20 | Stulnev / Antukh | RUS | 17 | 5.26 | 5.30 | 52.54 | 52.66 | 1:45.20 |
| 21 | Baumgartner / Ughi | ITA | 4 | 5.32 | | 52.58 | | |
| 22 | Suk / Kim | KOR | 24 | 5.28 | | 52.61 | | |
| 23 | Stephens / Wekpe | JAM | 1 | 5.35 | | 52.70 | | |
| 24 | Lorenzoni / Mariani | SUI | 25 | 5.24 | | 52.77 | | |
| DNS | Kripps / Stones | CAN | 19 | | | DNS | | |