From Königssee, GER
Jan. 30, 2021 – Despite all of the success that Felix Loch had in the 2020/2021 World Cup season, Loch will leave his home track without a singles gold medal.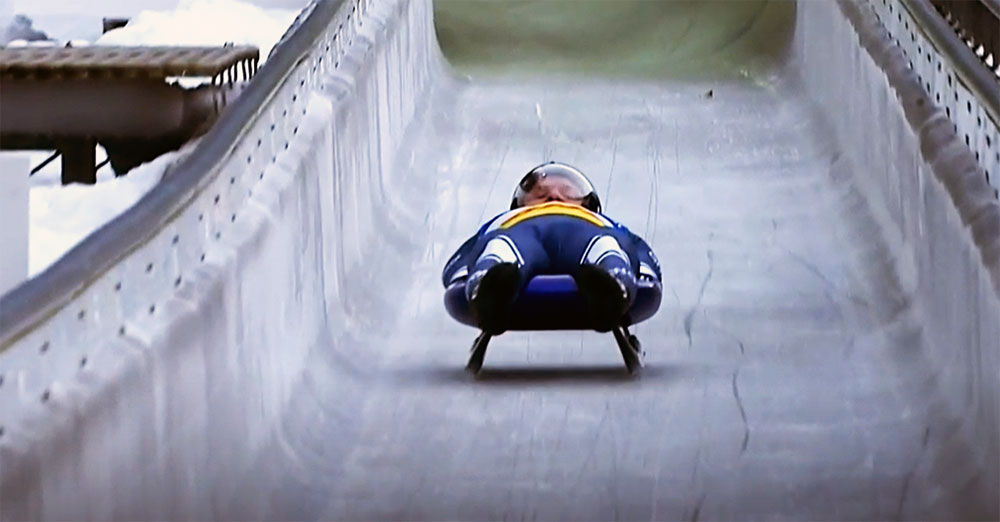 Loch came into the second heat with a .002 second lead ahead of Roman Repilov. On the second run Repilov put down the quick run of the heat, and it was a time that Loch couldn't quite match. When Loch crossed the finish line, he found himself .062 behind Repilov in the silver medal position.
The gold medal was the second straight men's luge world championship gold for Repilov. The silver medal for Loch was his fifth.
Austria's David Gleirscher won his second World Championship bronze medal in as many days, jumping up from sixth in the first heat to finish third after putting down the second quickest run of the second heat.
Germany's Max Langenhan finished just .032 out of the medals in fourth, just .002 ahead of teammate Johannes Ludwig in fifth. Austria's Jonas Müller rounded out the top six in sixth.
The United States' Chris Mazdzer was the big mover of the race, jumping up from 15th in the first heat to finish tenth. Teammate Tucker West had a small mistake early that dropped him out of the top ten from ninth to 14th.
Great Britain's Rupert Staudinger had a bit of trouble just below Kreisel that left him as the first man out of the second run in 26th.
Canada's Reid Watts finished 18th. The World Championships were originally scheduled for his home track in Whistler, but with COVID, they were moved to Königssee.
Results:
| | | | | | | | | |
| --- | --- | --- | --- | --- | --- | --- | --- | --- |
| Pos | Name | Nation | Bib | Start 1 | Start 2 | Run 1 | Run 2 | Total |
| 1 | Roman Repilov | RLF | 5 | 3.273 | 3.268 | 48.805 | 49.005 | 1:37.810 |
| 2 | Felix Loch | GER | 6 | 3.272 | 3.273 | 48.803 | 49.069 | 1:37.872 |
| 3 | David Gleirscher | AUT | 3 | 3.276 | 3.281 | 49.018 | 49.009 | 1:38.027 |
| 4 | Max Langenhan | GER | 1 | 3.273 | 3.289 | 48.891 | 49.168 | 1:38.059 |
| 5 | Johannes Ludwig | GER | 4 | 3.274 | 3.266 | 48.855 | 49.106 | 1:38.061 |
| 6 | Jonas Müller | AUT | 12 | 3.278 | 3.264 | 49.178 | 49.164 | 1:38.342 |
| 7 | Wolfgang Kindl | AUT | 11 | 3.319 | 3.321 | 49.201 | 49.200 | 1:38.401 |
| 8 | Semen Pavlichenko | RLF | 2 | 3.280 | 3.277 | 48.993 | 49.496 | 1:38.849 |
| 9 | Kevin Fischnaller | ITA | 14 | 3.336 | 3.336 | 49.176 | 49.498 | 1:38.674 |
| 10 | Chris Mazdzer | USA | 17 | 3.335 | 3.344 | 49.364 | 49.318 | 1:38.682 |
| 11 | Moritz Bollmann | GER | 16 | 3.276 | 3.271 | 49.220 | 49.563 | 1:38.783 |
| 12 | Jozef Ninis | SVK | 20 | 3.403 | 3.400 | 49.428 | 49.429 | 1:38.857 |
| 13 | Aleksandr Gorbatcevich | RLF | 9 | 3.317 | 3.311 | 49.293 | 49.571 | 1:38.864 |
| 14 | Tucker West | USA | 21 | 3.307 | 3.266 | 49.199 | 49.670 | 1:38.869 |
| 15 | Nico Gleirscher | AUT | 13 | 3.298 | 3.304 | 49.361 | 49.603 | 1:38.964 |
| 16 | Mateusz Sochowicz | POL | 27 | 3.325 | 3.327 | 49.521 | 49.562 | 1:39.083 |
| 17 | Gintz Berzins | LAT | 15 | 3.309 | 3.299 | 49.560 | 49.560 | 1:39.120 |
| 18 | Reid Watts | CAN | 26 | 3.354 | 3.347 | 49.387 | 49.735 | 1:39.122 |
| 19 | Svante Kohala | SWE | 24 | 3.414 | 3.384 | 49.689 | 49.545 | 1:39.234 |
| 20 | Anton Dukach | UKR | 28 | 3.324 | 3.332 | 49.596 | 49.728 | 1:39.324 |
| 21 | Riks Rozitis | LAT | 10 | 3.370 | 3.356 | 49.789 | 49.546 | 1:39.335 |
| 22 | Andriy Mandziy | UKR | 22 | 3.355 | 3.345 | 49.662 | 49.688 | 1:39.350 |
| 23 | Arturs Darznieks | LAT | 8 | 3.311 | 3.299 | 49.273 | 50.317 | 1:39.590 |
| 24 | Valentin Cretu | ROU | 30 | 3.332 | 3.339 | 49.649 | 50.284 | 1:39.933 |
| 25 | Leon Felderer | ITA | 25 | 3.354 | 3.359 | 49.606 | 50.388 | 1:39.994 |
| 26 | Rupert Staudinger | GBR | 29 | 3.391 | | 50.196 | | |
| 27 | Marian Skupek | SVK | 31 | 3.473 | | 50.238 | | |
| 28 | Eudard-Mihai Craciun | ROU | 38 | 3.405 | | 50.250 | | |
| 29 | Jozef Husla | SVK | 32 | 3.416 | | 50.405 | | |
| 30 | Michael Lejsek | CZE | 33 | 3.449 | | 50.513 | | |
| 31 | Jonathan Gustafson | USA | 19 | 3.301 | | 50.746 | | |
| 32 | Lukas Gufler | ITA | 23 | 3.386 | | 50.770 | | |
| 33 | Mirza Nikolajev | BIH | 36 | 3.448 | | 51.190 | | |
| 34 | Namkyu Lim | KOR | 34 | 3.422 | | 50.149 | | |
| 35 | Pavel Angelov | BUL | 37 | 3.524 | | 51.757 | | |
| 36 | Kacper Tarnawski | POL | 40 | 3.393 | | 52.877 | | |
| 37 | Ionut Siscanu | MDA | 39 | 3.451 | | 52.925 | | |
| 38 | Theodor Turea | ROU | 35 | 3.370 | | 54.673 | | |
| DNF | Dominik Fischnaller | ITA | 7 | 3.287 | | DNF | | |
| DNS | Pavel Repilov | RLF | 18 | | | DNS | | |