From Königssee, GER
Jan. 31, 2021 – Julia Taubitz was the winningest slider on tour in the women's luge World Cup over the course of the 2020/2021 season. She capped off what's been a successful season with a World Championship in Königssee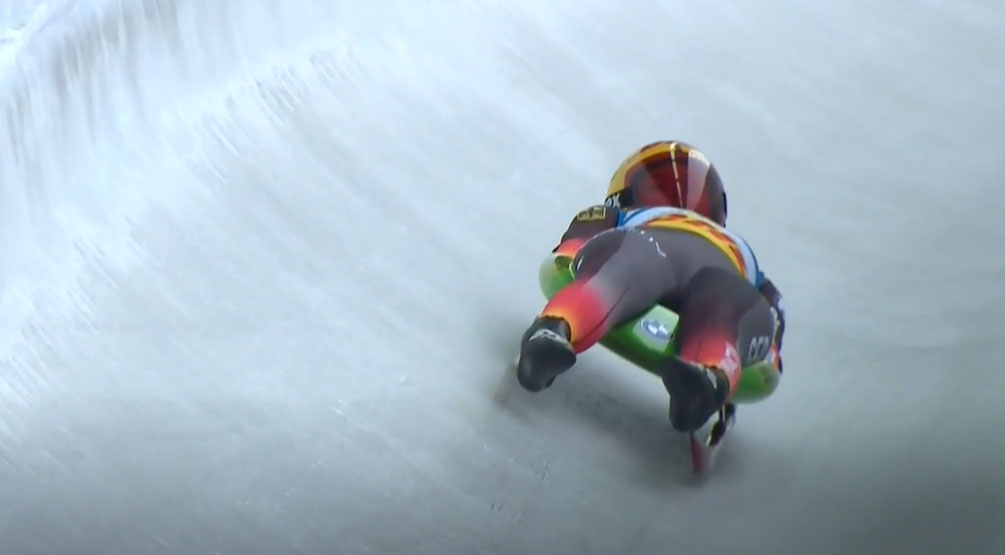 In a race that was otherwise close through the field, Taubitz dominated. The German opened up a lead of over .2 over teammate Natalie Geisenberger after the first heat. Her second run was again the fastest, as she finished her second run over .3 ahead of Geisenberger.
The win for Taubitz was her seventh on the season, the silver for Geisenberger was her tenth.
Olympic silver medalist Dajana Eitberger won her first ever World Championships medal with a bronze. Like Geisenberger, Eitberger is back in action after a season away for maternity leave and had said that she'd hoped to have a few podiums. She instead won a gold medal in Oberhof earlier in the year and now has her first World Championship medal.
Anna Berreiter finished fourth to round out the German effort, one spot ahead of Tatyana Ivanova in fifth.
The United States'women had a strong showing in Königssee, led by Summer Britcher in sixth. Both Britcher and teammate Emily Sweeney moved up from the first heat, with Britcher from seventh and Sweeney from ninth to seventh. Ashley Farquharson finished 12th, while Brittney Arndt helped put all four American sleds in the top 20 with a 19th place run.
Carolyn Maxwell finished 20th as the lone Canadian slider in the field.
Results:
| | | | | | | | | |
| --- | --- | --- | --- | --- | --- | --- | --- | --- |
| Pos | Name | Nation | Bib | Start 1 | Start 2 | Run 1 | Run 2 | Total |
| 1 | Julia Taubitz | GER | 5 | 3.053 | 3.069 | 50.417 | 50.715 | 1:41.132 |
| 2 | Natalie Geisenberger | GER | 1 | 3.039 | 3.047 | 50.629 | 50.818 | 1:41.447 |
| 3 | Dajana Eitberger | GER | 8 | 3.070 | 3.067 | 50.760 | 50.844 | 1:41.604 |
| 4 | Anna Berreiter | GER | 13 | 3.040 | 3.034 | 50.908 | 51.062 | 1:41.970 |
| 5 | Tatyana Ivanova | RLF | 2 | 3.035 | 3.048 | 50.947 | 51.230 | 1:42.177 |
| 6 | Summer Britcher | USA | 4 | 3.065 | 3.075 | 50.965 | 51.318 | 1:42.283 |
| 7 | Emily Sweeney | USA | 18 | 3.073 | 3.051 | 51.072 | 51.219 | 1:42.291 |
| 8 | Kendija Aparjode | LAT | 14 | 3.093 | 3.087 | 51.212 | 51.212 | 1:42.424 |
| 9 | Eliza Tiruma | LAT | 10 | 3.072 | 3.083 | 51.131 | 51.334 | 1:42.465 |
| 10 | Ekaterina Katnikova | RLF | 12 | 3.113 | 3.123 | 51.062 | 51.433 | 1:42.495 |
| 11 | Lisa Schulte | AUT | 21 | 3.117 | 3.122 | 51.159 | 51.430 | 1:42.589 |
| 12 | Ashley Farquharson | USA | 11 | 3.144 | 3.157 | 51.169 | 51.537 | 1:42.706 |
| 13 | Ulla Zirne | LAT | 7 | 3.127 | 3.143 | 51.265 | 51.443 | 1:42.708 |
| 14 | Hannah Prock | AUT | 16 | 3.156 | 3.158 | 51.297 | 51.434 | 1:42.731 |
| 15 | Madeleine Egle | AUT | 6 | 3.061 | 3.043 | 50.950 | 51.959 | 1:42.909 |
| 16 | Elina Vitola | LAT | 24 | 3.059 | 3.067 | 51.368 | 51.552 | 1:42.920 |
| 17 | Natalie Maag | SUI | 19 | 3.112 | 3.126 | 51.376 | 51.625 | 1:43.001 |
| 18 | Ekaterina Baturina | RLF | 15 | 3.088 | 3.089 | 51.468 | 51.558 | 1:43.026 |
| 19 | Brittney Arndt | USA | 20 | 3.194 | 3.199 | 51.437 | 51.647 | 1:43.084 |
| 20 | Carolyn Maxwell | CAN | 25 | 3.154 | 3.135 | 51.493 | 51.726 | 1:43.219 |
| 21 | Selina Egle | AUT | 22 | 3.200 | | 51.514 | | |
| 22 | Verena Hofer | ITA | 23 | 3.088 | | 51.624 | | |
| 23 | Marion Oberhofer | ITA | 17 | 3.141 | | 51.644 | | |
| 24 | Andrea Vötter | ITA | 9 | 3.035 | | 51.775 | | |
| 25 | Olena Stetskiv | UKR | 27 | 3.153 | | 51.777 | | |
| 26 | Veronica Ravenna | ARG | 29 | 3.286 | | 51.853 | | |
| 27 | Raluca Stramaturaru | ROU | 26 | 5.147 | | 51.955 | | |
| 28 | Aileen Frisch | KOR | 28 | 3.121 | | 51.970 | | |
| 29 | Klaudia Domaradzka | POL | 31 | 3.120 | | 52.001 | | |
| 30 | Yulianna Tunytska | UKR | 30 | 3.134 | | 52.423 | | |
| 31 | Katarina Simonakova | SVK | 32 | 3.210 | | 52.455 | | |
| 32 | Tove Kohala | SWE | 37 | 3.203 | | 52.540 | | |
| 33 | Detelina Marinova | BUL | 44 | 3.320 | | 52.705 | | |
| 34 | Anna Bryk | POL | 39 | 3.277 | | 53.156 | | |
| 35 | Natalia Jamroz | POL | 38 | 3.243 | | 53.247 | | |
| 36 | Cezara Curmei | ROU | 41 | 3.225 | | 53.310 | | |
| 37 | Mihaela-Carmen Manolescu | ROU | 36 | 3.252 | | 53.435 | | |
| 38 | Daria Obratov | NED | 42 | 3.245 | | 53.541 | | |
| 39 | Hyesun Jung | KOR | 33 | 3.240 | | 53.634 | | |
| 40 | Elsa Desmond | IRL | 40 | 3.339 | | 54.097 | | |
| 41 | Doina Descalui | MDA | 43 | 3.412 | | 54.864 | | |
| 42 | Rin-Song Lin | TPE | 45 | 3.182 | | 55.734 | | |
| 43 | Ioana-Corina Buzatoiu | ROU | 35 | 3.270 | | 56.450 | | |
| DNF | Viktoriia Demchenko | RLF | 3 | 3.122 | | DNF | | |
| DNF | Olena Smaha | UKR | 34 | 3.217 | | DNF | | |