From Igls, AUT
Jan. 31, 2021 – Francesco Friedrich won his fourth straight four-man race of the 2020/2021 season, beating out Austria's Benjamin Maier for the top spot.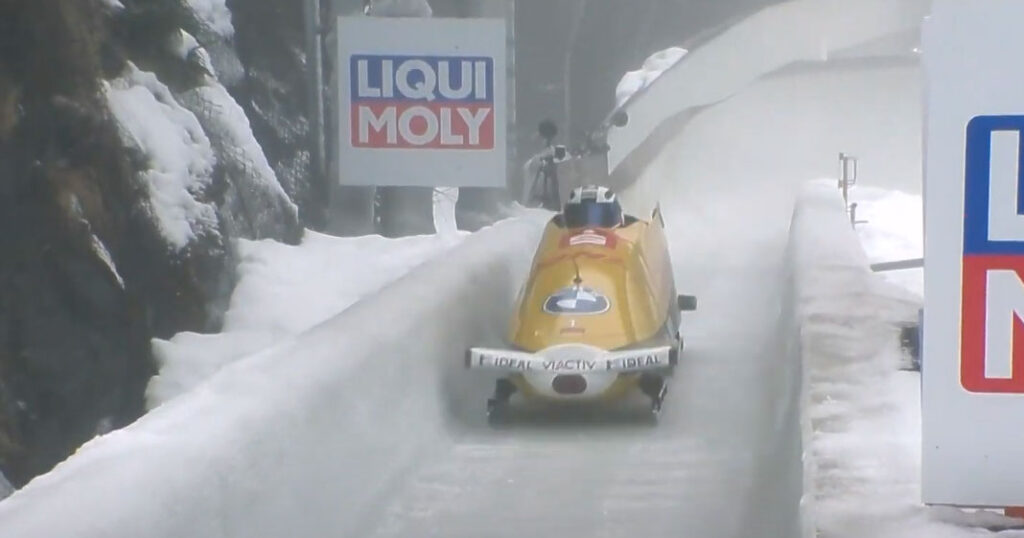 Friedrich, who's run away with most of the races this season, was the only slider in the sub-51 second range going into the second heat. With the fog lowering over the track, Friedrich edged out Maier's second heat run to win gold by .22, one of his smallest margins of victory over the course of his season.
The win for Friedrich gave him 15 victories in 16 races during the World Cup season across two-man and four-man bobsled. There were only four four-man races on the season as part of a reworked COVID season.
Austria's Benjamin Maier finished with another strong second place finish. His silver medal is his third of the season and fourth medal in four races. He started the season with a bronze medal in Winterberg before beating everyone except Friedrich over the next three races.
Justin Kripps scored a bronze medal in Igls after setting the third-fastest run in both heats. The Canadian's team was beaten at the start in both heats but held their own on each drive down.
Johannes Lochner never was a factor for the medals but had a fourth place finish after coming into the second heat in fifth.
Oskars Kibermanis finished tied for fifth with Rostislav Gaitiukevich. The Latvian started 22nd in the first heat but had a seventh place run in that heat. His second run was good enough to move him up into fifth.
In the overall standings, Friedrich won the crystal globe with four wins in four races, with Maier and Kripps rounding out the top three. Johannes Lochner finished the season in fourth.
Great Britain's Brad Hall jumped up from 11th in the first heat to eighth with a strong second run. Lamin Deen finished 11th with two strong runs in the fog.
The United States' Codie Bascue had a season-best 13th place finish, moving up from 14th place after the first heat. He finished three spots ahead of Canada's Christopher Spring. Bascue will head back to the United States and not compete in the IBSF World Championships.
Results:
| | | | | | | | | |
| --- | --- | --- | --- | --- | --- | --- | --- | --- |
| Pos | Names | Nation | Bib | Start 1 | Start 2 | Run 1 | Run 2 | Total |
| 1 | Friedrich / Margis / Bauer / Schüller | GER | 6 | 4.97 | 4.95 | 50.95 | 51.13 | 1:42.08 |
| 2 | Maier / Stepan / Sammer / Huber | AUT | 8 | 5.02 | 5.03 | 51.12 | 51.18 | 1:42.30 |
| 3 | Kripps / Sommer / Stones / Coakwell | CAN | 4 | 5.12 | 5.10 | 51.18 | 51.29 | 1:42.47 |
| 4 | Lochner / Bauer / Webrer / Rasp | GER | 12 | 5.08 | 5.05 | 51.32 | 51.33 | 1:42.65 |
| 5 | Kibermanis / Sprinis / Miknis / Lindenblats | LAT | 22 | 5.02 | 5.04 | 51.37 | 51.33 | 1:42.70 |
| 5 | Gaitiukevich / Mordasov / Malykh / Samitov | RUS | 5 | 5.05 | 5.04 | 51.23 | 51.47 | 1:42.70 |
| 7 | Won / Kim / Lee / Jung | KOR | 1 | 5.15 | 5.16 | 51.36 | 51.58 | 1:42.94 |
| 8 | Hall / Lawrence / Dawes / Cackett | GBR | 19 | 5.15 | 5.14 | 51.54 | 51.45 | 1:42.99 |
| 9 | Stulnev / Zaytsev / Kondratenko / Koshelev | RUS | 11 | 5.12 | 5.11 | 51.52 | 51.54 | 1:43.06 |
| 10 | Hafer / Salzer / Korona / Wobeto | GER | 13 | 5.14 | 5.14 | 51.53 | 51.47 | 1:43.10 |
| 11 | Deen / Simons / Fearon / Dasaolu | GBR | 2 | 5.17 | 5.15 | 51.52 | 51.70 | 1:43.22 |
| 12 | Melbardis / Kaufmanis / Dambis / Nemme | LAT | 10 | 5.15 | 5.15 | 51.59 | 51.65 | 1:43.24 |
| 13 | Bascue / McConnell / Valdes / Wilcox | USA | 16 | 5.15 | 5.17 | 51.67 | 51.63 | 1:43.30 |
| 14 | Tentea / Treichl / Glück / Glaboniat | AUT | 17 | 5.18 | 5.17 | 51.73 | 51.59 | 1:43.32 |
| 15 | de Bruin / Dumas / Veenker / Franjic | NED | 3 | 5.19 | 5.20 | 51.65 | 51.79 | 1:43.44 |
| 16 | Spring / Evelyn / Mlakar / Patrician | CAN | 15 | 5.17 | 5.20 | 51.75 | 51.72 | 1:43.47 |
| 17 | Dvorak / Suchy / Sindelar / Prochazka | CZE | 7 | 5.16 | 5.20 | 51.83 | 51.71 | 1:43.54 |
| 18 | Heinrich / Hauterville / Lefebvre / Borges Mendonaca | FRA | 9 | 5.17 | 5.19 | 51.78 | 51.84 | 1:43.62 |
| 19 | Treichl / Glück / Eckschlager / Glaboniat | AUT | 18 | 5.27 | 5.27 | 51.89 | 51.90 | 1:43.79 |
| 20 | Baumgartner / Fantazzini / Variola / Paginni | ITA | 14 | 5.25 | 5.24 | 51.92 | 51.89 | 1:43.81 |
| 21 | Suk / Lee / Park / Kim | KOR | 20 | 5.24 | | 51.98 | | |
| 22 | Rohner / van Messel / Rolli / Giumma | SUI | 21 | 5.23 | | 52.18 | | |