From St. Moritz, SUI
Feb. 6, 2021 – Nico Gleirscher started the 2020/2021 season slowly, lingering around the top ten but not making too much noise. He changed all that in Winterberg with his first ever FIL World Cup medal, a silver. After that silver, he lingered around the medals but wasn't able to score another podium finish. That is until the final race of the season, where he won gold in St. Moritz.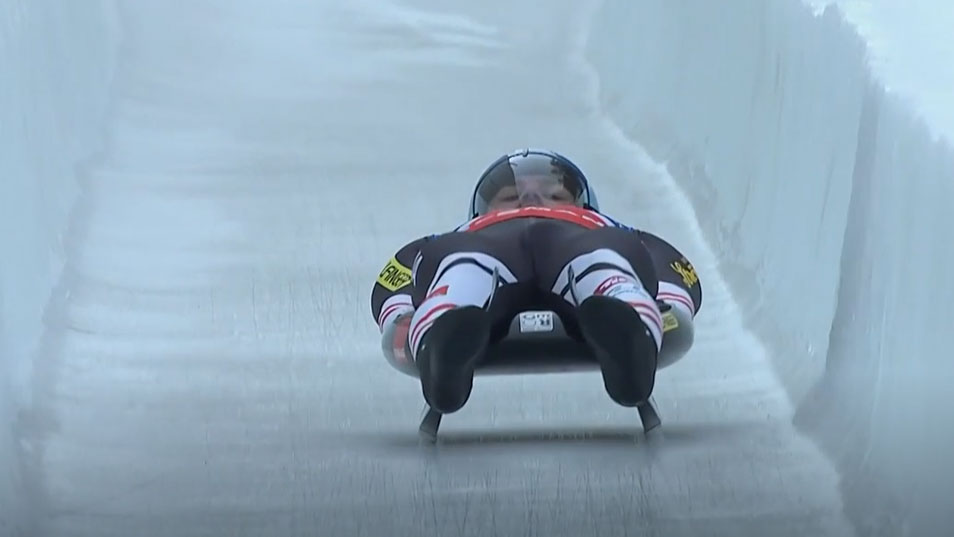 In the tour's first stop in St. Moritz in nine years, Gleirscher opened up a large .238 second advantage over Russia's Roman Repilov, with World Cup champion Felix Loch lingering in third. Gleirscher, starting 22nd, seemed to have more favorable ice than the sliders who went after him.
On the second run lots of big moves took place, with Max Langenhan jumping up from seventh to the lead with only Gleirscher to go. On an otherwise slowing track, Gleirscher managed to still put down the fourth fastest run of the heat to hold off Langenhan by just .060 to take his first ever World Cup victory.
Langenhan finished second, just ahead of Felix Loch in third.
Latvia's Arturs Darznieks finished fourth, with Russia's Roman Repilov and Aleksandr Gorbatcevich rounding out the top six.
Track conditions played a factor in the final running order. Johannes Ludwig, who had an otherwise clean run, came into the second heat in 17th place. With a nearly identical trip down the track, he jumped all the way to eighth. Other usual contenders like Dominik Fischnaller and Semen Pavlichenko also moved up after their first runs left them well behind.
Chris Mazdzer led the way for the United States with a solid 14th place finish. Teammates Tucker West and Jonny Gustafson finished 17th and 21st, respectively, to round out the American effort.
Results:
| | | | | | | | | |
| --- | --- | --- | --- | --- | --- | --- | --- | --- |
| Pos | Name | Nation | Bib | Start 1 | Start 2 | Run 1 | Run 2 | Total |
| 1 | Nico Gleirscher | AUT | 22 | 4.860 | 4.862 | 67.545 | 68.307 | 2:15.852 |
| 2 | Max Langenhan | GER | 32 | 4.874 | 4.893 | 67.860 | 68.052 | 2:15.912 |
| 3 | Felix Loch | GER | 30 | 4.855 | 4.873 | 67.812 | 68.114 | 2:15.926 |
| 4 | Arturs Darznieks | LAT | 23 | 4.884 | 4.889 | 67.823 | 68.337 | 2:16.160 |
| 5 | Roman Repilov | RUS | 27 | 4.883 | 4.880 | 67.784 | 68.493 | 2:16.277 |
| 6 | Aleksandr Gorbatcevich | RUS | 19 | 4.881 | 4.889 | 67.938 | 68.418 | 2:16.356 |
| 7 | Wolfgang Kindl | AUT | 20 | 4.892 | 4.911 | 67.848 | 68.585 | 2:16.433 |
| 8 | Johannes Ludwig | GER | 26 | 4.854 | 4.850 | 68.245 | 68.205 | 2:!6.450 |
| 9 | Sebastian Bley | GER | 13 | 4.881 | 4.918 | 67.821 | 68.662 | 2:16.483 |
| 10 | Gints Berzins | LAT | 24 | 4.878 | 4.918 | 67.821 | 68.662 | 2:16.483 |
| 11 | Moritz Bollmann | GER | 17 | 4.825 | 4.876 | 68.058 | 68.710 | 2:16.768 |
| 12 | Reinhard Egger | AUT | 15 | 4.948 | 4.939 | 68.159 | 68.612 | 2:16.771 |
| 13 | Kevin Fischnaller | ITA | 18 | 4.896 | 4.920 | 68.063 | 68.736 | 2:16.799 |
| 14 | Chris Mazdzer | USA | 14 | 4.912 | 4.924 | 68.128 | 68.682 | 2:16.810 |
| 15 | Dominik Fischnaller | ITA | 28 | 4.890 | 4.881 | 68.408 | 68.407 | 2:16.815 |
| 16 | Semen Pavlichenko | RUS | 29 | 4.846 | 4.884 | 68.367 | 68.622 | 2:16.989 |
| 17 | Tucker West | USA | 12 | 4.841 | 4.909 | 68.199 | 68.835 | 2:17.034 |
| 18 | Mateusz Sochowicz | POL | 11 | 4.893 | 4.921 | 68.194 | 68.949 | 2:17.143 |
| 19 | Jonas Müller | AUT | 25 | 4.838 | 4.867 | 68.345 | 68.846 | 2:17.191 |
| 20 | Anton Dukach | UKR | 10 | 4.908 | 4.923 | 68.208 | 68.993 | 2:17.201 |
| 21 | Jonathan Gustafson | USA | 16 | 4.867 | 4.906 | 68.303 | 68.921 | 2:17.224 |
| 22 | Jozef Ninis | SVK | 1 | 5.023 | 5.007 | 68.582 | 68.914 | 2:17.496 |
| 23 | Andriy Mandziy | UKR | 8 | 4.909 | 4.928 | 68.723 | 68.923 | 2:17.646 |
| 24 | Valentin Cretu | ROU | 7 | 4.955 | 4.931 | 68.710 | 68.977 | 2:17.687 |
| 25 | Pavel Repilov | RUS | 9 | 4.904 | 4.887 | 69.353 | 68.339 | 2:17.692 |
| 26 | Riks Rozitis | LAT | 21 | 4.913 | 4.946 | 68.604 | 69.118 | 2:17.722 |
| 27 | Svante Kohala | SWE | 6 | 4.994 | 5.016 | 68.650 | 69.082 | 2:17.732 |
| 28 | Rupert Staudinger | GBR | 4 | 4.995 | 5.001 | 68.859 | 69.362 | 2:18.221 |
| 29 | Thodor Turea | ROU | 3 | 4.915 | 4.920 | 69.257 | 69.638 | 2:18.895 |
| 30 | Mirza Nikolajev | BIH | 5 | 4.998 | 4.996 | 68.626 | 70.733 | 2:19.359 |
| 31 | Micael Lejsek | CZE | 2 | 5.032 | 5.034 | 69.281 | 70.282 | 2:19.563 |
| 32 | David Gleirscher | AUT | 31 | 4.919 | 4.919 | 68.393 | 102.454 | 2:50.847 |