From Altenberg, GER
Feb. 6, 2021 – It seemed like there was a chance it could all go away. The Germans had all put down huge fourth and final runs, and the snow was coming down harder than it had during the fourth heat. But Kaillie Humphries is Kaillie Humphries, and sometimes being the champ means pushing everything aside and winning gold.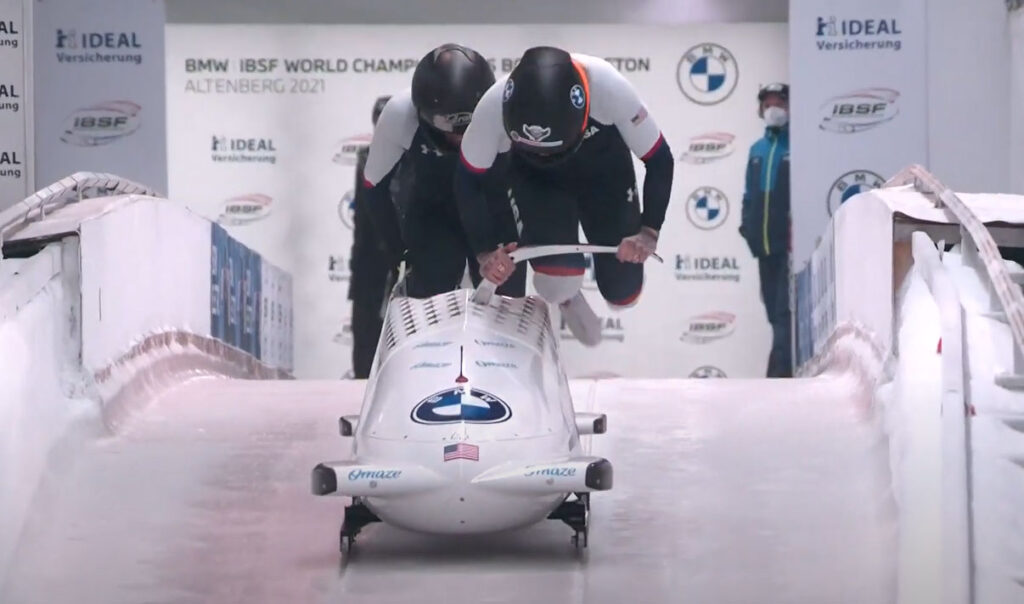 With snow falling into the track, Humphries and brakewoman Lolo Jones were quick off the top, but even quicker down toward the bottom, with Humphries pulling away late in her fourth run to wrap up her second straight IBSF World Championship, and second straight in Altenberg.
In the third heat Humphries saw Germany's Kim Kalicki put down the quickes run of the heat to eat into the American's lead. On the fourth run Kalicki again has the quickest time with only Humphries to go, but Humphries was perfect from the Kreisel curve to the finish.
The win for Humphries gave her a fourth World Championship gold. For the United States it's the fourth women's bobsled gold in the last six World Championships.
Behind Humphries, there was a big battle for the medals that inevitably went to Germany's two top sliders over the 2020/2021 season. Kalicki took silver, while Laura Nolte finished with a bronze medal. The medals are the first for either pilot.
Stephanie Schneider made a huge jump in the third heat on the strength of the second quickest run of the heat to move from eighth to fourth. That's where her climb ran out of steam, but it was still a big comeback for the German pilot.
Elana Meyers Taylor finished fifth in her first World Championships as a mother. While she hung around the discussion for a medal over both days, she never was able to make the jump into the top three.
Olympic champion Mariama Jamanka rounded out the top six in sixth.
The Canadians had a real mixed bag of finishes. They were led by Cynthia Appiah, who was making her first World Championships appearance as a pilot. Appiah jumped up from a tie for 12th in the third heat to finish in ninth. Alysia Rissling, back from a year off from injury, finished three spots back in 12th. But it wasn't until the fourth run of the race that Christine de Bruin found some speed in the Altenberg track. She finished 16th.
Great Britain's Mica McNeill was never able to get any speed out of her sled, and finished 19th.
Results:
| | | | | | | | | |
| --- | --- | --- | --- | --- | --- | --- | --- | --- |
| Pos | Names | Nation | Bib | Run 1 | Run 2 | Run 3 | Run 4 | Total |
| 1 | Humphries / Jones | USA | 14 | 56.40 | 56.54 | 57.45 | 57.87 | 3:48.26 |
| 2 | Kalicki / Strack | GER | 5 | 56.69 | 56.59 | 57.40 | 57.93 | 3:48.61 |
| 3 | Nolte / Levi | GER | 8 | 56.53 | 56.84 | 57.95 | 57.95 | 3:49.27 |
| 4 | Schneider / Fiebig | GER | 15 | 57.08 | 56.95 | 57.44 | 57.98 | 3:49.45 |
| 5 | Meyers Taylor / Hoffman | USA | 12 | 56.78 | 56.99 | 58.11 | 58.26 | 3:50.14 |
| 6 | Jamanka / Mark | GER | 6 | 56.88 | 57.13 | 57.96 | 58.32 | 3:50.29 |
| 7 | Beierl / Onasanya | AUT | 4 | 56.94 | 57.03 | 58.11 | 58.29 | 3:50.37 |
| 8 | Grecu / Wick | ROU | 7 | 57.17 | 56.83 | 58.05 | 58.44 | 3:50.49 |
| 9 | Appiah / Voss | CAN | 2 | 57.09 | 57.05 | 58.58 | 58.05 | 3:50.77 |
| 10 | Fontanive / Pasternack | SUI | 10 | 57.05 | 57.02 | 58.32 | 58.46 | 3:50.85 |
| 11 | Makarova / Tarasova | BFR | 20 | 57.39 | 57.17 | 58.32 | 58.12 | 3:51.00 |
| 12 | Rissling / Richardson Wilson | CAN | 3 | 57.12 | 57.23 | 58.34 | 58.47 | 3:51.16 |
| 13 | Sergeeva / Belomestnykh | BFR | 18 | 57.12 | 57.53 | 58.33 | 58.30 | 3:51.28 |
| 14 | Hasler / Strebel | SUI | 9 | 57.49 | 57.08 | 58.10 | 58.63 | 3:51.30 |
| 15 | Boch / Senechal | FRA | 13 | 57.38 | 57.11 | 58.23 | 58.79 | 3:51.51 |
| 16 | de Bruin / Villani | CAN | 17 | 57.50 | 57.24 | 58.66 | 58.21 | 3:51.61 |
| 17 | Vannieuwenhuyse / Aerts | BEL | 16 | 57.36 | 57.21 | 58.33 | 58.79 | 3:51.69 |
| 18 | Chernykh / Mamedova | BFR | 1 | 57.73 | 57.85 | 58.15 | 58.49 | 3:52.22 |
| 19 | McNeill / Douglas | GBR | 11 | 57.68 | 57.44 | 58.54 | 58.57 | 3:52.23 |
| 20 | Smolarek / Slupecka | POL | 19 | 58.41 | 58.81 | 59.79 | 59.96 | 3:56.97 |