From Laas, ITA
Feb. 10, 2021 – In this pandemic season, the only thing that stood between Thomas Kammerlander and a likely World Cup title was a positive COVID test. After missing the first two races of the season, Kammerlander has ripped off a streak of four straight victories, including a gold medal in the season finale in Laas.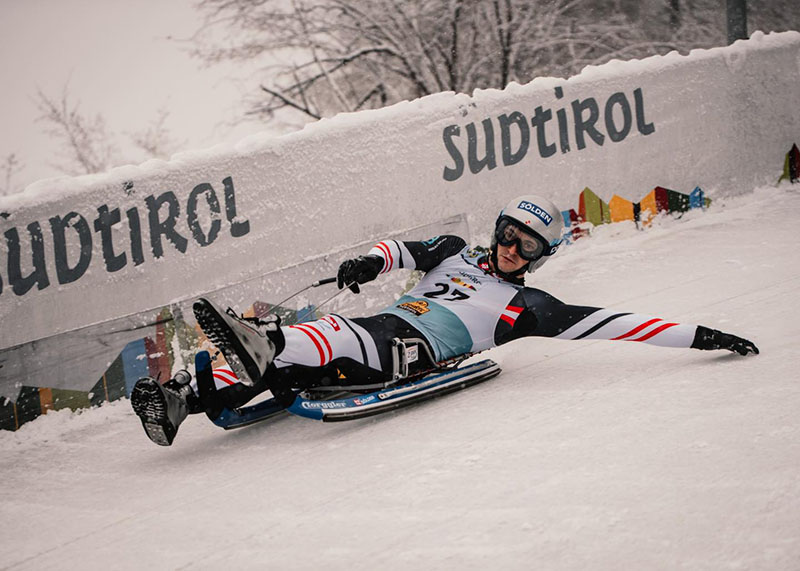 In what was the closest race of the weekend, Kammerlander held a .1 second advantage over Italy's Mathias Troger, with Patrick Pigneter, Stefan Federer, and Alex Gruber all in the hunt for gold. On the second run it was Alex Gruber putting down the quickest run of the heat to take the lead. He held off Federer, Pigneter, and Troger, and only needed to out-slide Kammerlander for gold. Kammerlander would not be denied, however, as he was able to hang onto the lead with the second quickest slide of the second heat to win by just .06. Gruber took second, with Mathias Troger edging out Patrick Pigneter for bronze.
The top five in the race were only separated by .21, with Patrick Pigneter missing out on a medal by .04 and gold by .18. Stefan Federer finished fifth, .07 out of the medals and .21 behind Kammerlander.
Austria's Michael Scheikl just needed to slide clean in Laas to clinch his first World Cup title. He finished sixth, a half second back of the leader but close enough to Gruber to win the Crystal Globe. Gruber finished the season in second place, with Pigneter finishing the season in third.
Results:
| | | | | | | | | |
| --- | --- | --- | --- | --- | --- | --- | --- | --- |
| Pos | Name | Nation | Bib | Start 1 | Start 2 | Run 1 | Run 2 | Total |
| 1 | Thomas Kammerlander | AUT | 27 | 16.36 | 16.52 | 63.01 | 63.57 | 2:06.58 |
| 2 | Alex Gruber | ITA | 30 | 16.35 | 16.45 | 63.24 | 63.40 | 2:06.64 |
| 3 | Mathias Troger | ITA | 9 | 16.41 | 16.48 | 63.11 | 63.61 | 2:06.72 |
| 4 | Patrick Pigneter | ITA | 31 | 16.44 | 16.58 | 63.16 | 63.17 | 2:06.76 |
| 5 | Stefan Federer | ITA | 28 | 16.59 | 16.59 | 63.17 | 63.62 | 2:06.79 |
| 6 | Michael Scheikl | AUT | 32 | 16.40 | 16.44 | 63.41 | 63.70 | 2:07.11 |
| 7 | Fabian Achenrainer | AUT | 25 | 16.46 | 16.46 | 63.75 | 63.99 | 2:07.74 |
| 7 | Grigory Bukin | RUS | 20 | 16.44 | 16.52 | 63.56 | 64.18 | 2:07.74 |
| 9 | Aleksandr Egorov | RUS | 21 | 16.58 | 16.73 | 64.00 | 64.13 | 2:07.13 |
| 10 | Stanislav Kovshik | RUS | 17 | 16.69 | 16.65 | 64.07 | 64.48 | 2:08.55 |
| 11 | Florian Markt | AUT | 8 | 16.77 | 16.88 | 64.15 | 64.68 | 2:08.83 |
| 12 | Aleksei Martianov | RUS | 10 | 16.77 | 16.88 | 64.62 | 65.36 | 2:09.98 |
| 13 | Myroslav Lenko | UKR | 23 | 17.18 | 17.01 | 65.87 | 65.63 | 2:11.05 |
| 14 | Blaz Mekina | SLO | 18 | 17.07 | 17.23 | 65.83 | 66.07 | 2:11.90 |
| 15 | Bine Mekina | SLO | 16 | 17.17 | 17.13 | 66.02 | 65.88 | 2:11.90 |
| 16 | Matevz Vertelj | SLO | 14 | 17.35 | 17.26 | 66.85 | 66.48 | 2:13.33 |
| 17 | Leonardo de Oliveira Silva | BRA | 13 | 17.18 | 17.20 | 66.25 | 67.19 | 2:13.44 |
| 18 | Ivan Lenko | UKR | 22 | 17.32 | 17.13 | 67.25 | 66.36 | 2:13.61 |
| 19 | Jerome Almer | SUI | 24 | 17.60 | 17.59 | 66.83 | 67.04 | 2:13.87 |
| 20 | Simon Dietz | GER1 | 5 | 17.46 | 17.46 | 67.27 | 68.38 | 2:15.65 |
| 21 | Vid Kralj | SLO | 5 | 17.28 | 17.37 | 68.17 | 68.05 | 2:16.22 |
| 22 | Nikola Ignjatov | SRB | 3 | 18.32 | 18.06 | 69.92 | 69.09 | 2:19.01 |
| 23 | Szymon Jan Majdak | POL | 19 | 17.94 | 18.27 | 69.17 | 69.88 | 2:19.05 |
| 24 | Luka Novakovic | SRB | 4 | 18.19 | 18.42 | 69.54 | 69.65 | 2:19.19 |
| 25 | Julio Dante de Moraes | BRA | 11 | 18.26 | 18.26 | 70.46 | 69.75 | 2:20.21 |
| 26 | Mikic Lazar | SRB | 7 | 19.29 | 19.21 | 72.86 | 73.61 | 2:26.47 |