From Laas, ITA
Feb. 10, 2021 – Russia's Pavel Porshnev & Ivan Lazarev took gold in the season finale in Laas, edging out Austria's Fabian & Simon Achenrainer for the top spot.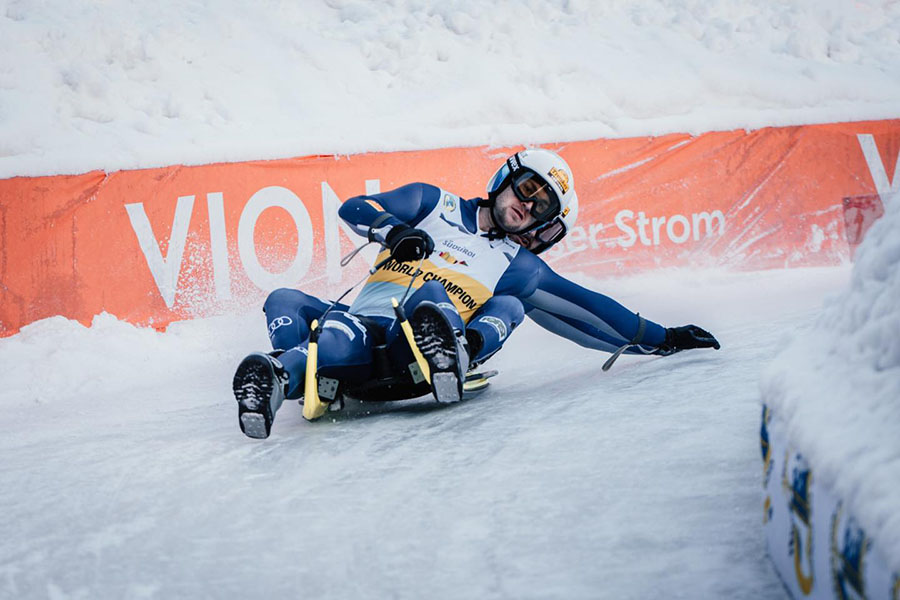 The Russians held a .11 second advantage over World Cup champions Patrick Pigneter & Florian Clara going into the second heat. On the second run Achenrainer & Achenrainer leapfrogged the Italians to take the lead with only Porshnev & Lazarev to go. The Russians were only the second quickest down, but held a large enough first heat advantage to take gold, their first of the season.
The Achenrainers finished second, .14 back, while Pigneter & Clara finished third.
Austria's Christoph Regensburger & Dominik Holzknecht finished fourth, while Russia's Aleksandr Egorov & Peter Popov and Stanislav Kovshik & Ilia Tarasov rounded out the top six.
Pigneter & Clara had already clinched the season title coming into the day's event, and finished the season with a 124 point advantage over teammates Patrick & Matthias Lambacher. Achenrainer & Achenrainer finished the season in third, 11 points behind the Lambachers.
The title is the tenth for Pigneter & Clara in 12 years.
Results:
| | | | | | | | | |
| --- | --- | --- | --- | --- | --- | --- | --- | --- |
| Pos | Names | Nation | Bib | Start 1 | Start 2 | Run 1 | Run 2 | Total |
| 1 | Porshnev / Lazarev | RUS | 7 | 17.75 | 17.93 | 68.09 | 69.22 | 2:17.31 |
| 2 | Achenrainer / Achenrainer | RUS | 10 | 17.79 | 17.87 | 68.37 | 69.08 | 2:17.45 |
| 3 | Pigneter / Clara | ITA | 12 | 17.65 | 17.86 | 68.20 | 69.38 | 2:17.58 |
| 4 | Regensburger / Holzknecht | AUT | 9 | 17.73 | 17.70 | 68.50 | 69.50 | 2:18.00 |
| 5 | Egorov / Popov | RUS | 1 | 17.86 | 18.03 | 68.41 | 69.63 | 2:18.04 |
| 6 | Kovshik / Tarasov | RUS | 5 | 17.77 | 17.93 | 69.17 | 69.71 | 2:18.88 |
| 7 | Lambacher / Lambacher | ITA | 11 | 17.72 | 17.80 | 68.85 | 70.31 | 2:19.16 |
| 8 | Pichler / Maier | AUT | 2 | 18.07 | 18.31 | 69.52 | 70.87 | 2:20.39 |
| 9 | Lenko / Lenko | UKR | 8 | 18.60 | 18.52 | 70.93 | 71.26 | 2:22.19 |
| 10 | Mekina / Mekina | SLO | 6 | 18.64 | 18.95 | 71.36 | 72.54 | 2:23.90 |
| 11 | Majdak / Plowy | POL | 3 | 19.48 | 18.76 | 73.71 | 73.68 | 2:27.39 |