From Umhausen, AUT
Feb. 13, 2021 – Evelin Lanthaler has dominated women's natural track luge in a way no one ever has. She added to that domination in the FIL World Championships, cruising to her second straight world championship title.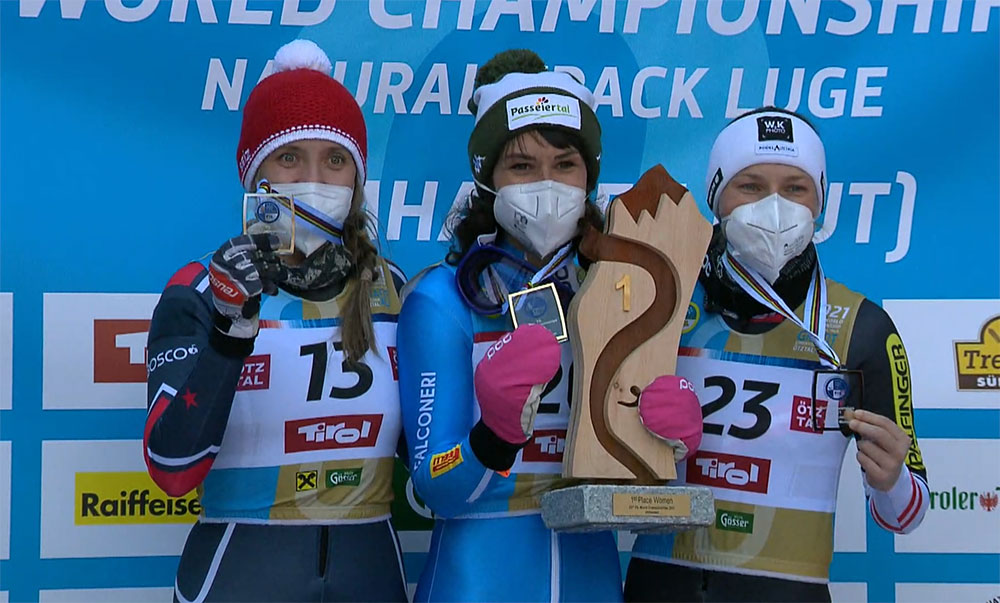 Lanthaler was the last woman down in the first heat and opened up a .93 second advantage over Ekaterina Lavrenteva, sliding for the Russian Luge Federation. Lavrenteva's second run was enough to give her a silver medal, but Lanthaler's second run was just that much better. At the end of the race, Lanthaler had a 1.24 second advantage over the Russian.
The gold was Lanthaler's third in the last four World Championships.
In the battle for third, Austria's Tina Unterberger took the bronze medal, just ahead of Italy's Daniela Mittermair in fourth. Greta Pinggera, the 2017 World Champion, struggled to find speed in either run, but moved up from sixth to fifth in the second heat.
Michelle Diepold of Austria fell from fourth to sixth in the second heat.
The FIL World Championships conclude on Sunday with the men's luge and team competition.
Results:
| | | | | | | | | |
| --- | --- | --- | --- | --- | --- | --- | --- | --- |
| Pos | Name | Nation | Bib | Start 1 | Start 2 | Run 1 | Run 2 | Total |
| 1 | Evelin Lanthaler | ITA | 26 | 11.66 | 11.70 | 1:13.82 | 1:14.58 | 2:28.40 |
| 2 | Ekaterina Lavrenteva | RLF | 13 | 11.83 | 11.84 | 1:14.75 | 1:14.89 | 2:29.84 |
| 3 | Tina Unterberger | AUT | 23 | 11.85 | 11.94 | 1:15.02 | 1:15.59 | 2:30.61 |
| 4 | Daniela Mittermair | ITA | 22 | 11.84 | 11.84 | 1:15.71 | 1:15.51 | 2:31.22 |
| 5 | Greta Pinggera | ITA | 20 | 11.73 | 11.81 | 1:15.75 | 1:15.49 | 2:31.24 |
| 6 | Michelle Diepold | AUT | 24 | 11.85 | 11.93 | 1:15.66 | 1:15.83 | 2:31.49 |
| 7 | Nadine Staffler | ITA | 21 | 12.01 | 12.04 | 1:16.03 | 1:16.14 | 2:32.17 |
| 8 | Lisa Walch | GER | 16 | 12.04 | 12.16 | 1:16.29 | 1:16.15 | 2:32.44 |
| 9 | Riccarda Ruetz | AUT | 14 | 11.96 | 11.98 | 1:16.15 | 1:16.34 | 2:32.49 |
| 10 | Sara Bachmann | GER | 25 | 12.05 | 12.04 | 1:16.47 | 1:16.65 | 2:33.12 |
| 11 | Vanessa Markt | AUT | 6 | 12.11 | 12.11 | 1:16.56 | 1:16.80 | 2:33.36 |
| 12 | Daria Maleeva | RLF | 12 | 12.21 | 12.20 | 1:17.04 | 1:17.21 | 2:34.25 |
| 13 | Anastasiya Slyusar | UKR | 7 | 12.16 | 12.04 | 1:17.24 | 1:17.89 | 2:35.15 |
| 14 | Aleksandra Suvorova | RLF | 10 | 12.12 | 12.08 | 1:17.88 | 1:19.19 | 2:37.07 |
| 15 | Julia Plowy | POL | 17 | 12.18 | 12.29 | 1:19.26 | 1:18.24 | 2:37.50 |
| 16 | Michaela Niemetz | GER | 3 | 12.25 | 12.30 | 1:18.76 | 1:19.32 | 2:38.08 |
| 17 | Sarah Schiller | GER | 19 | 12.47 | 12.28 | 1:20.01 | 1:19.50 | 2:39.51 |
| 18 | Charlotte Marie Roche | FRA | 4 | 12.33 | 12.49 | 1:20.03 | 1:20.35 | 2:40.38 |
| 19 | Viktoriia Antoniuk | UKR | 5 | 12.56 | 12.76 | 1:21.48 | 1:22.76 | 2:44.24 |
| 20 | Klaudia Promny | POL | 15 | 12.41 | 12.47 | 1:24.00 | 1:20.93 | 2:44.93 |
| 21 | Patricija Urbanc | CRO | 18 | 12.75 | 12.66 | 1:22.45 | 1:22.72 | 2:45.17 |
| 22 | Nusa Subic | SLO | 1 | 13.04 | 12.88 | 1:24.58 | 1:22.81 | 2:47.39 |
| 23 | Nina Stanic | SRB | 8 | 13.00 | 13.25 | 1:24.34 | 1:24.48 | 2:48.82 |
| 24 | Paulina Lipinska | POL | 9 | 12.91 | 12.88 | 1:24.27 | 1:24.95 | 2:49.22 |
| 25 | Jana Milenovic | SRB | 11 | 13.37 | 12.90 | 1:26.25 | 1:24.11 | 2:50.36 |
| DNF | Nika Nemec | SLO | 2 | | | DNF | | |