Form Umhausen, AUT
Feb. 13, 2021 – Patrick Pigneter & Florian Clara cruised to victory in Umhausen to win their fourth FIL World Championship on natural track.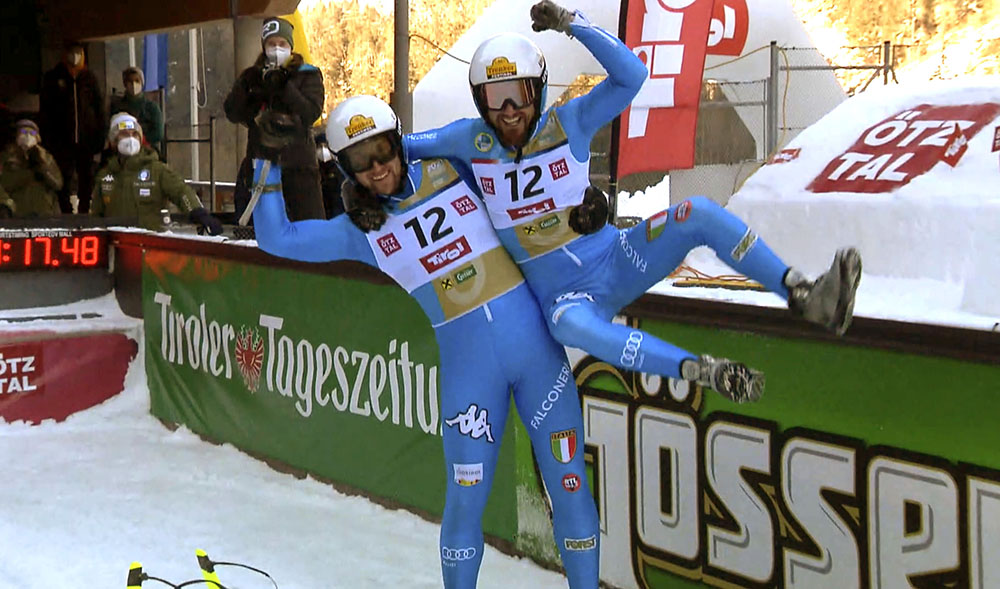 The Italian duo opened up a strong .49 second lead over Austrians Fabian & Simon Achenrainer in second, and almost a full second on teammates Patrick & Matthias Lambacher in fourth. On the second run, the Lambachers put down what was the fastest run to that point. Neither the Austrian teams of Christoph Regensburger & Dominik Holzknecht or Achenrainer & Achenrainer could match the Lambachers' time, moving the Italians into the lead with just Pigneter & Clara to go.
Pigneter & Clara looked to take it easy on their second run, but their conservative run was still .08 faster than their Italian teammates and plenty enough to give them the win. Lambacher & Lambacher finished second, with Regensburger & Holzknecht edging out Achenrainer & Achenrainer by .02 for the bronze medal.
The win gave Pigneter & Clara their fourth World Championship.
The Russian Luge Federation's Aleksandr Egorov & Petr Popov finished fifth, well out of hte top four, with teammates Pavel Porshnev & Ivan Lazarev rounding out the top six.
Results:
| | | | | | | | | |
| --- | --- | --- | --- | --- | --- | --- | --- | --- |
| Pos | Names | Nation | Bib | Start 1 | Start 2 | Run 1 | Run 2 | Total |
| 1 | Pigneter / Clara | ITA | 12 | 12.05 | 12.06 | 1:17.12 | 1:17.48 | 2:34.60 |
| 2 | Lambacher / Lambacher | ITA | 9 | 11.94 | 11.95 | 1:17.94 | 1:17.56 | 2:35.50 |
| 3 | Regensburger  /Holzknecht | AUT | 14 | 11.96 | 12.06 | 1:17.70 | 1:17.90 | 2:35.60 |
| 4 | Achenrainer / Achenrainer | AUT | 13 | 12.06 | 12.07 | 1:17.61 | 1:18.01 | 2:35.62 |
| 5 | Egorov / Popov | RLF | 2 | 11.98 | 12.02 | 1:18.13 | 1:18.10 | 2:36.23 |
| 6 | Porshnev / Lazarev | RLF | 8 | 12.10 | 12.14 | 1:18.33 | 1:18.28 | 2:36.61 |
| 7 | Kovshik / Tarasov | RLF | 11 | 12.18 | 12.14 | 1:19.00 | 1:18.68 | 2:37.68 |
| 8 | Pichler / Maier | AUT | 3 | 12.35 | 12.41 | 1:20.77 | 1:21.24 | 2:42.01 |
| 9 | Lenko / Lenko | UKR | 10 | 12.48 | 12.51 | 1:20.97 | 1:21.05 | 2:42.02 |
| 10 | Mekina / Mekina | SLO | 5 | 12.48 | 12.73 | 1:21.20 | 1:21.57 | 2:42.77 |
| 11 | Hasek / Rydl | CZE | 1 | 12.63 | 12.91 | 1:23.78 | 1:24.00 | 2:47.78 |
| 12 | Neupauer / Neupauer | SVK | 7 | 12.94 | 12.89 | 1:24.91 | 1:24.34 | 2:49.25 |
| 13 | Majdak / Plowy | POL | 4 | 13.25 | 13.00 | 1:26.06 | 1:26.60 | 2:52.66 |