From Lake Placid, USA
Alexander Tretiakov dominated the first race of World Cup weekend in Lake Placid, taking gold on US soil.
The Russian came into the second heat just .03 behind Sungbin Yun of Korea, but trouble for Yun combined with one of Tretiakov's best runs at Lake Placid led to a gold medal for the Olympic champion.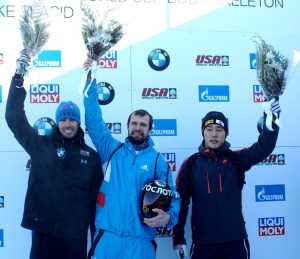 Yun's run fell apart about halfway down, and he wasn't able to recover. His trouble left him with the fourth fastest run in Run 2, and with a bronze medal, falling behind Matt Antoine.
Antoine's medal was the second in as many weeks, giving the American some great momentum going into the Christmas break.
Tomass and Martins Dukurs finished fourth and fifth for Latvia, with Martins crashing in Turn 18 on his first run. Axel Jungk finished sixth for Germany.
Outside of Antoine's run, Nathan Crumpton finished 11th for the United States, with teammate Kyle Tress finishing 19th.
Barrett Martineau led the way for Canada with a 14th place finish. Teammates Dave Greszczyszyn finished 17th and Kevin Boyer 24th.
Dom Parsons put one British sled in the top ten with a tenth place finish, wile Jack Thomas finished 25th on the second British sled.
Results:
| | | | | | | | | |
| --- | --- | --- | --- | --- | --- | --- | --- | --- |
| Pos | Name | Nation | Bib | Start 1 | Start 2 | Run 1 | Run 2 | Total |
| 1 | Alexander Tretiakov | RUS | 7 | 4.83 | 4.83 | 53.27 | 53.22 | 1:46.49 |
| 2 | Matthew Antoine | USA | 10 | 5.03 | 4.98 | 53.45 | 53.48 | 1:46.93 |
| 3 | Sungbin Yun | KOR | 11 | 4.83 | 4.81 | 53.24 | 53.70 | 1:46.94 |
| 4 | Tomass Dukurs | LAT | 2 | 5.02 | 4.96 | 53.72 | 53.46 | 1:47.18 |
| 5 | Martins Dukurs | LAT | 15 | 4.87 | 4.93 | 53.81 | 53.78 | 1:47.59 |
| 6 | Alex Jungk | GER | 12 | 4.99 | 4.98 | 53.94 | 53.71 | 1:47.65 |
| 7 | Christopher Grotheer | GER | 14 | 5.06 | 4.99 | 53.69 | 54.03 | 1:47.72 |
| 8 | Nikita Tregybov | RUS | 13 | 4.95 | 4.94 | 53.91 | 53.99 | 1:47.90 |
| 9 | Alexander Gassner | GER | 8 | 5.04 | 5.02 | 53.83 | 54.09 | 1:47.92 |
| 10 | Dominic Parsons | GBR | 6 | 5.05 | 5.04 | 54.20 | 53.88 | 1:48.08 |
| 11 | Nathan Crumpton | USA | 17 | 4.98 | 4.94 | 54.26 | 53.88 | 1:48.14 |
| 12 | Rhys Thornbury | NZL | 18 | 5.12 | 5.099 | 54.08 | 54.21 | 1:48.29 |
| 13 | Ander Mirambell | ESP | 4 | 5.20 | 5.16 | 54.19 | 54.49 | 1:48.68 |
| 14 | Barrett Martineau | CAN | 9 | 5.07 | 5.02 | 54.44 | 54.31 | 1:48.75 |
| 15 | Hansin Lee | KOR | 21 | 5.08 | 5.07 | 54.25 | 54.59 | 1:48.84 |
| 16 | John Farrow | AUS | 1 | 5.33 | 5.31 | 54.53 | 54.71 | 1:49.24 |
| 17 | Dave Greszczyszyn | CAN | 16 | 5.05 | 5.05 | 54.39 | 54.87 | 1:49.26 |
| 18 | Hiroatsu Takahashi | JPN | 3 | 5.12 | 5.11 | 54.64 | 54.63 | 1:49.27 |
| 19 | Kyle Tress | USA | 20 | 5.12 | 5.14 | 54.59 | 54.72 | 1:49.31 |
| 20 | Joseph Luke Cicchini | ITA | 22 | 5.03 | 5.06 | 54.45 | 54.93 | 1:49.38 |
| 21 | Matthias Guggenberger | AUT | 26 | 5.00 | | 54.70 | | |
| 22 | Egor Veselov | RUS | 5 | 5.15 | | 54.94 | | |
| 23 | Alexander Auer | AUT | 23 | 5.21 | | 55.08 | | |
| 24 | Kevin Boyer | CAN | 19 | 5.02 | | 55.33 | | |
| 25 | Jack Thomas | GBR | 25 | 4.93 | | 55.34 | | |
| 26 | Marco Rohrer | SUI | 24 | 5.06 | | 55.49 | | |
| 27 | Ronald Auderset | SUI | 27 | 5.03 | | 55.60 | | |