From Königssee, GER
When it comes to two-man bobsled, there has been nobody better in the World Championships than Francesco Friedrich. The German had won the last three World Championships, and nobody had anything for him in Königssee, with the only challenger being a sub-49 second downtime.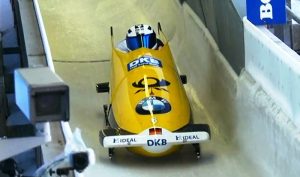 Friedrich was at least two tenths faster than anyone else in the first three heats, leaving the fourth heat as a victory lap. On that trip down, Friedrich went faster than he had the entire race, cruising to a 1.2 second win over Canadian Justin Kripps.
It has been a season to forget for the most part for the Canadian men, but in Königssee they found their rhythm. Kripps was faster than everyone but Friedrich, and really had no challenger for his silver medal, setting the second fastest time in three of the four heats.
Bronze went to Johannes Lochner of Germany, who kept it close with Kripps over all four runs, but never could move ahead.
Oskars Kibermanis finished four, edging Nick Poloniato of Canada, who scored his best ever finish on the German track. Kibermanis's Latvian teammate, Oskars Melbardis finished sixth. Both Latvians spent the entire four heats in the top six.
Steven Holcomb had a rough first run, coming into the second trip down the track in 14th. From there, Holcomb moved up as high as a tie for sixth with Oskars Melbardis before getting edged by the Latvian for the position in the fourth run. Holcomb's seventh place finish was the best for the United States.
Justin Olsen struggled in Königssee a few weeks prior to the World Championships during the World Cup event. Those struggles carried over to the first run, with the American sitting 22nd. From there Olsen figured out the Bavarian track, moving up to 17th, then 13th, and finishing in a tie for 11th with Austria's Benjamin Maier. Olsen's teammate, North American Cup champion Nick Cunningham, finished just outside of the top 20 in 23rd.
Canada's entire men's fleet was solid across all four runs. Chris Spring finished 13th in the third Canadian sled, with only a bit of trouble in a tight mid-pack field setting him back out of the top ten.
Bruce Tasker had a fantastic World Championships for Great Britain, moving up from 11th in the first run to a ninth place finish. His teammate, Bradley Hall, struggled in his third run, dropping to 28th overall.
Results:
| | | | | | | | | |
| --- | --- | --- | --- | --- | --- | --- | --- | --- |
| Pos | Names | Nation | Bib | Run 1 | Run 2 | Run 3 | Run 4 | Total |
| 1 | Friedrich / Margis | GER | 6 | 49.15 | 49.45 | 49.17 | 48.94 | 3:16.71 |
| 2 | Kripps / Lumsden | CAN | 11 | 49.44 | 49.68 | 49.43 | 49.36 | 3:17.91 |
| 3 | Lochner / Bluhm | GER | 9 | 49.51 | 49.72 | 49.46 | 49.27 | 3:17.96 |
| 4 | Kibermanis / Miknis | LAT | 7 | 49.55 | 49.88 | 49.42 | 49.32 | 3:18.17 |
| 5 | Poloniato / Wright | CAN | 1 | 49.62 | 49.71 | 49.61 | 49.29 | 3:18.23 |
| 6 | Melbardis / Strenga | LAT | 20 | 49.57 | 49.80 | 49.59 | 49.39 | 3:18.35 |
| 7 | Holcomb / Valdes | USA | 13 | 49.71 | 49.76 | 49.49 | 49.43 | 3:18.39 |
| 8 | Walther / Franke | GER | 5 | 49.59 | 49.91 | 49.53 | 49.42 | 3:18.45 |
| 9 | Tasker / Fearon | GBR | 18 | 49.64 | 49.84 | 49.66 | 49.45 | 3:18.59 |
| 10 | Rinaldi / Vain | MON | 25 | 49.74 | 49.88 | 49.54 | 49.44 | 3:18.60 |
| 11 | Olsen / Weinstock | USA | 17 | 49.95 | 49.83 | 49.45 | 49.44 | 3:18.67 |
| 11 | Maier / Sammer | AUT | 12 | 49.63 | 50.24 | 49.50 | 49.30 | 3:18.67 |
| 13 | Spring / Kopacz | CAN | 19 | 49.68 | 49.87 | 49.60 | 49.60 | 3:18.75 |
| 14 | Zalims / Jansons | LAT | 16 | 49.91 | 49.80 | 49.63 | 49.46 | 3:18.80 |
| 15 | Hefti / Kuonen | SUI | 4 | 49.60 | 49.92 | 49.68 | 49.65 | 3:18.85 |
| 16 | Peter / Amrhein | SUI | 8 | 49.60 | 49.99 | 49.74 | 49.63 | 3:18.96 |
| 17 | Stulnev / Belugin | RUS | 14 | 49.74 | 49.89 | 49.78 | 49.58 | 3:18.99 |
| 18 | Dvorak / Nosek | CZE | 24 | 49.90 | 49.92 | 49.64 | 49.56 | 3:19.02 |
| 19 | Kasjanov / Pushkarev | RUS | 15 | 49.78 | 50.10 | 49.63 | 49.73 | 3:19.24 |
| 20 | Luty / Tylkowski | POL | 27 | 49.84 | 50.03 | 49.79 | 49.80 | 3:19.46 |
| 21 | Won / Seo | KOR | 10 | 49.65 | 50.06 | 49.96 | | 2:29.67 |
| 22 | Kim / Jun | KOR | 2 | 49.91 | 50.05 | 49.80 | | 2:29.76 |
| 23 | Cunningham / Adams | USA | 22 | 49.96 | 50.22 | 49.87 | | 2:30.05 |
| 23 | Andrianov / Antukh | RUS | 23 | 50.07 | 50.15 | 49.83 | | 2:30.05 |
| 25 | Oelsner / Schüller | GER | 21 | 50.10 | 50.22 | 49.88 | | 2:30.20 |
| 26 | Costerg / Hauterville | FRA | 32 | 50.09 | 50.25 | 49.94 | | 2:30.28 |
| 27 | de Bruin / Piek | NED | 28 | 50.07 | 50.23 | 50.04 | | 2:30.34 |
| 28 | Hall / Blanchet | GBR | 33 | 50.04 | 50.11 | 50.23 | | 2:30.38 |
| 29 | Treichl / Esterhammer | AUT | 30 | 50.17 | 50.43 | 49.90 | | 2:30.50 |
| 30 | Vrba / Suchy | CZE | 31 | 50.11 | 50.48 | 49.95 | | 2:30.54 |
| 31 | Bertazzo / Variola | ITA | 3 | 50.11 | 50.34 | 50.18 | | 2:30.63 |
| 32 | Suk / Oh | KOR | 26 | 50.49 | 50.20 | 49.97 | | 2:30.66 |
| 33 | Baumgartner / Ughi | ITA | 29 | 50.25 | 50.54 | 50.13 | | 2:30.92 |
| 34 | Tentea / Craciun | ROU | 34 | 50.63 | 50.58 | 50.11 | | 2:31.32 |
| 35 | Radenovic / Vujanic | SRB | 35 | 50.66 | 50.81 | 50.52 | | 2:31.99 |
| 36 | Silic / Mezulic | CRO | 36 | 51.22 | 51.46 | 51.09 | | 2:33.77 |