From Königssee, GER
Germany all but dominated Sunday's competitions in Königssee, first winning two of three medals in the two-man bobsled race, then turning around and taking gold and silver in the team competition.
The Germany 1 team of Axel Jungk, Miriama Jamanka, Jacqueline Lölling, and Johannes Lochner pulled away on the strength of Lölling's track record run to pull away from their Germany 2 teammates of Christopher Grotheer, Stephanie Schneider, Tina Hermann and Nico Walther.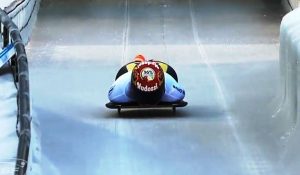 For the first time in the Team Competition, the International squad won a medal, with with a very German-centric feel to it. The International 3 team comprised of Germans Alexander Gassner, Anna Fernstädt, Richard Oelsner and women's bobsledder Maria Constantin finished with a bronze medal on the strength of a track record run by Gassner.
Elana Meyers Taylor led the way for USA 1 as they finished sixth overall, with Meyers Taylor setting the fastest time of the day for the women's bobsled portion of the program. USA 2 finished 10th, while Canada 2 and Canada 1 finished just ahead in eighth and ninth respectively.
Results:
| | | | | | | | | |
| --- | --- | --- | --- | --- | --- | --- | --- | --- |
| Pos | Names | Nation | Bib | M-Skele | W-Bob | W-Skele | 2-Man | Total |
| 1 | Jungk / Jamanka / Lölling / Lochner | GER 1 | 11 | 50.34 | 50.86 | 51.23 | 49.41 | 3:21.84 |
| 2 | Grotheer / Schneider / Hermann / Walther | GER 2 | 10 | 50.39 | 50.87 | 51.64 | 49.54 | 3:22.44 |
| 3 | Gassner / Constantin / Fernstädt / Oelsner | INT 3 | 7 | 50.01 | 51.01 | 51.92 | 49.75 | 3:22.69 |
| 4 | Tretiakov / Sergeeva / Orlova / Stulnev | RUS 1 | 1 | 50.10 | 50.65 | 52.47 | 49.60 | 3:22.82 |
| 5 | Tregybov / Rodionova / Nikitina / Kasjanov | RUS 2 | 6 | 50.26 | 51.11 | 52.03 | 49.64 | 3:23.04 |
| 6 | Antoine / Meyers Taylor / O'Shea / Holcomb | USA 1 | 5 | 50.55 | 50.48 | 52.85 | 49.55 | 3:23.49 |
| 7 | Guggenberger / Hengster / Flock / Maier | AUT 1 | 3 | 51.05 | 50.72 | 52.34 | 49.61 | 3:23.72 |
| 8 | Greszczyszyn / Rissling / Channell / Spring | CAN 2 | 9 | 50.61 | 51.18 | 52.38 | 49.63 | 3:23.80 |
| 9 | Martineau / Humphries / Rahneva / Kripps | CAN 1 | 12 | 51.46 | 50.78 | 52.02 | 49.66 | 3:23.92 |
| 10 | Crumpton / Greubel Poser / Wesenberg / Olsen | USA 2 | 4 | 51.37 | 50.91 | 52.59 | 49.52 | 3:24.39 |
| 11 | Boyer / C. de Bruin / Graybill / I. de Bruin | INT 2 | 2 | 51.28 | 51.15 | 52.91 | 50.15 | 3:25.49 |
| 12 | Velicu / Reinbolt / Mazilu / Grigore | INT 1 | 8 | 51.61 | 51.42 | 53.41 | 50.44 | 3:26.88 |