From PyeongChang, KOR
Alexander Kasjanov came into his final run needing a perfect run to win not only the gold medal in four-man bobsled, but the overall World Cup title. Before him, Rico Peter had not only broken a three-way tie for fourth, but had held his lead after runs by Nico Walther and Oskars Kibermanis as well.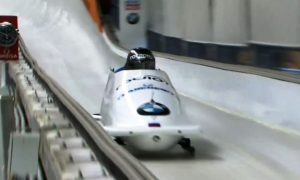 The Russian was about as perfect as one could expect down the new Korean track, handling the small labyrinth better than anyone else had in a four-man sled and coming across with a track record to win not only the gold medal for the event, but the four-man World Cup title as well. The final margin of victory was .23 seconds.
Latvian Oskars Kibermanis came into his second run in the silver medal position, but couldn't find the consistency he had in his first run, finishing .03 behind Peter, but .03 ahead of teammate Oskars Melbardis, who finished fourth. Nico Walther and Johannes Lochner rounded out the top six.
Much like seemingly every other bobsled or skeleton race in PyeongChang, the racing in four-man bobsled was tight throughout the field. Coming into the second run, there were ties for fourth, seventh, tenth, and 14th. While there weren't any ties through the field at the finish, less than a quarter second was the difference between a medal and 11th place.
Steven Holcomb led the way for the United States in tenth place, breaking a tie with German Francesco Friedrich by .01 over two runs. Teammates Justin Olsen and Codie Bascue finished 15th and 20th, respectively.
The Canadians weren't quite able to match their two-man bobsled success, but still showed a lot of promise coming out of Korea. Justin Kripps fell to ninth after coming into the second run in a tie for fourth after hitting the wall hard out of Turn 15. Prior to that, he had a top-six run going. Chris Spring put down two clean runs to finish 13th in his final race of the season, while Nick Poloniato crashed on his first run but managed to cross the finish line in 25th.
After disaster at the World Championships for Bradley Hall, the British pilot came back strong in South Korea, finishing in eighth place directly ahead of such names as Kripps, Holcomb, and Francesco Friedrich. His teammate Lamin Deen moved up two spots in the second run to finish 18th.
The win for Alexander Kasjanov gave him the overall four-man title by 29 points over Rico Peter.
Francesco Friedrich won the overall combined bobsled title by just three points over Kasjanov, with Steven Holcomb finishing third in both four-man and combined points.
Results:
| | | | | | | | | |
| --- | --- | --- | --- | --- | --- | --- | --- | --- |
| Pos | Name | Nation | Bib | Start 1 | Start 2 | Run 1 | Run 2 | Total |
| 1 | Kasjanov / Pushkarev / Kondratenko / Zaitsev | RUS | 13 | 4.92 | 4.92 | 49.99 | 49.97 | 1:39.96 |
| 2 | Peter / van der Zijde / Baumann / Amrhein | SUI | 11 | 4.92 | 4.92 | 50.15 | 50.04 | 1:40.19 |
| 3 | Kibermanis / Jansons / Miknis / Zirups | LAT | 1 | 4.92 | 4.87 | 50.07 | 50.15 | 1:40.22 |
| 4 | Melbardis / Dreiskens / Vilkaste / Strenga | LAT | 8 | 4.89 | 4.88 | 50.15 | 50.10 | 1:40.25 |
| 5 | Walther / Rödiger / Korona / Franke | GER | 12 | 4.98 | 4.94 | 50.10 | 50.19 | 1:40.29 |
| 6 | Lochner / Sommer / Bluhm / Rasp | GER | 15 | 4.91 | 4.90 | 50.17 | 50.13 | 1:40.30 |
| 7 | Won / Kim / Lee / Oh | KOR | 2 | 4.97 | 4.95 | 50.17 | 50.18 | 1:40.35 |
| 8 | Hall / Tasker / Blanchet / Cackett | GBR | 26 | 4.91 | 4.89 | 50.22 | 50.15 | 1:40.37 |
| 9 | Kripps / Kopacz / Lumsden / Coakwell | CAN | 16 | 4.96 | 4.90 | 50.15 | 50.25 | 1:40.40 |
| 10 | Holcomb / Valdes / Reed / McGuffie | USA | 6 | 4.96 | 4.97 | 50.23 | 50.22 | 1:40.45 |
| 11 | Friedrich / Bauer / Bäcker / Margis | GER | 10 | 4.92 | 4.93 | 50.23 | 50.23 | 1:40.46 |
| 12 | Andrianov / Lylov / Selikhov / Antukh | RUS | 7 | 4.96 | 4.98 | 50.32 | 50.20 | 1:40.52 |
| 13 | Spring / Stones / Kirkpatrick / Wright | CAN | 17 | 4.93 | 4.92 | 50.37 | 50.35 | 1:40.72 |
| 14 | Costerg / Hauterville / Pujar / Boutherin | FRA | 19 | 5.06 | 5.04 | 50.41 | 50.33 | 1:40.74 |
| 15 | Olsen / Landis / Weinstock / Michener | USA | 21 | 4.89 | 4.89 | 50.42 | 50.34 | 1:40.76 |
| 16 | Maier / Walch / Sammer / Moldovan | AUT | 9 | 4.95 | 4.92 | 50.41 | 50.49 | 1:40.90 |
| 17 | Vrba / Sindelar / Suchy / Nosek | CZE | 22 | 5.00 | 5.00 | 50.50 | 50.42 | 1:40.92 |
| 18 | Deen / Lewis-Francis / Simons / Matthews | GBR | 18 | 4.97 | 4.98 | 50.67 | 50.42 | 1:41.09 |
| 19 | Stulnev / Huzin / Belugin / Koshelev | RUS | 14 | 4.94 | 4.99 | 50.60 | 50.62 | 1:41.22 |
| 20 | Bascue / Fogt / Moreira / Adams | USA | 5 | 4.98 | 4.98 | 50.59 | 50.72 | 1:41.31 |
| 21 | Meyerhans / Kellenberger / Feusi / Danso | SUI | 4 | 5.31 | | 50.68 | | |
| 22 | Treichl / Glück / Laussegger / Platzgummer | AUT | 3 | 5.14 | | 50.78 | | |
| 23 | Baumgartner / Ughi / Costa / Variola | ITA | 25 | 5.12 | | 51.09 | | |
| 24 | Mata / Gudzowsky / Reidy / Mari | AUS | 23 | 5.21 | | 51.24 | | |
| 25 | Poloniato / Sunderland / Plug / Brown | CAN | 20 | 5.00 | | 54.87 | | |
| DNS | Bertazzo / Fontana / Caruso / Mulassano | ITA | 24 | | | DNS | | |