From PyeongChang, KOR
Francesco Friedrich has been the class of the field over the bulk of the 2016/2017 season, and finished the season out in style with a gold medal in the Olympic test event in PyeongChang.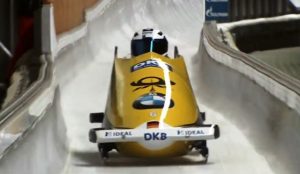 The German was the fastest in the first heat and set the start record (edging the United States' Justin Olsen by .01) on his way to a .3 second victory over the field, winning both a gold medal and the World Cup title.
Behind Friedrich, there was quite a battle all over the top 20 positions. Coming into the second run, .22 separated silver from 8th, and .13 separated 9th from 18th. The smallest mistake by a pilot saw athletes drop anywhere from one to a half dozen positions down the order.
Oskars Kibermanis almost fell victim to a small mistake, dropping his advantage in the second run from .2 over eventual bronze medalist Johannes Lochner all the way to .04 seconds. Lochner moved up from eighth place to secure bronze for Germany.
Canadian Nick Poloniato finished fourth, moving up from seventh in the first heat, while Yunjong Won fell from second to fifth on home ice. Justin Olsen finished sixth.
It was a promising day for the Americans all around. Codie Bascue finished tenth, moving up from 13th in his first run, while Steven Holcomb finished 14th. Holcomb fell from a tie from 11th, but found speed on the track where others couldn't.
Holcomb's finish was good enough to secure second place overall in the World Cup, ahead of Korea's Yunjong Won.
The Canadians put all three of their teams in the top ten. Despite dropping out of the top six, Chris Spring had a very solid set of runs to finish seventh, one spot ahead of teammate Justin Kripps.
Bradley Hall and Bruce Tasker finished 19th and 20th for Great Britain.
Results:
| | | | | | | | | |
| --- | --- | --- | --- | --- | --- | --- | --- | --- |
| Pos | Name | Nation | Bib | Start 1 | Start 2 | Run 1 | Run 2 | Total |
| 1 | Friedrich / Margis | GER | 6 | 4.89 | 4.86 | 50.24 | 50.58 | 1:40.82 |
| 2 | Kibermanis / Miknis | LAT | 8 | 4.90 | 4.88 | 50.46 | 50.66 | 1:41.12 |
| 3 | Lochner / Bluhm | GER | 12 | 4.95 | 4.94 | 50.66 | 50.50 | 1:41.16 |
| 4 | Poloniato / Brown | CAN | 22 | 4.97 | 4.94 | 50.60 | 50.61 | 1:41.21 |
| 5 | Won / Seo | KOR | 9 | 4.94 | 4.95 | 50.44 | 50.78 | 1:41.22 |
| 6 | Olsen / Weinstock | USA | 18 | 4.89 | 4.87 | 50.57 | 50.71 | 1:41.28 |
| 7 | Spring / Wright | CAN | 21 | 4.97 | 4.96 | 50.52 | 50.82 | 1:41.34 |
| 8 | Kripps / Lumsden | CAN | 10 | 4.99 | 4.97 | 50.78 | 50.57 | 1:41.35 |
| 9 | Zalims / Jansons | LAT | 16 | 4.96 | 4.96 | 50.77 | 50.65 | 1:41.42 |
| 10 | Bascue / Moreira | USA | 28 | 5.06 | 5.07 | 50.80 | 50.67 | 1:41.47 |
| 11 | Walther / Korona | GER | 17 | 5.06 | 5.05 | 50.74 | 50.75 | 1:41.49 |
| 12 | Melbardis / Strenga | LAT | 1 | 4.92 | 4.92 | 50.59 | 50.98 | 1:41.57 |
| 13 | Stulnev / Belugin | RUS | 15 | 5.08 | 5.07 | 50.87 | 50.77 | 1:41.64 |
| 14 | Holcomb / Valdes | USA | 14 | 5.06 | 5.04 | 50.78 | 50.87 | 1:41.65 |
| 15 | Dvorak / Nosek | CZE | 25 | 4.99 | 4.97 | 50.83 | 50.83 | 1:41.66 |
| 16 | Kasjanov / Pushkarev | RUS | 7 | 5.11 | 5.10 | 50.90 | 50.86 | 1:41.76 |
| 16 | Luty / Tylkowski | POL | 27 | 5.04 | 5.04 | 50.84 | 50.92 | 1:41.76 |
| 18 | Hefti / Ferrari | SUI | 26 | 5.05 | 5.04 | 50.92 | 50.90 | 1:41.82 |
| 19 | Hall / Simons | GBR | 32 | 5.01 | 5.01 | 50.92 | 50.91 | 1:41.83 |
| 20 | Tasker / Olubi | GBR | 20 | 4.96 | 4.93 | 50.85 | 50.99 | 1:41.84 |
| 21 | Kim / Jun | KOR | 19 | 4.99 | 5.03 | 50.84 | 51.08 | 1:41.92 |
| 22 | Rinaldi / Vain | MON | 23 | 5.04 | | 50.93 | | |
| 23 | Peter / Baumann | SUI | 11 | 5.04 | | 50.98 | | |
| 24 | Andrianov / Mordasov | RUS | 24 | 5.08 | | 51.00 | | |
| 25 | Bindilatti / Martins | BRA | 3 | 5.10 | | 51.07 | | |
| 25 | Maier / Sammer | AUT | 13 | 4.97 | | 51.07 | | |
| 27 | Baumgartner / Variola | ITA | 4 | 5.14 | | 51.12 | | |
| 28 | de Bruin / Veenker | NED | 5 | 5.15 | | 51.23 | | |
| 29 | Mata / Reidy | AUS | 2 | 5.19 | | 51.31 | | |
| 30 | Treichl / Glück | AUT | 30 | 5.08 | | 51.69 | | |
| 31 | Vrba / Suchy | CZE | 31 | 5.01 | | 51.79 | | |
| DNS | Bertazzo / Fontana | ITA | 29 | | | DNS | | |