From PyeongChang, KOR
When the pressure's on, champions rise to the top. In men's skeleton, it was Martins Dukurs rallying back to win gold. In women's bobsled, it was Jamie Greubel Poser rallying back to not only win gold, but to take the World Cup title as well.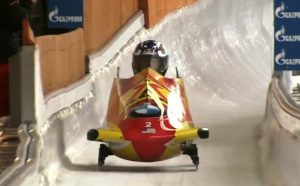 Kaillie Humphries, the World Cup leader coming into PyeongChang, struggled in her first run, finishing the heat in sixth. In traditional Humphries form, the Olympic champion threw down a great run to put the pressure on the women ahead of her and picked up a position in the process by .01.
That hundredth of a second meant that Jamie Greubel Poser would have to beat her teammate Elana Meyers Taylor to win gold and to take the overall World Cup title.
Greubel Poser answered the call with a nearly flawless run. Through all of the tricky parts of the run, the exit of Turn 2, the labyrinth "straight", and everywhere else, Greubel Poser was clean. That put the pressure on her teammate, Olympic silver medalist and World Champion Elana Meyers Taylor.
Where Meyers Taylor had been perfect in her first run, she make a couple small mistakes in her second. That gave the advantage to Greubel Poser. Meyers Taylor charged back at the bottom of her run, closing the gap to Greubel Poser, but it wasn't enough, and Greubel Poser took told ahead of teammate Meyers Taylor.
With the win, Jamie Greubel Poser takes the overall world Cup title, ahead of Kaillie Humphries. Had Greubel Poser finished with a silver medal, she would have finished second overall by one point.
Alysia Rissling finished with a World Cup career-best bronze medal as the top finishing Canadian in PyeongChang, doing her part for a North American sweep of the podium. Mariama Jamanka finished fourth, Humphries fifth, and Nadezhda Sergeeva sixth.
American Brittany Reinbolt finished just outside of the top ten with an 11th place finish, capping off a successful season for the World Cup rookie. Christine de Bruin rounded out the Canadian effort in 17th.
Romanian Andreea Grecu finished with a career-best ninth place finish.
Results:
| | | | | | | | | |
| --- | --- | --- | --- | --- | --- | --- | --- | --- |
| Pos | Name | Nation | Bib | Start 1 | Start 2 | Run 1 | Run 2 | Total |
| 1 | Greubel Poser / Evans | USA | 6 | 5.29 | 5.30 | 51.79 | 51.86 | 1:43.65 |
| 2 | Meyers Taylor / L. Jones | USA | 10 | 5.28 | 5.25 | 51.71 | 52.09 | 1:43.80 |
| 3 | Rissling / Appiah | CAN | 9 | 5.37 | 5.33 | 52.10 | 51.96 | 1:44.06 |
| 4 | Jamanka / Drazek | GER | 13 | 5.36 | 5.34 | 51.94 | 52.19 | 1:44.13 |
| 5 | Humphries / Lotholz | CAN | 14 | 5.39 | 5.39 | 52.21 | 51.96 | 1:44.17 |
| 6 | Sergeeva / Kohcherzhova | RUS | 7 | 5.40 | 5.37 | 52.18 | 52.00 | 1:44.18 |
| 7 | Schneider / Buckwitz | GER | 21 | 5.45 | 5.42 | 52.26 | 52.20 | 1:44.46 |
| 8 | Vannieuwenhuyse / Vercruyssen | BEL | 5 | 5.57 | 5.56 | 52.29 | 52.24 | 1:44.53 |
| 9 | Grecu / Halai | ROU | 2 | 5.45 | 5.46 | 52.22 | 52.42 | 1:44.64 |
| 10 | Hafner / Rebsamen | SUI | 18 | 5.58 | 5.56 | 52.39 | 52.31 | 1:44.70 |
| 11 | Reinbolt / Gibbs | USA | 11 | 5.40 | 5.43 | 52.40 | 52.39 | 1:44.79 |
| 12 | Hengster / Dekker | AUT | 8 | 5.51 | 5.51 | 52.42 | 52.38 | 1:44.80 |
| 13 | Rodionova / Mamedova | RUS | 15 | 5.54 | 5.52 | 52.44 | 52.38 | 1:44.82 |
| 14 | Willemsen / Aerts | BEL | 12 | 5.61 | 5.64 | 52.42 | 52.42 | 1:44.84 |
| 15 | Senkel / Strack | GER | 4 | 5.41 | 5.42 | 52.35 | 52.57 | 1:44.92 |
| 16 | Oshigiri / Kimishima | JPN | 1 | 5.46 | 5.45 | 52.27 | 52.74 | 1:45.01 |
| 17 | de Bruin / Thibault | CAN | 16 | 5.58 | 5.57 | 52.76 | 52.86 | 1:45.62 |
| 18 | Kim / Kim | KOR | 17 | 5.66 | 5.66 | 53.06 | 52.73 | 1:45.79 |
| 19 | Asazu / Sakauchi | JPN | 22 | 5.59 | 5.57 | 52.99 | 52.84 | 1:45.83 |
| 20 | Lee / Shin | KOR | 19 | 5.80 | 5.78 | 53.21 | 53.11 | 1:46.32 |
| 21 | Beierl / Onasanya | AUT | 20 | 5.42 | | 53.26 | | |
| 22 | Constantin / Vild | ROU | 3 | 6.05 | | 53.37 | | |